In recent years, especially in the sophisticated Covid-19 pandemic, offsite learning has become the "bridge" connecting students to the experience of international programs. To take advance of educational fortes and ease the financial burden, offsite learning draws students' numerous attention in every admission.
Stand-out advantages of the offsite learning program
The advantage of UEF joint programs (or offsite learning programs) is to offer students the best learning environment parallel with the international training courses. Especially, the training quality of these courses was designed based on transitional conditions between Vietnam and England. Therefore, these courses also guarantee the equivalent criterias of foreign programs.
In hard times these days, an equally important advantage of offsite learning is that learners can access an international training degree, take care of themselves as well as close to loved ones. Therefore, UEF international association program is regarded as one of the most reliable institutions among students and overseas Vietnamese students.
Moreover, studying in the homeland helps students ease the financial burden and avoid concern on "culture shock" when they have to study abroad.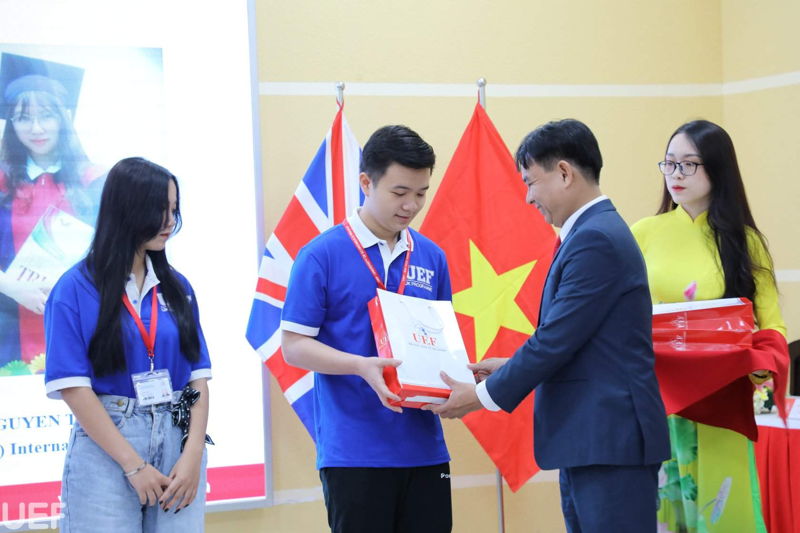 Valuable scholarship is a "partner" of student in purchasing off-site programs
Opportunity to receive the 50% tuition of scholarship
In 2021, UEF offers valuable scholarships for off-site learning program students who have great achievement in the entrance result.
Aim of UEF scholarship policy is to encourage talents, broaden opportunities of experiencing in the international learning environment and gain a training quality of English-focused programs in this integrated context. The scholarship is granted unlimited number and applied for candidates who have been admitted to all 4 enrollment methods in 2021, including admission according to high-school graduation examination; admission on grade 12 transcript of 3 subjects; admission according to highschool transcripts of total average of 5 semesters; admission according to result of VNU-HCM Competent Assessment.
In detail, applying UK bachelor programs which UEF cooperates with Gloucestershire University and Leeds Trinity University, successful candidates who admitted with specific scores will receive scholarships up to 25% tuition and 50% tuition. Candidates can reference the following table to get more information about specific score for winning equivalent scholarships:

Admission criteria and required documents
UEF provides various options in offsite learning programs. The UK bachelor programs include Business Management and Marketing, English Language and Linguistic, Hospitality and Tourism Management at Gloucestershire University and International Business at Leeds Trinity University.
Admission criteria
High school graduate or equivalent;

Students must achieve an international English level equivalent to at least IELTS 6.0 before enrolling for the semester 5 in the main course.
UEF will receive documents for the UK bachelor program from March 1st, 2021. Applications for admission must be included:
Application form for admission (UEF form);
2 notarized copies of high school diploma or temporary diploma of high school graduation (notarized) ;

2 notarized copies of Identified card/ Passport;

1 Curriculum vitae certified issued by authorization;

1 copies of birth certificate;

1 health certificate;

4 white background 5x5 photos (international standard).
For more information, please contact:
Institute of International Education
Floor 4, 141-145 Dien Bien Phu, Ward 15, Binh Thanh District, Ho Chi Minh City
Phone: (028) 5422 1374 – Hotline: 091 606 1080
Email: international@uef.edu.vn – Web: www.uef.edu.vn/vdtqt
News: Quyen Cuong