When it comes to the service sector, hospitality and tourism are globally regarded as key industries to the growth of a country's economy. For this reason, a majority of Gen Z has been fascinated in choosing Hospitality and Tourism Management as their career goals.
Therefore, to meet students' demand for international programs, UEF has expanded international cooperation with the University of Gloucestershire (UK) to implement a joint program in
International
Hospitality and Tourism
Management
to help students save costs and stay safe during the Covid-19 pandemic. What are the plus points of the UK Bachelor of International Tourism and Hospitality Management Program that aspire candidates to apply for? Let's figure it out!
About the program
The program was designed by the University of Gloucestershire. It was then transferred and updated by UEF to be well-suited for the global business environment, business practices, and the trend of socio-economic development in Vietnam.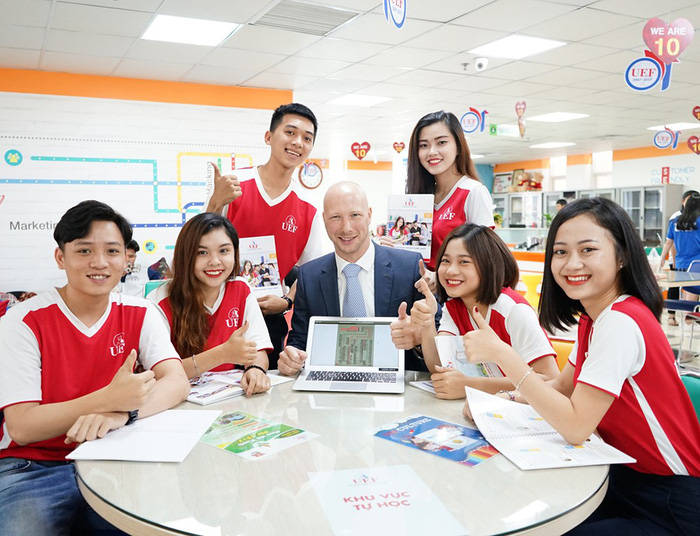 UEFers are trained for International Bachelor Program in Vietnam

Students get to study with well-experienced native and Vietnamese lecturers with academic ranks and titles accredited by the University of Gloucestershire. The language of instruction is entirely in English. Being exposed to an international environment, students have more opportunities to join abroad semesters or student exchange programs spanning from weeks to months from Asia, Europe to America. Spending their junior and senior years studying at the UK's campus is also an option.
Students will receive a UK bachelor's degree from the University of Gloucestershire with global value and accreditation from the Vietnamese Ministry of Education and Training.
Knowledge and skills acquired:
The objective of the UK bachelor's program in International Hospitality and Tourism Management is to equip students with concepts and specialized knowledge in the hospitality and tourism industry such as domestic and international travel services management, Hotel and resort management, Marketing management, Human resources management, Management Information Systems, etc. As a consequence, students will be able to make effective decisions in a timely manner. They will also have abilities to develop and conduct market research and tourism products.
Besides, UEFers will be provided with the necessary skills in planning, coordinating, and organizing tourism events, housekeeping, and bartender-kitchen. Moreover, communication skills in an international environment, leadership skills & change management, problem-solving skills, collaboration and teamwork skills, critical thinking, and Innovation Skills to create uniqueness in an international multicultural environment are also included in the program.

Job opportunities
Tourism designer/ coordinator, events coordinator

Tourism Strategists, Product Strategists, and Market Research Analyst

Marketing Director, Sales Manager of travel services, hospitality and tourism services, transportation services, and entertainment services

Managers in hotel offices, resorts, tourism companies.

Personnel Manager, Marketing Manager, etc.

​
​

​ Application requirements & Scholarship policy




In 2021, UEF will conduct university admission to 60 students for the UK Bachelor of

International

Hospitality and Tourism

Management Program. High school graduates will be admitted. Students must achieve an international level of English equivalent to at least IELTS 6.0 before graduation.
To encourage and attract talents, UEF will offer valuable entrance scholarships to students who have been admitted to enrollment methods according to the results of their academic transcripts, the Competency Assessment Test of Vietnam National University (VNU), and the high school graduation exam 2021.
Scholar
-ship
offered
High school entrance exam's result
12-grade transcript with 3 subjects
High school transcripts with an average score of 5 semesters
Competency test scores
(maximum score:1,200)
Requirements to maintain a scholarship each year

25%

21 - <24

23 - <27
38 - <45
840 - <960

GPA: 3.2 - <3.4 each year

Point training: ≥ 65
50%
24 - <30
27 - <30
45 - <50
960 - <1,200

GPA: ≥ 3.4 each year
Point training: ≥ 65
Note: The scholarship applies to the first two years of the course

Application Documents
Students applying for the program need to get the following documents prepared and submitted at UEF International Institute:
Application form

01 notarized copy of high school transcript.

Application fee: 2,000,000 VND/ application.
The above information is an overview of the UK bachelor of International Hospitality & and Tourism Management program at UEF. If it matches up with your interests and career path, do not hesitate to apply.

TT.TT-TT