With the reputation for excellence in bilingual-international education and multidisciplinary approach, UEF continuously provides more opportunities for students who wish to get exposed to American or British education with various international Undergraduate degrees. These programs require no international travel which is an advantage in this COVID-19 pandemic. The closing date for the enrollment will be September 20th.


Admission information for the UK programs
Being among the best education systems in the world, British universities are good fits for UEF's long-term partnership. Our curricula are co-designed and validated by two prestigious British universities including the University of Gloucestershire with Undergraduate degrees in Business Management and Marketing, English Language and Linguistics, International Hospitality and Tourism Management; and Leeds Trinity University with a bachelor's degree in International Business.
To be eligible for entry, candidates must meet the following requirements:
- High school graduation diploma or equivalent;
- IELTS (Academic) 6.0 or equivalent English proficiency level before graduation.
Free pre-sessional English courses will be offered to help boost students' English skills.
Application documents include:
- Application form (the University of Gloucestershire or Leeds Trinity University's form);
- 02 notarized copies of high school diploma or temporary certificate of high school graduation;
- 02 notarized copies of high school transcripts;
- 02 notarized copies of ID card / Passport;
-01 CV certified by the locality;
- 01 copy of the birth certificate;
- 01 health certificate;
- 04 international standard 5x5 white background photos;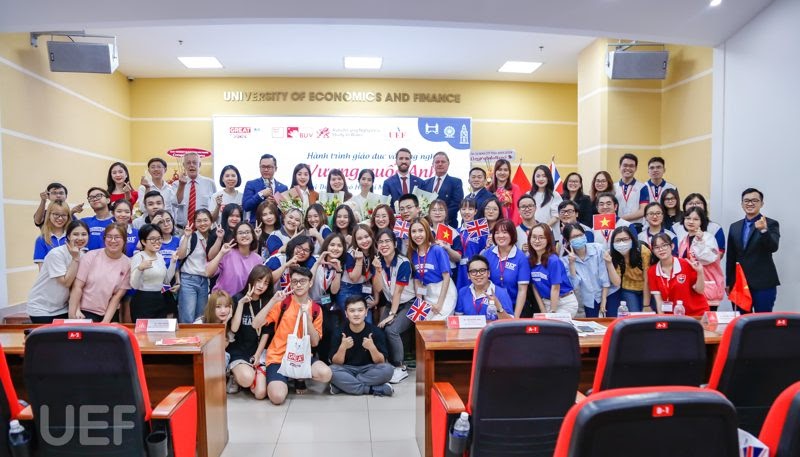 Admission for international Undergraduate programs is open until September 20, 2021

Admission information for the US programs
Known as a world power, the US is an ideal destination for pursuing education among many young people. However, in the current context of the Covid-19 pandemic, the dream of studying abroad is harder to come true. Students can choose our joint program to get an American Undergraduate degree in Vietnam instead.
To be eligible for entry, candidates must meet the following requirements:
- High school graduation diploma or equivalent;
- IELTS (Academic) 6.0 or equivalent English proficiency level before graduation.
For candidates who do not have IELTS 6.0, they can submit equivalent international certificates or pass the English Proficiency Test organized by the Keuka Vietnam Program Management Board.
Application documents include:
- Application for admission (according to the form);
- 01 copy of high school diploma or provisional graduation certificate (notarized);
- 01 copy of high school transcript (notarized);
- Application fee: 2,000,000 VND/ application;

The advantages of international bachelor programs

Compared to studying abroad, these joint programs save 70% of costs, but students still enjoy exciting experiences in a modern, fully equipped learning environment, and an international standard curriculum framework. Students will be taught by both foreign and domestic professional lecturers who own academic titles and use cutting-edge teaching models from worldwide universities. Teaching language is completely in English and the class size does not exceed 30 students/class, making it easy for students to express their opinions and interact with teachers, enhance foreign language proficiency, cultivate student's critical thinking as well as develop their creativity to the needs of the new era.
In addition, we provide many opportunities for students to connect with real industry partners through activities such as field trips and internships, making for a smooth transition into the workforce. After graduation, students will receive an international bachelor's degree from US- UK partner universities, recognized by the Vietnamese Ministry of Education and Training, with global value.


Besides,

UEF will offer scholarships that cover

up

to 50% of tuition fees for candidates whose results in the entrance exam meet the specific requirements.
Scholar
-ship
offered
High school entrance exam's result
12-grade transcript with 3 subjects
High school transcripts with an average score of 5 semesters
Competency test scores
(maximum score:1,200)
Requirements to maintain a scholarship each year

25%

21 - <24

23 - <27
38 - <45
840 - <960

GPA: 3.2 - <3.4 each year

Point training: ≥ 65
50%
24 - <30
27 - <30
45 - <50
960 - <1,200

GPA: ≥ 3.4 each year
Point training: ≥ 65
Note: The scholarship applies to the first two years of the course
TT.TT-TT