On August 12, "Step Up Your Future" with the topic "

International Programs - Students' launchpad to global success

" which UEF cooperates with the HCMC Journal of Education provided useful information and assisted students and parents in untying the knots when making decisions in choosing international programs in the context of the Covid pandemic.
The program with the participation of the panel of guests including Dr. Do Huu Nguyen Loc - Vice President, Director of International Institute, Ms. Maya Smotrina - Lecturer of UK Bachelor's Program - University of Gloucestershire at UEF and Mr. Pham Doan Nguyen - Director of UEF Enrollment Counseling Center, Soft skills training specialist.


Dr
. Pham Doan Nguyen
is
the
MC of
the
program
Diversifying options for students



When the pandemic is still complicated, the dream of studying abroad is harder to come true. However, students still have a number of different alternatives such as joint program

, double-degree program, etc. These are all prestigious and quality programs that are

articulated with the best universities in the world.


When it comes to various options, it is really challenging to choose a suitable program. Therefore, Ms. Maya gave candidates some advice. The first way to narrow down the selections is to set personal goals. For instance, if your dream job is a translator or English teacher, you can learn to get a bachelor's degree in English Language and Linguistics. Choose Business Administration and Marketing or International Business major if you want to be a manager in the future.


Besides, students should also consider their interests and the finances available. With international programs based in Vietnam, it is definitely more attractive as you can still stay in your home country surrounded by family and friends while getting a degree of global value.

Ms. Maya shared her experience of choosing international programs for students

In the live stream, Dr. Do Huu Nguyen Loc shared that there is currently different types of international programs available at UEF, such as joint program (UK and US bachelor's program), semester abroad (from 3 to 6 months), articulation program (3 + 1), student exchange program. Therefore, students can take four or three years of classes in Vietnam and 1-year study abroad. Students can also study a double-degree program, receive the degree at school and accumulate credits to receive the degree from the partner university. Currently, UEF has been receiving admission documents for international programs until August 20.

Dr. Do Huu Nguyen Loc
gave information
about the international programs at UEF
With respect to the international program

, students

are offered golden opportunities

to cultivate open thinking, enrich professional knowledge and achieve language proficiency equivalent to global friends, easily integrate and open the gate to future job opportunities.



How to upgrade your English level – an important studying tool



English plays a pivotal role in studying international programs. According to Dr. Do Huu Nguyen Loc, international programs, especially the joint program at UEF which require students to achieve an international level of English equivalent to at least IELTS 6.0 before graduation. For students who do not have IELTS 6.0, they can submit equivalent international certificates


He shared that, additionally, students studying international programs should not be worried about their current English ability since they can take an English proficiency test or participate in a Pre-sessional English course without charge.
Ms. Maya also recommended one of the most practical English studying methods which are to approach English from your preferences. For example, students are recommended watching TV or listening to music with English content or making friends with foreign people could also be very useful.
Speaking of vocabulary and structure, it is better to learn words and phrases in context rather than to simply memorize them. By doing so, you will learn new vocabulary items more effectively since you will know what they mean and how to use them in sentences correctly. Finally, it is important to rely on worldwide-trusted resources, be it online dictionaries or paper textbooks. At UEF, for example, we normally use Oxford editions for sharpening academic skills in English.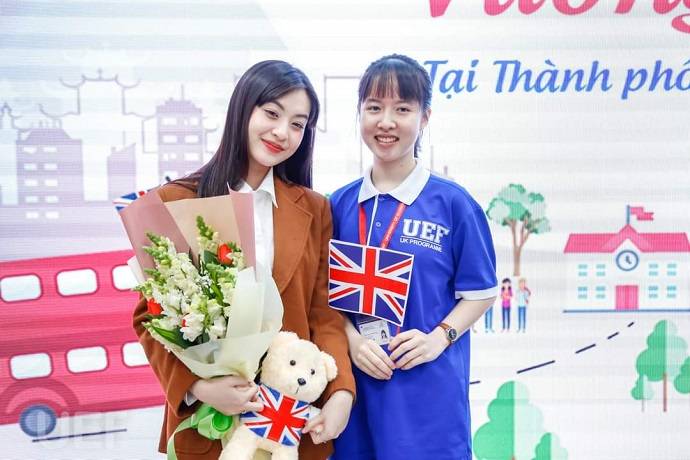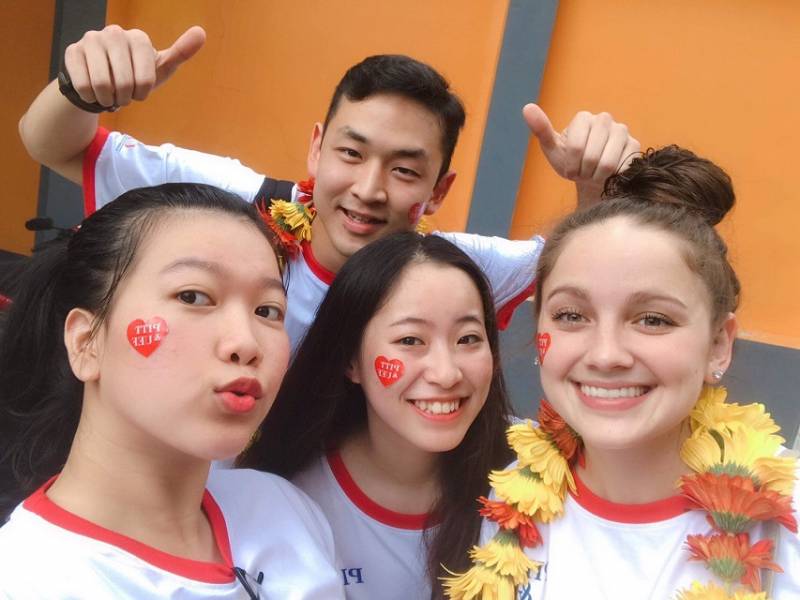 UEF organizes regular activities for students to apply the knowledge of English acquired into practice on a regular basis.
In addition, the speakers also answered questions wholeheartedly about application documents, the differences between the UK

bachelor

's

program and the US bachelor

's

one, entrance scholarships, challenges of study

ing

abroad, requirements for participating in the international student exchange program, etc.


Within more than 60 minutes, the speakers fully provided information and explained a number of candidates' questions related to enrollment information, opportunities to study international programs in Vietnam. It is hopeful that these answers can help candidates gain a better insight into choosing a suitable program as well as collect equipment to increase their chances of success in the trend of the globally integrated economy.
UEF is enrolling students for the international bachelor's program in cooperation with Gloucestershire College; Leeds Trinity University (UK) and Keuka College (US) with a view to creating opportunities for students to access advanced education in the world and make your dream of studying abroad come true in the 5K period. The deadline for receiving dossiers is by August 20.
Tin: Kim Bằng
Ảnh: Hoàng Nguyên