On the morning of January 13th, UEF students received useful knowledge about building personal brands by experts at Kick off "YouBranding 2021" program.
The event took place with the participation of MC - Writer - Journalist Tung Leo, Mr. Pham Dinh Nguyen - CEO of Vietnam PhinDeli company, Second Runner-Up of Mrs. World Nguyen Thu Huong - CEO of Nam Huong Communication and Investment Corporation, Second Runner-Up of Miss Vietnamese Beauty Entrepreneur Nguyen Thai Ngan - CEO of Tatu Group and representatives of sponsor agencies.
The personal stories from guest speakers were regarded as the most practical share at the event. They are results of a process of learning, experiencing which turned them to be community influencers in common and personal brand building in specific.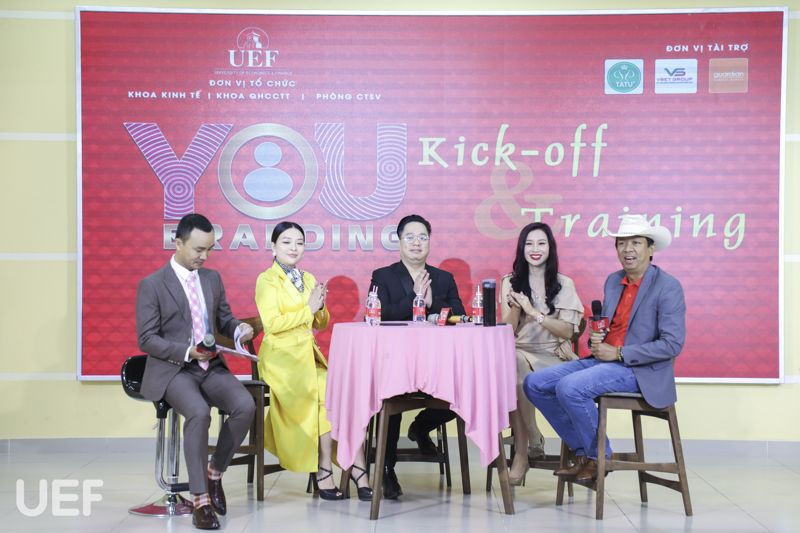 Four guest speakers shared about personal brand building
Is personal brand or business brand more important?
This might be the common concern of anyone who wants to start up their business and build a brand. Four speakers gave their different opinions about their process of building a successful brand.
According to Ms. Thu Huong, building personal brands is core to the development of business brands. "Nowadays, youngsters have awareness of their personal brands. By my over-10-year experience in building personal brand, I consider that building a personal brand is more important than building a business brand. If we know how to develop our personal brand, we will have more chances to diversify our business model."
Miss Sports 1995 gave an example of football superstar David Beckham to illustrate her opinion on the importance of building personal brand. After retiring, thanks to activities related to personal brand, such as advertisement, events, business,... until 2019, his income reached 1 billion USD (by Forbes).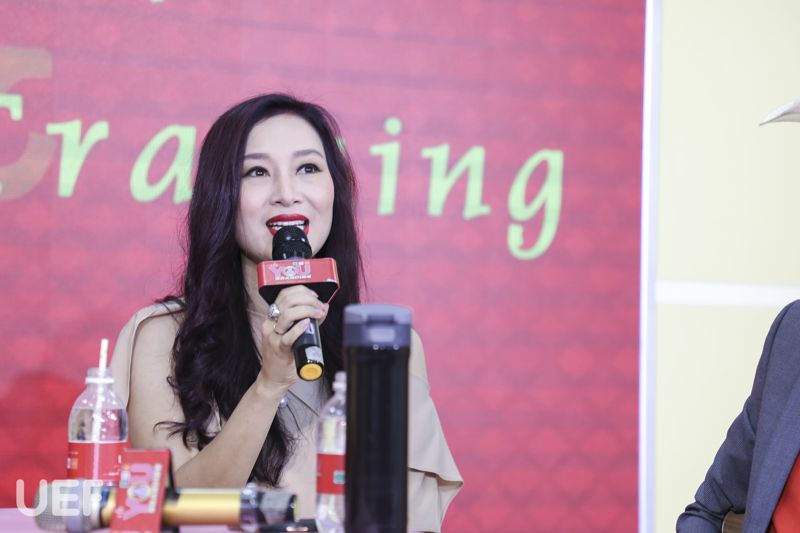 Ms. Thu Huong indicated that building personal brand is an important factor in building business brand
As for the Director of Nova Entertainment & Media, MC Tung Leo said, "I have been working with the concept: We don't build personal brand, we build group brand. I think this concept suits the teamwork environment. If anyone in the group wants to build their personal brand, the group brand may be affected."
On the other hand, with his nearly-one-year experience in working for business group, MC Tung LEO considered that personal brand also boost the effect of developing business brands. It can be said that personal and business brand must create, cooperate and grow together. In addition, he stressed that leaving the company did not mean dropping your personal brand because your experience and skills would make the personal brand independent. Make good teamwork, personal brand will be shinely.
On the other side, Mr. Pham Dinh Nguyen shared that this question was a part of the story in which Vietnamese man bought an American town to develop his coffee brand. He used to be stuck on the thought of developing his name "Phạm Đình Nguyên" or business brand "Phindeli".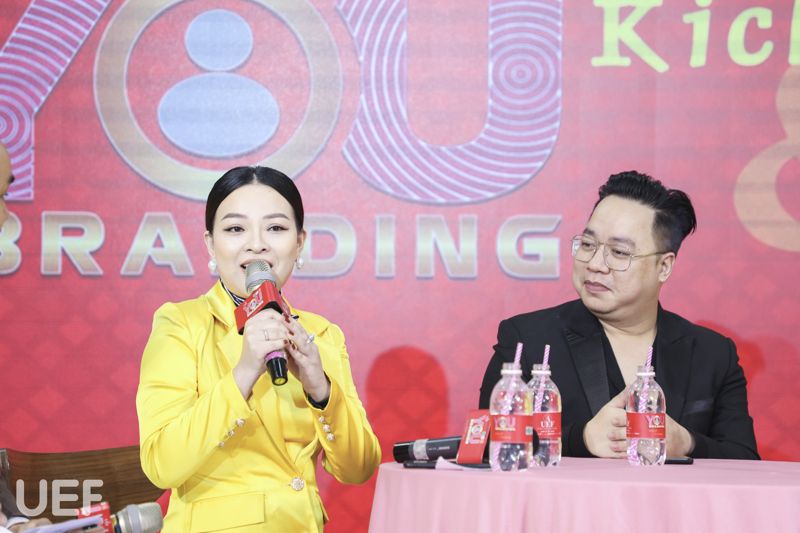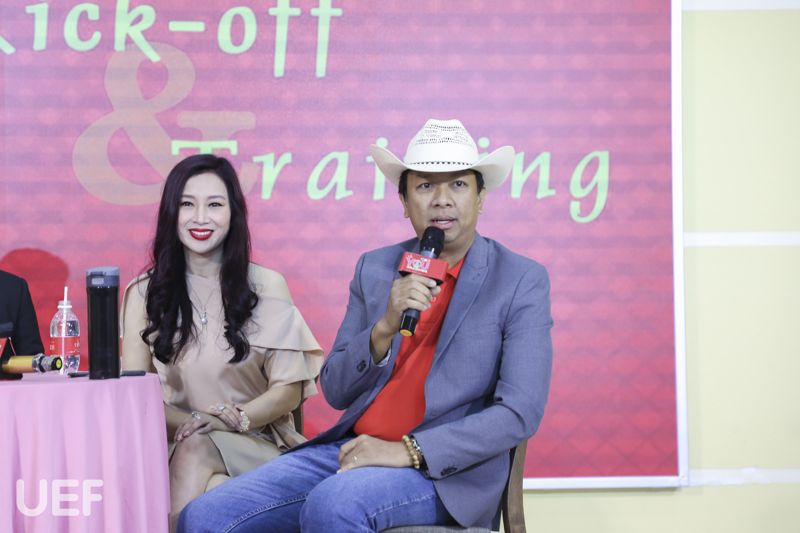 Ms. Nguyen Thai Ngan and Mr. Pham Dinh Nguyen shared their realistic stories about building brand
"In Vietnam, we have the name of a developing group, Vingroup and its establisher, Pham Nhat Vuong. In the world, we have Apple and its former CEO Steve Jobs. So, does Vingroup and Apple or Pham Nhat Vuong and Steve Jobs remain longer? The answer must be Vingroup and Apple. Personal brand is important, but at some point, it will complete its role. Therefore, personal brand helps a company develop well, but it doesn't happen to the length of the company." said Mr. Pham Dinh Nguyen.
Despite having different opinions, Ms. Nguyen Thai Ngan facilitate student an overview of building brand. "Both personal brand and business brand are important but personal brand is a crucial factor to build a business brand. In 2010, I was just an owner of a shop in a small town until the time when I started to build my personal brand and belief in customers. 5 years later, I established my individual business in Ho Chi Minh city. And, the main goal of establishing a personal brand is an increase in sales."
How to develop a personal brand?
There are over 7 billions people in the world but the rate of the same fingerprint is just 1/64 billions. Each individual has unique strengths and weaknesses. So, how to develop a personal brand effectively and actively? Answer is also the aim of the event.
Speaking on this topic, four speakers have pointed to essential factors to develop personal brand. On the view of different careers, speakers shared different experiences and ideas about building personal brands.
Accordingly, Ms. Thu Huong shared 7 suitable factors to develop a personal brand. "Firstly, strengthen your potential genius; the second is to determine your mentor; the third is suitable environment to develop; the fourth is your partners; the fifth is to diversify core competence, to develop yourself in various fields; the sixth is to determine your prime of work and make post-prime plan, and the last is to be consist and work strategically."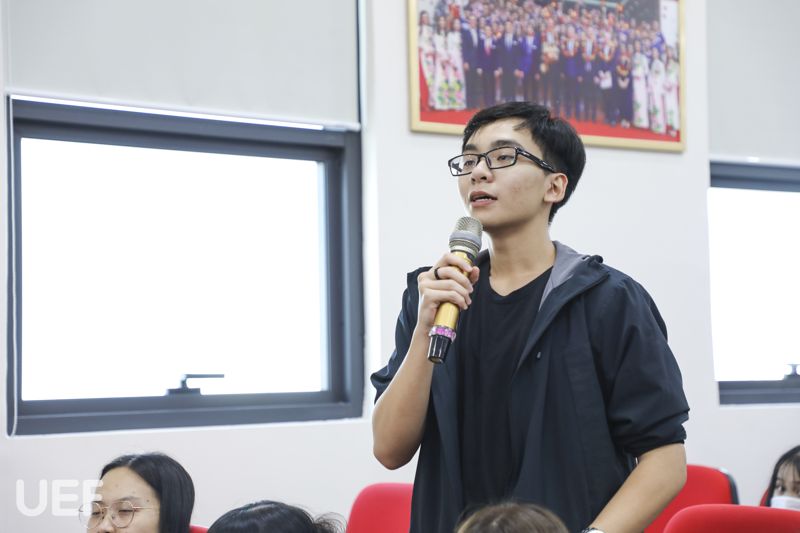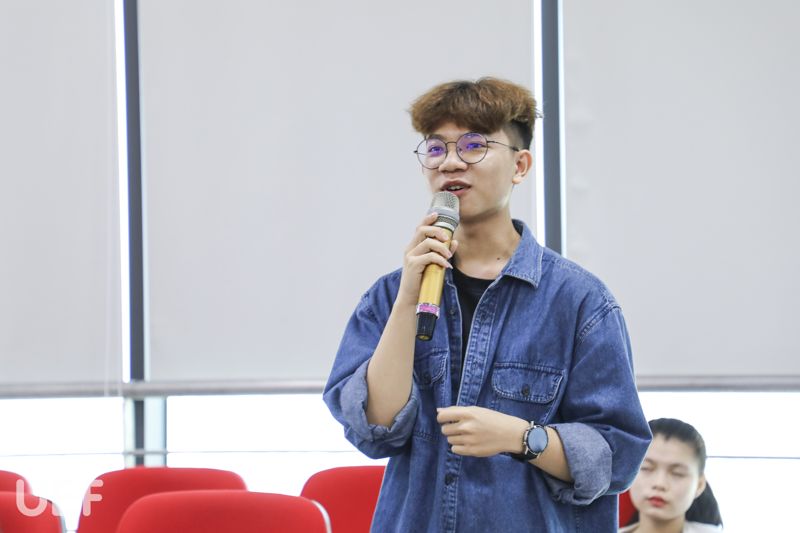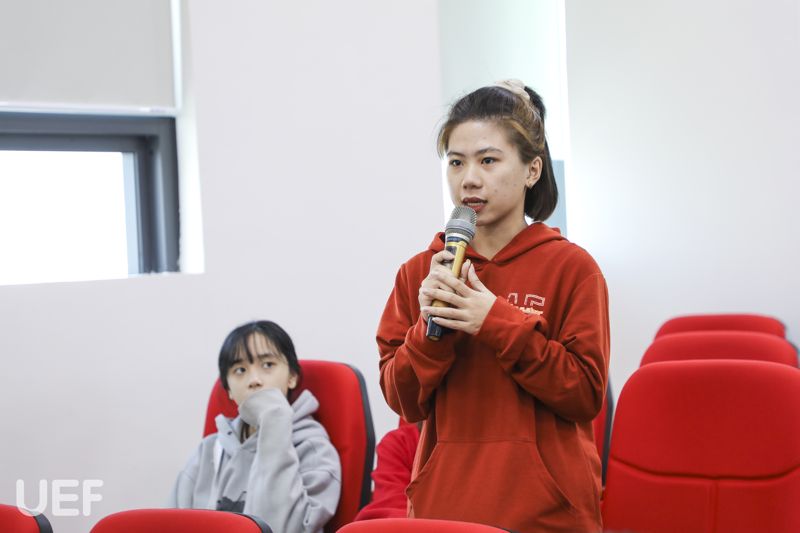 Share of speakers helped students feel more confident in building personal brand
On the other side, MC Tung Leo also drew 4 factors to growing personal brand strongly. "The first is to be happy with those which contribute to our personal brand. The second is to make our relatives and relations feel proud of us. The third must be ambition and the last is our connective competence to maintain personal brand longer. We have to know to express our value toward others."
Beside factors for building a successful personal brand, Mr. Tung LEO talked about situations that establish a personal brand based on scandal. As a person working in showbiz for a long time, MC shared that these personal brands wouldn't last long.
According to Ms. Nguyen Thai Ngan, to build a personal brand, we had to determine who we are, our strengths and our distinctions. In addition, we must behave professionally to others as well as had our own goals. The most important thing is that we would not give up.
Responding to this issue, Mr. Pham Dinh Nguyen shared his unexpected story about being taken by foreign photographer. From that, he said that the way in which we deal with social media was also a crucial part to grow your personal brand. "Sometimes, unexpected circumstances will make us change. When dealing with the media, we have to lead them before they lead us. Anyone can establish their own personal brand, however, we have to preserve our own style. Don't be a copy of others, be the best version of yourself."
The share of speakers helped students shape their style about building personal brands. This is also regarded as a very first step for them to develop strongly in the YouBranding contest in specific and future paths in common.
News: Nguyen Le
Photos: Nguyen Vo