Learning the customers' behavior and mastering the service skills are the keys to the hospitality industry, especially to Hospitality Management.
With the aims of providing students profound understanding about these essential skills as well as gaining more experiences from specialists, on December 30th, Hospitality Management - Tourism Faculty cooperated The SWISS Institute for Management and Hospitality to hold a talkshow on topic "Hotel guests level of comfort and The art of 5 star service".
On the behalf of SWISS IM&H, there were Mr. Ha Quang Huy, Director of Vietnam Market Development and Ms. Cao Thi Minh Tam, Coordinator of transnational educational programs. For the representatives of UEF, there were Dr. Do Huu Nguyen Loc, Vice President of UEF and Director of International Education together with officers of International Education and Dean, lecturers and students of the Faculty of Hospitality Management and Tourism.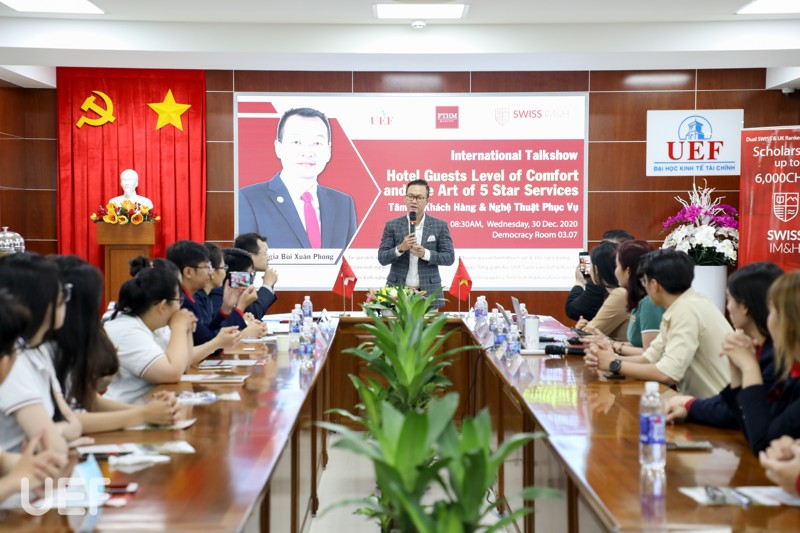 Dr. Do Huu Nguyen Loc represented UEF to thanks speakers and organizers of program

Besides, there was participation of specialist Bui Thanh Phong who experienced 23 years in hospitality firms. He was also known as a writer of non-count books, expert in hospitality and resort management.
Talking at the talkshow, speakers provided the latest and useful information to UEF students of the Faculty of Hospitality Management. According to Mr. Bui Xuan Phong, there were two main risks that Hospitality Management would have to face and manage in the current situation. They are the replacement of AI technology and disease crisis. Beside analyzing some factors, speakers recommend some solutions for these two risks to encourage students following their hospitality study.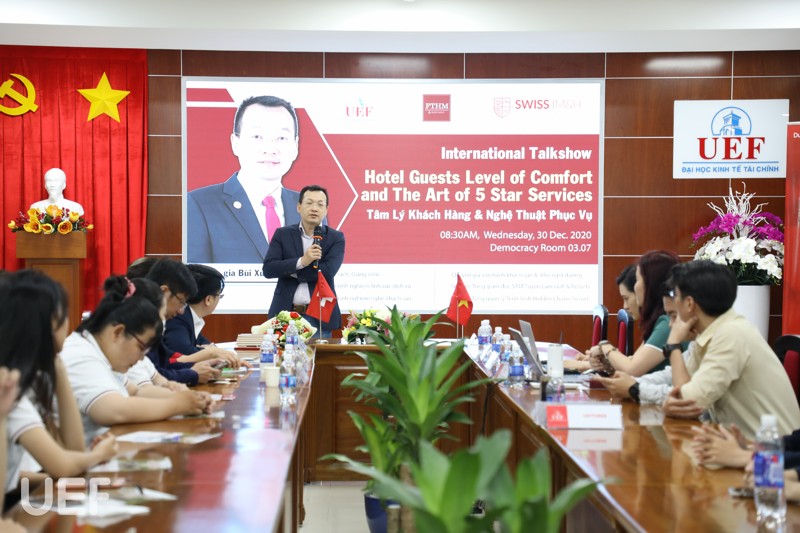 Specialist Bui Xuan Phong shared professional knowledge to UEF students

Furthermore, the importance of mental and emotional factors affecting on developing hospitality management was also mentioned. This factor was regarded as a key to choose the best way to service. Besides, he addressed the role of brand in hotel development. Since then, he advised students on improving skill of managing customers' behavior and foreign-language skill.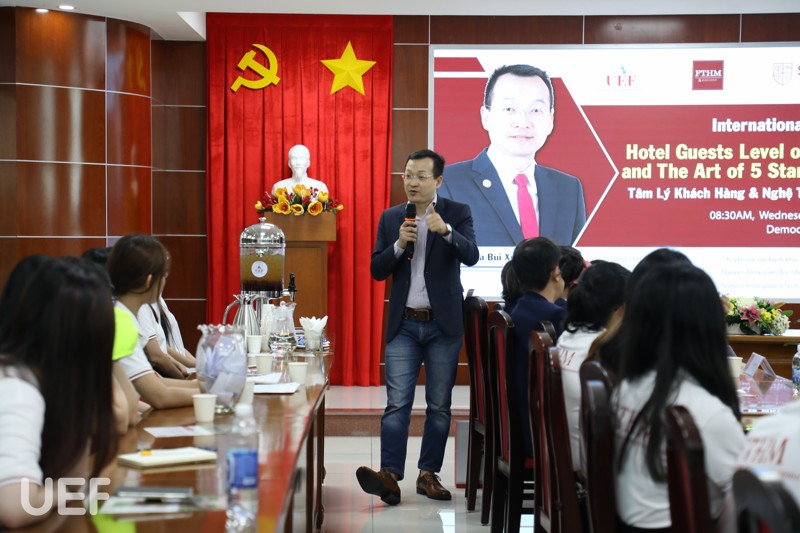 Speaker advised students on forming positive attitude towards their choice of career

One of the most highlighted spots in the event must be speakers' practical stories. By getting into your customers' head, guests relation officers would find out proper behavior which is also considered as a factor for advancing towards manager position.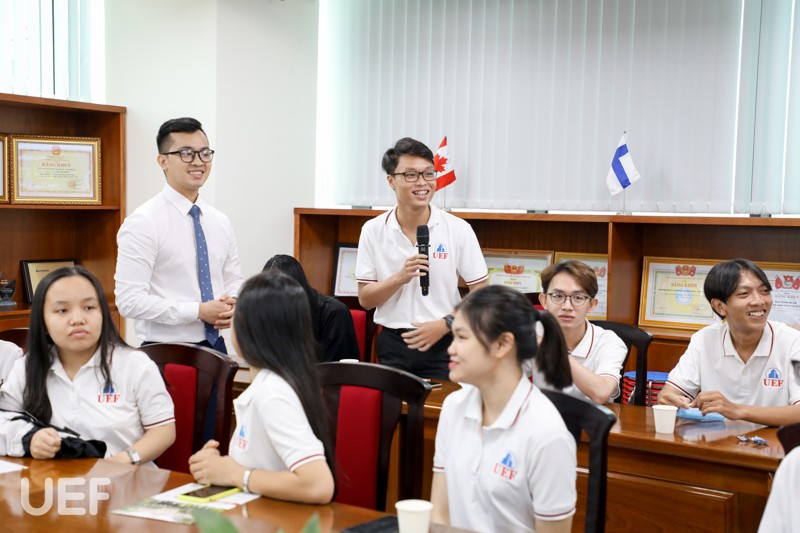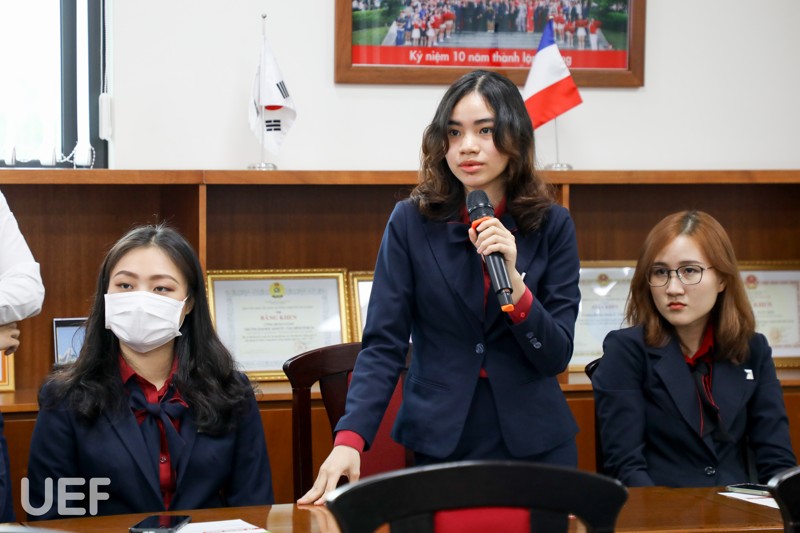 Students made a question and interacted with speakers confidently

In the event, speakers also shared amazing knowledge about the art of service. These sharings were valuable skills for students to prepare for their professional career in the future.
Not only were profound knowledge about professional careers shared but studying-abroad opportunities were also introduced to UEF students.
Representing SWISS IM&H, Ms. Cao Thi Minh Tam introduced some articulation programs and scholarships for Hospitality Management. According to this, UEF students enrolled the program with two options: postgraduate pathway program and international pathway program 2+2.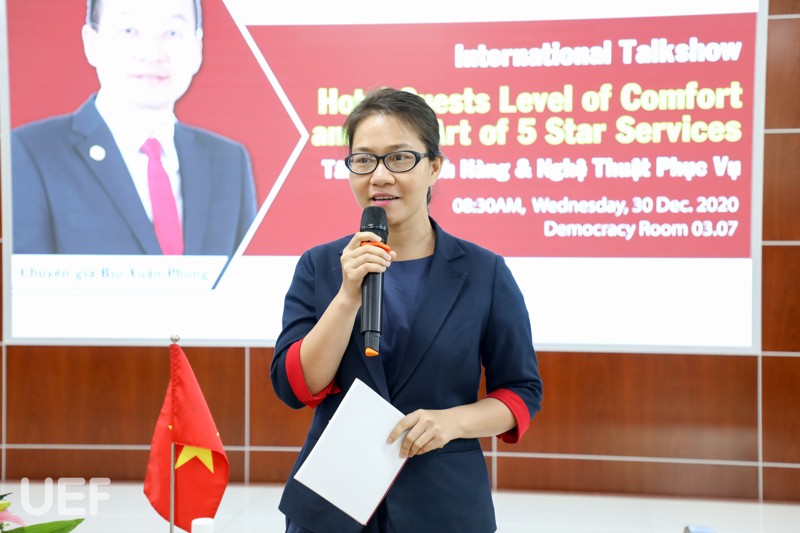 Ms. Cao Minh Tam introduced transnational education of Hospitality Management

To up the mood of the event, there were also gifts from interaction with speakers and the lucky-draw-coupons game.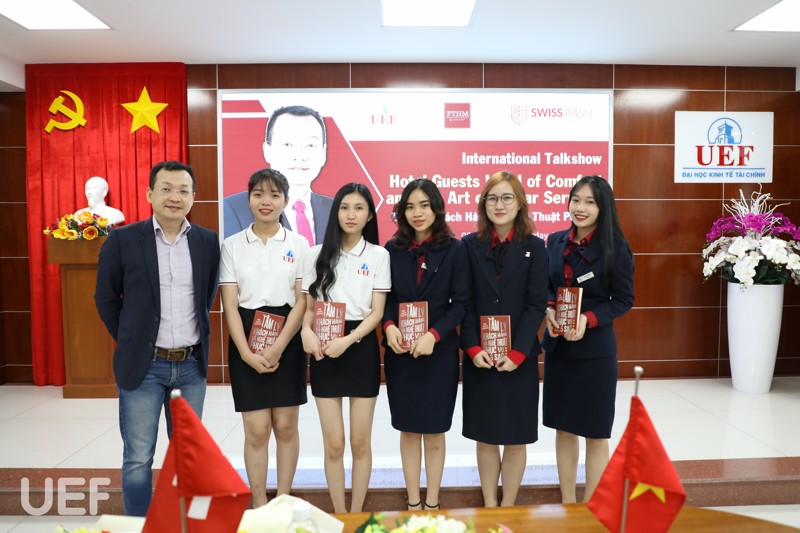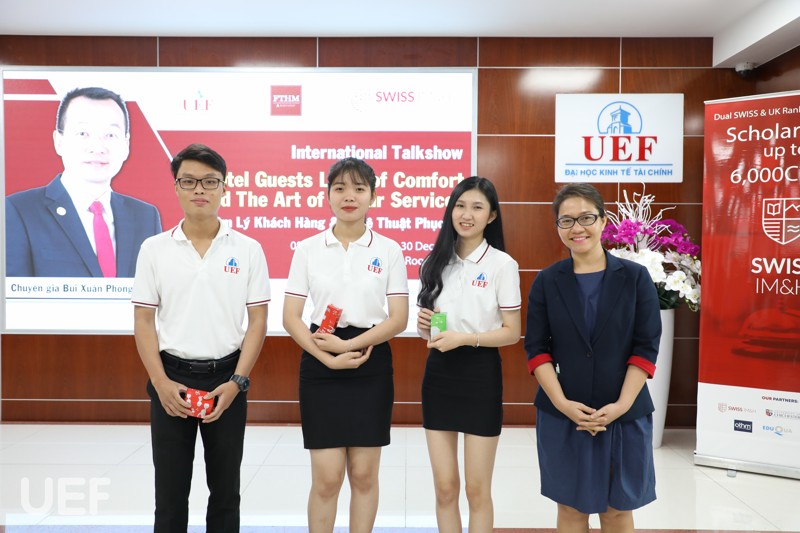 Speaker gave gifts for lucky students in event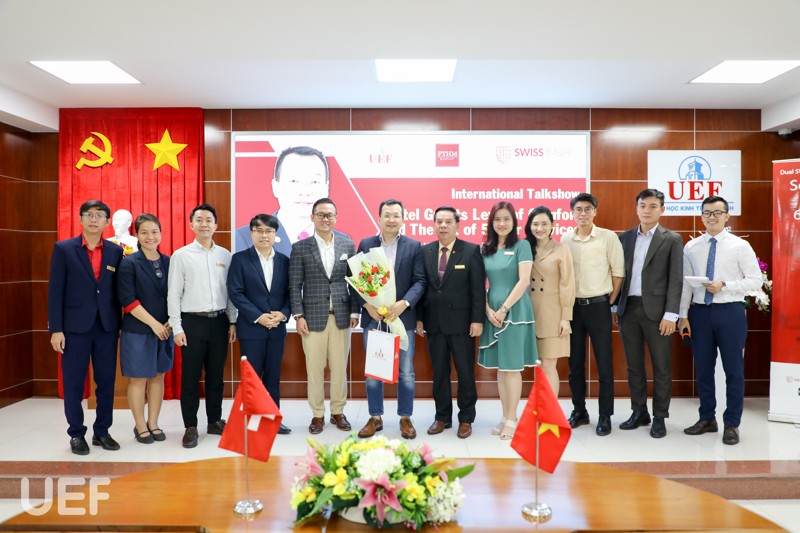 Representatives of UEF gave flowers and thanked to speakers and co-organizers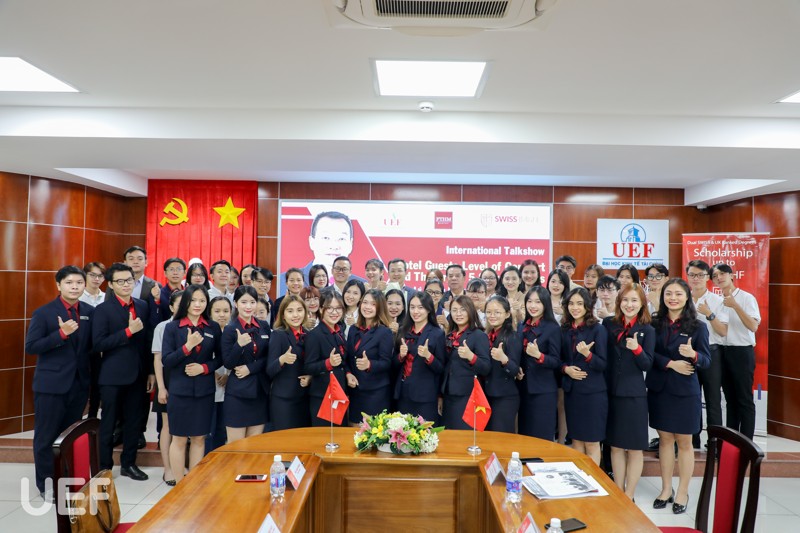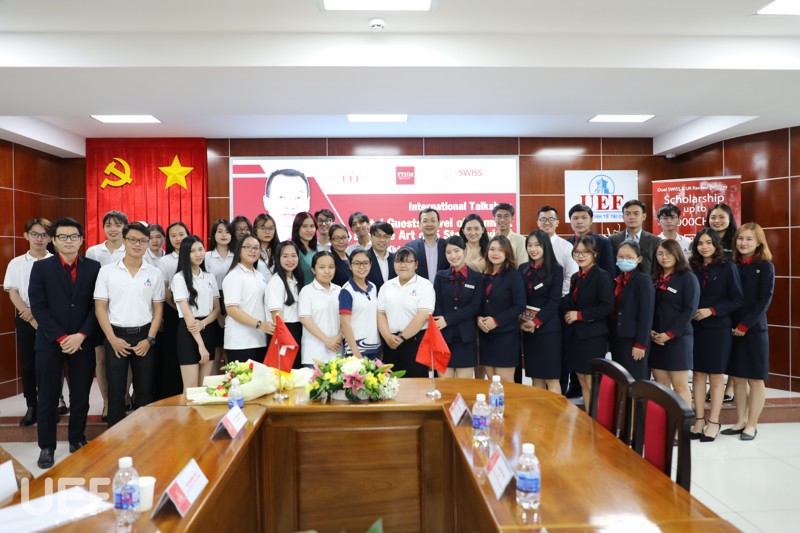 Students and speakers posed commemorative photograph

Purchasing the hospitality career which mainly interacts in-person, Hospitality Management students of UEF have to continuously update knowledge and essential skills for their career. With such information from this talkshow, students will be more confident at their study and their coordination for developing themself to meet the demands of their career in future.
News: Quyen Cuong, photos: The Thang