The first batch of students enrolled in the UEF – UoG Collaborative Programme, which was launched on 27 September 2017, will be named as the Fresh Graduates and granted the Bachelor's Degrees on the upcoming December 18 Graduation, after the four years of hard study. "First Class Honours" degree will be conferred on four outstanding UEF students.
The "First Class Honours" degree is one of the most honorable degrees in the UK education system to those who achieve at least a GPA of 70/100.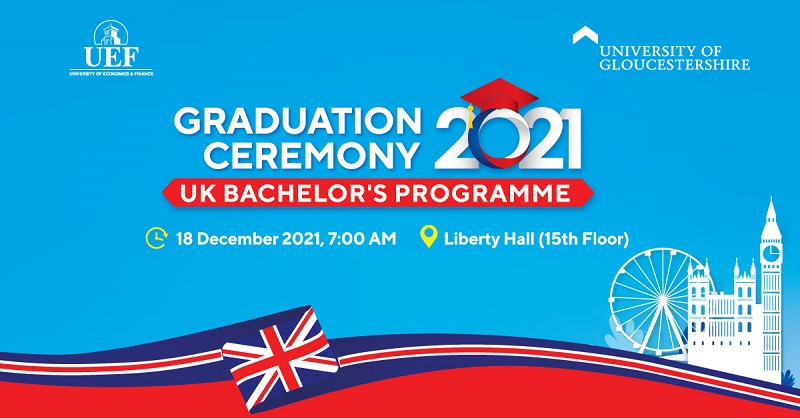 First-batch students of the UEF and UoG Collaboration programme to officially graduate on the forthcoming December 18
Bui Khac Hoa - B.A. (Hons) Business and Marketing Management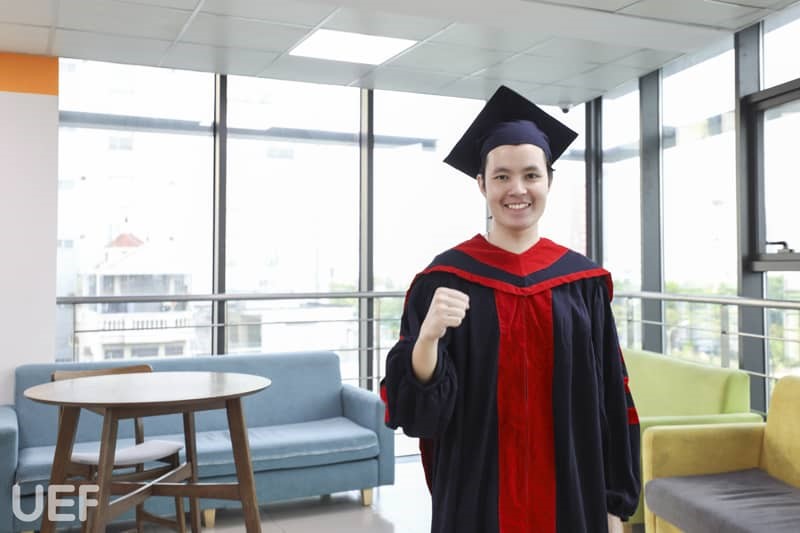 Khac Hoa, who won the talent scholarship 2019 and actively joined movements in his four-year study, is excellently honoured as the valedictorian in Business and Marketing Management with an impressive GPA of 73.43/100.
"I have obtained a great deal of knowledge, skills from the Gloucestershire programme, and become my better version at this time. I would like to note that the curriculum perhaps is not too easy, but it would be a "beneficial" challenge. UEF is definitely where students can experience and acquire great things. I hope you students can stay strong and head up to the future as all will be paid off. I also would like to take this opportunity to extend my thanks to the teachers and my family for staying by my side in this journey", shared Khac Hoa in the threshold of the Graduation Ceremony.
Nguyen Ngoc Phuong Trang - B.A. (Hons) Business and Marketing Management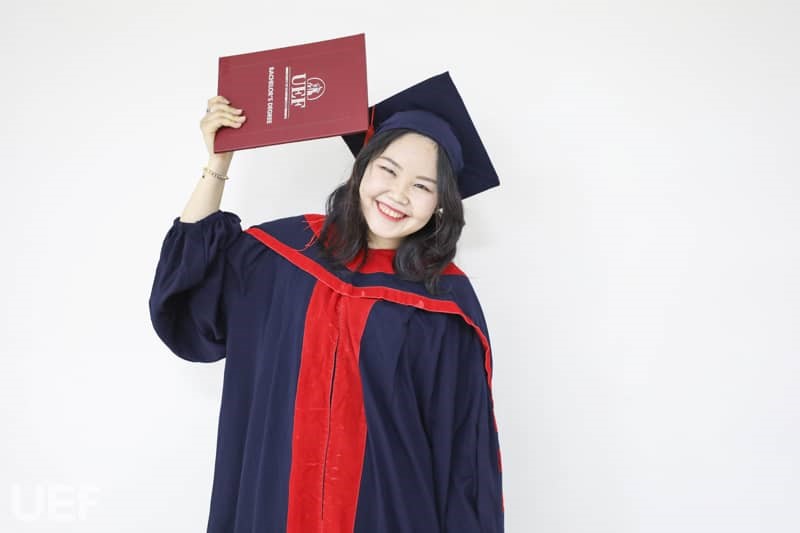 A graduate GPA of 71.35/100 is a great achievement of Phuong Trang after the 4-year learning journey. She is currently the Marketing Executive at The Green Equipment LLC.
"I can see that the knowledge I gained from the Gloucestershire programme is beneficial in many ways, which is really advantageous to me in a job application. Taking this opportunity, I would love to express my special thanks to my parents and teachers for supporting me over the past period. Additionally, the message I want to spread to peer students is that dreams will come true if belief and strength are kept along the way", she shared.
Dam Chi Dat - B.A. (Hons) English and Linguistics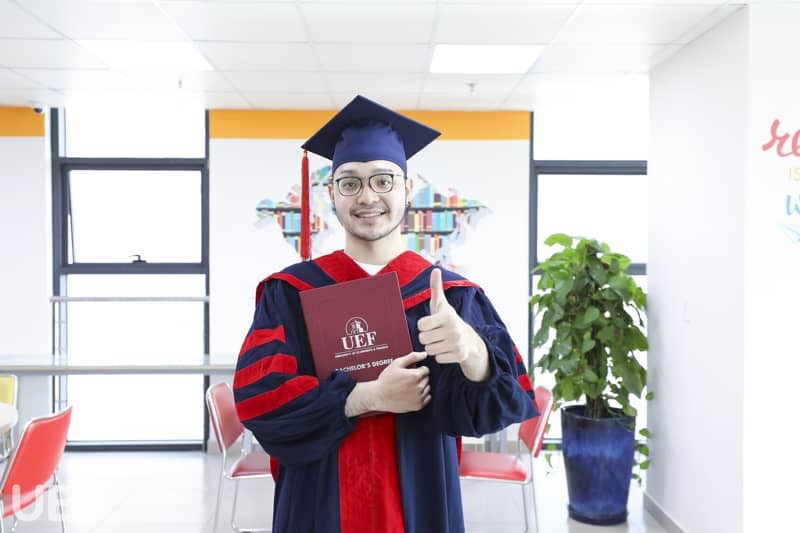 A GPA of 73.33/100 names Chi Dat, the monitor of the class 17G1EL01, also the superior "diplomat" for UEFers majoring in English and Linguistics and students at Gloucestershire University, as the valedictorian. Such an unrivaled accomplishment gives Chi Dat an English Teacher position at The IELTS Workshop, which is a dream job of every fresh graduate.

"I gained a wealth of interesting and hands-on experience from the Gloucestershire programme. I would like to seize this chance to express my profound gratitude to the teachers and parents for being by my side over the past time. I also would love to send my best wishes to in-progress and future students of this wonderful programme", Chi Dat expressed.
Phung Tuyet My - B.A. (Hons) English and Linguistics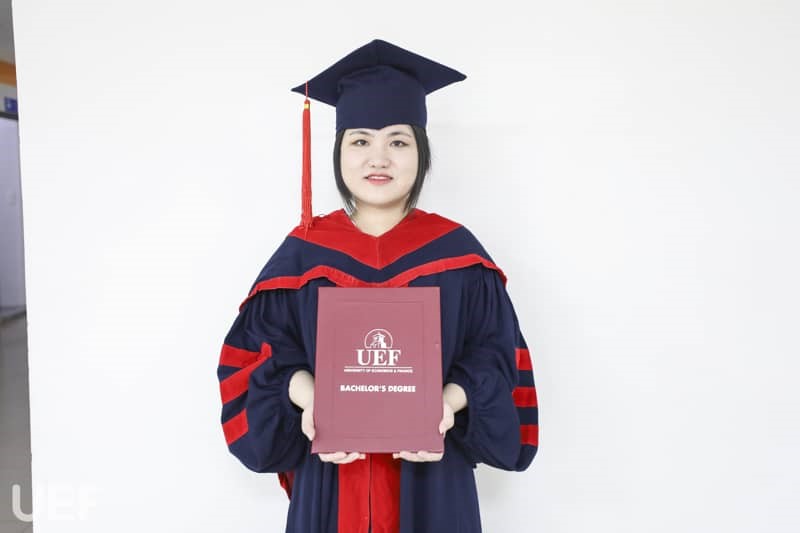 Tuyet My is one of the excellent fresh graduates from the Gloucestershire programme with a GPA of 72.82/100. She currently is a specialist at Bluesea Trading and Consultant Co., Ltd. Tuyet My talked about the curriculum: "The Gloucestershire programme greatly benefits my current job as well as broadening my future career path. To UEFers, the message I want to share is that self-belief is the key to success".

Tran Duy Khoa - B.A. (Hons) English and Linguistics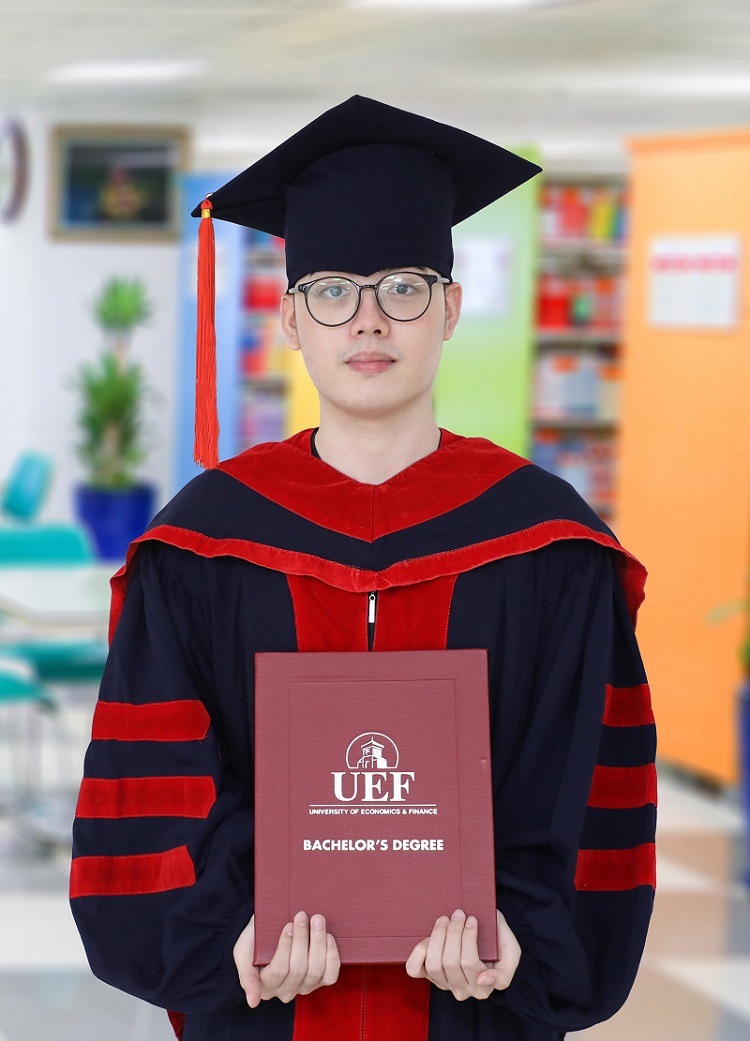 About one-third of students of this first batch has a stable job even before possessing the bachelor's degree, according to UEF International Institute's survey. This not only promises a bright future for undergraduates but also strongly confirms its top-notch Undergraduate program.
A globally connected academic environment like UEF and a "First Class Honours" degree from Gloucestershire University accredited by the Vietnamese Ministry of Education and Training, will not only be the effective leverage for students to gain success on their career path but also broaden their opportunities to win full-ride scholarships for higher education from renowned and prestigious universities worldwide.
Nguyên Lê