On-site studying abroad provides modern learning conditions and international qualifications for students without "going abroad" with high prices, cultural shock, climate, epidemic,...



Students can opt for Bachelor program of Gloucestershire University

Experience British
e
ducation at Vietnam
Many Vietnam universities have implemented international training programs (on-site studying abroad) cooperated with prestigious worldwide universities in order to adapt the inclusive educational internationalization. Ho Chi Minh City University of Economics and Finance (UEF) is a typical example.
It is known that UEF currently possesses a vast network of partner universities in 30 various nations. In particular, U.K Bachelor Program, which UEF has cooperated with Gloucestershire University and Leeds Trinity University, trains students in majors: Business Administration and Marketing; English Language and Linguistics; Hotel, Resort, and Tourism Management; International Business.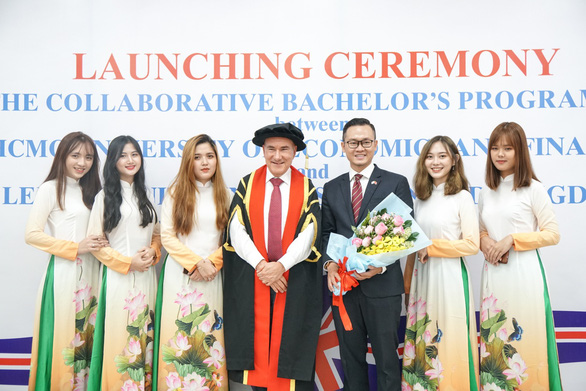 Students can opt for Bachelor program of Leeds Trinity University

The U.K Bachelor Program is designed according to U.K education standards; thus, teaching language is completely in English with the class size of about 25 students/class. Students will be freely revised English before attending the main program.
U.K and UEF Professors and Doctors are the program's lecturers, who directly teach classes and integrate innovative methods to enhance students' creativity, critical thinking,..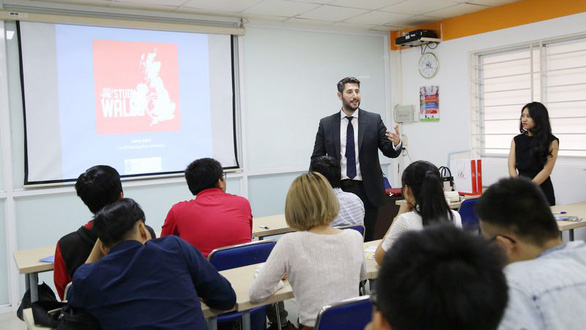 Students are inclusively developed in both knowledge and skills in the international learning environment
The program content is an integration of theory and practice. In this way, students are provided with real-world business experiences from successful specialists and entrepreneurs in the classroom as well as inspired to work in a dynamic and advanced international environment; seize career opportunities;
The program also focuses on students' researching and proposing innovative solutions in academic expertise; the professional practice on studying with international lecturers as well as 2+2 or 3+1 programs,...
Noticeably, students will be trained in a workshop series of soft skills throughout the learning process to adapt and meet future career challenges; work effectively in the international environment of integration context.
Achieve international qualifications with global value
It is better to achieve the U.K Bachelor Degree and the recognition of the Ministry of Education and Training of Vietnam, which offers students wonderful career opportunities in the future and full scholarships at world-renowned universities for further qualifications.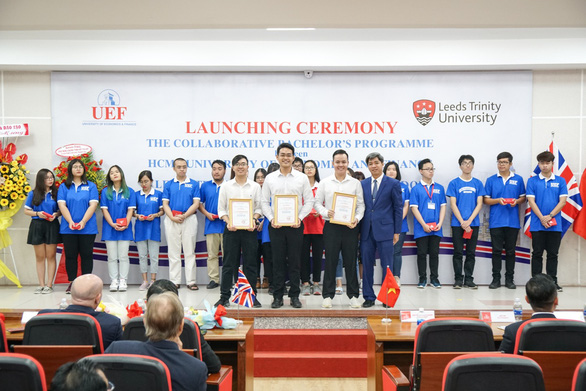 Students obtain international bachelor degrees
According to a survey of the International Career Organization, graduates with a UK bachelor degree are most likely to land a job. The reason why employers prefer UK education degrees is that the UK ranks second in the world
regarding
the cooperation rate between universities and businesses.
Many UK training programs are built by leading universities and experts in the fields and taught by those specialists
, which
students
can broaden
a lot of practical experience and knowledge.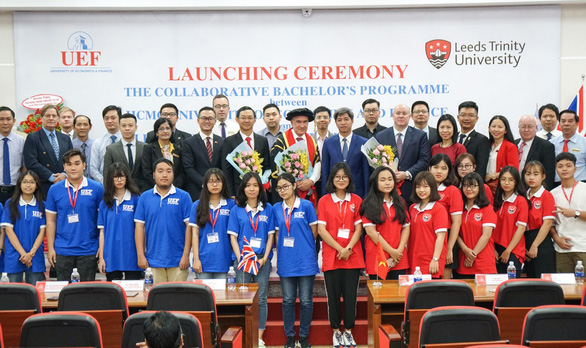 Students can gain more career chances with the valuable international qualifications
With the impressive benefits of the U.K bachelor program, youngsters can realize their dream of obtaining an international degree in Vietnam
. This
is also considered a contributing goal to the educational internationalization of the University. Accordingly, UEF concentrates on training student generations of good competence and foreign language proficiency to capture success in the globalization context.
Currently, UEF receives admission documents for international bachelor programs until 20/08/2020
.
Contact information:
UEF International Institute (Floor 4) - Ho Chi Minh City University of Economics and Finance (UEF).
Address: 141 -145 Dien Bien Phu Street, Ward 15, Binh Thanh District, Ho Chi Minh City
.
Hotline: 094 998 1717 - 091 648 1080
Email: international@uef.edu.vn

Original News: Tuoi Tre Newspaper