Together with highly accredited bilingual program, Ho Chi Minh City University of Economics and Finances is also known for its joint academic programs with partner universities and the highlight being ones with University of Gloucestershire ( UK). Besides, UEF has partnership network with up to 60 universities from 30 countries across the globe.
Studying in Vietnam but obtaining international degree.
Recently, studying domestically and getting international degree has replaced studying overseas to become a universal trend thanks to its economicality. Besides, students do not have to worry about adapting to new environment, cultures, educational conditions etc. These joint programs also enable students to experience international education quality from world-famous universities in developed countries such as England, France, the USA, etc.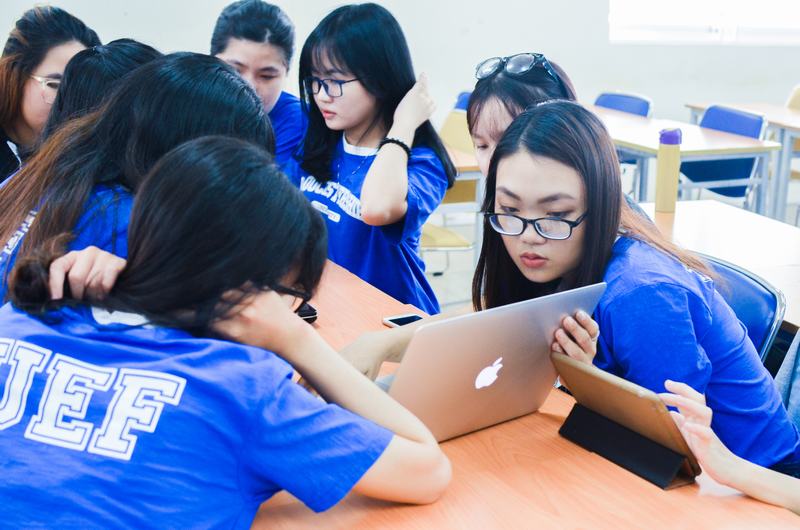 University of Gloucestershire's undergraduate program is the prime example of successful joint program in Vietnam
Standing out in UEF's international education system is University of Gloucestershire Undergraduate Program with two prominent majors: Business Administration and Marketing, English and Linguistics. This program offers students the optimizing chances to earn internationally accredited single or double degrees at UEF or in the UK.
Graduates will receive international degrees conferred by this British university, which enables them to gain employment opportunities, hold positions in international working environment, and increase their chance of getting higher-level scholarships at top universities. Hence, becoming global citizens who can adapt to integrated job market is totally within their reach.
Opportunity to benefit from British education quality at UEF
Participating in University of
Gloucestershire's
Undergraduate Program, UEFers will be completely taught in English, with updated
textbook of top UK universities standard. When entering the university, students do not have to worry about English skills as free English classes will be settled for students before the academic term begins. UEFers are also equipped with basic knowledge about British cultures.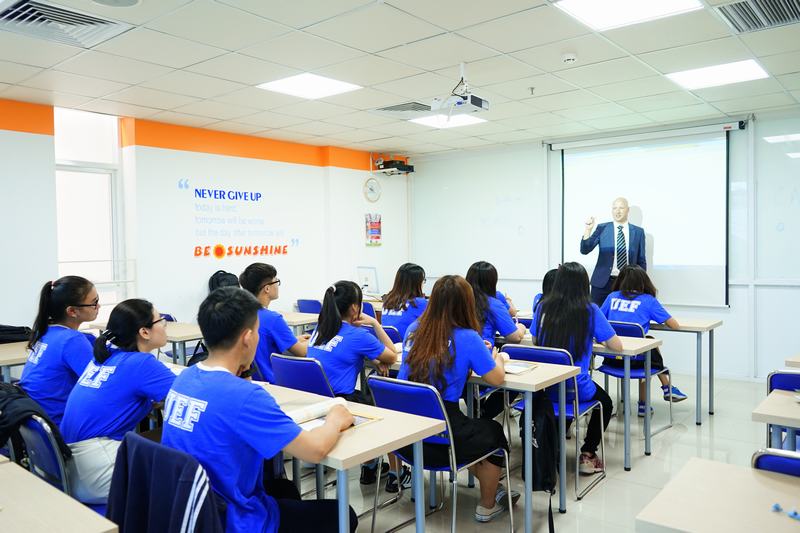 Students of Gloucestershire's Bachelor Program are completely taught in English.
In such an English environment, UEFers will be taught 4 skills during their years here. Plus, it also puts focus on teaching soft skills such as presentation skills, negotiation skills, CV writing method etc.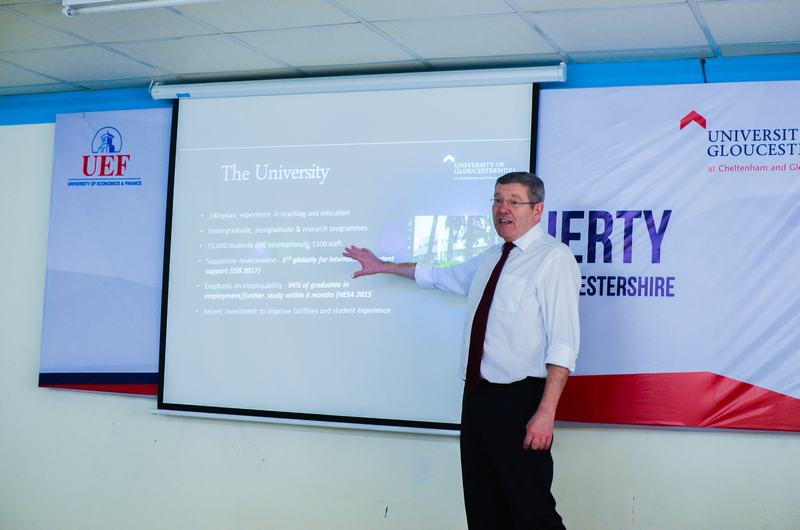 Dr. Richard O'Doherty - Vice-president of University of Gloucestershire paid a visit and shared practical knowledge with UEFers
Students also are inspired by and receive help in deciding their career path in an international working environment from
Gloucestershire
's experienced professors
.
They come to UEF not only to give lectures but also visit and provide practical knowledge for UEFers. In particular are the visits from
Dr. Richard O'Doherty
,
Vice - president
of
University
of
Gloucestershire
; Professor
Kamal Bechkoum
- Dean of Business and Technology Faculty etc.
With the number of attendants being less than 25 in each class, students will have greater chance to connect directly with lecturer, leading to well-absorb
ed
learning. They also get to learn in a comfortable, modern environment, with curricula combining practice with theory. Furthermore, UEFers are provided with practical knowledge from experts, successful entrepreneurs.
To apply for admission to
Gloucestershire's
Bachelor Program, students must be high school graduates, have international standard English level, or at least band 6.0 IELTS before starting their 5th semester. Especially, UEF will hold free English classes to help students achieve 6.0 IELTS in their 4th semester at school.
Deadline for registration is July 31st 2018.