This is also the research topic of Le Duy Khanh, a student of Ho Chi Minh city University of Economics and Finance (UEF).
According to Khanh, at present, recruitment platforms have not yet played a role in connecting candidates and companies effectively. There are still numerous graduated students who find it difficult to seek a job and force them to accept non-majored jobs. Meanwhile, enterprises also have challenges in "hunting" potential candidates for key positions due to the lack of information sources.
Moreover, the dishonest CV applications such as illegal diploma, certificate, misinformation about experience and skills,... which are suggested by careers platforms does not only cause trouble for human resources but also directly affects the companies' accessibility to quality human resources. For that reason, to tackle this issue, various researches on applying Blockchain technology have been implemented, such as Blockcert, VECefblock, EduCTX,...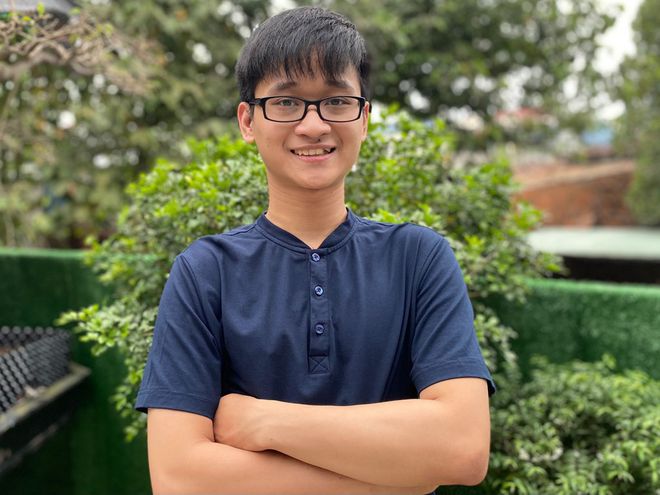 Duy Khanh, UEF student of Department of Information Technology

"However, the centralized database model doesn't guarantee the security and integrity of data when the possibility of attack is extremely high. At last, all these 3 platforms just about the indicators that have not made remarkable impacts on employment.", Khanh said
Another issue is virtual education. In recent days, the virtual learning model has been a trend and become a useful tool for educational needs, including Zoom Cloud Meeting, Google Classroom, Udemy,...
"However, the current virtual learning model fails in drawing students' attention during the course. In detail, learning platforms only focus on offering courses that learners have to self-study for the rest of course after enrolling these courses. Therefore, learners tend to be enthusiastic in the very first days and become discouraged later due to lack of determination and goal for learning.", Khanh shared.
In addition, recently, there are numerous problems in data and security that cause users to become anxious and worried. "So, I did research in combining the virtual learning model, certificate management model and career service platform to integrate information about certificates, experience,... Since then, I apply blockchain technology to design and complete educational and career Jobchain platform. Accordingly, the platform supplies a dynamic academic environment by innovating training methods as well as supporting users in job application and transfer. Furthermore, issues on data and security are also solved by building and developing centralized and data-sharing protocols based on Blockchain technology.", Khanh said.
As for Khanh, the goal of this research is about career and virtual learning.
On the side of career service, Jobchain is an integration of career platform and virtual learning model that offer high quality human resources by applying blockchain technology for data validation.
On the virtual learning side, this research applies the "Learning is Earning" model. Accordingly, the virtual training method of Jobchain is an interactive platform that raises learners' enthusiasm and urges their initiative to follow the course by offering goals in learning.
News: Le Thanh - TNO