Organized on July 17, TedxUEF - Under the Spotlight, a professional student-run event filled with brilliant speakers and diverse topics, left a deep impression on every of its attendees.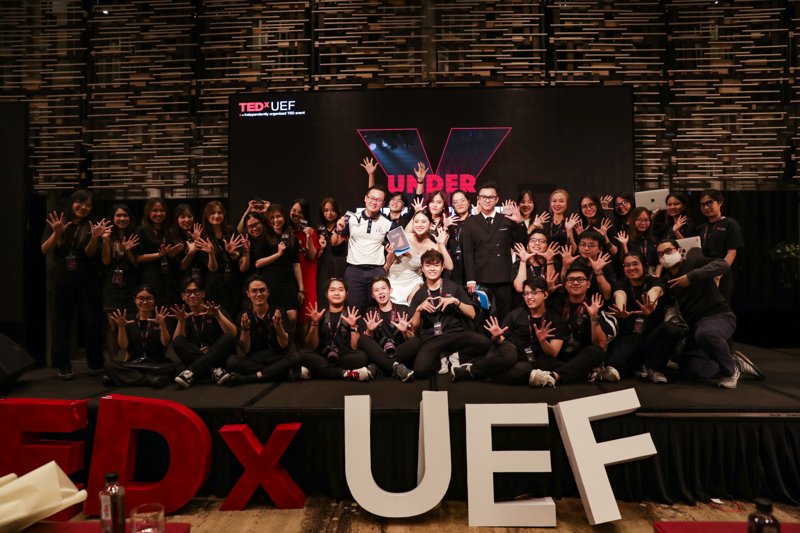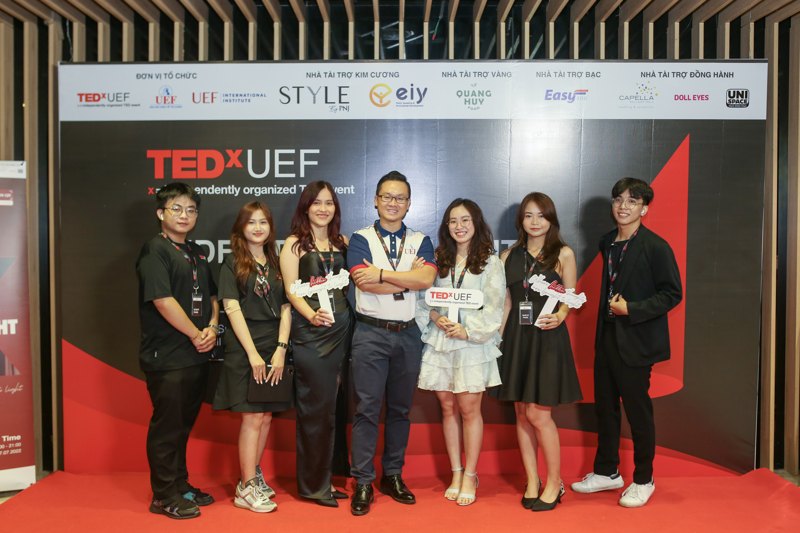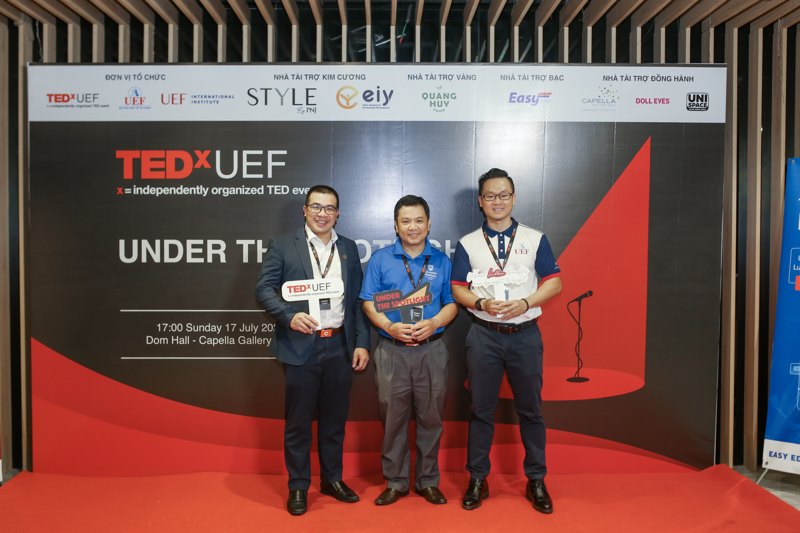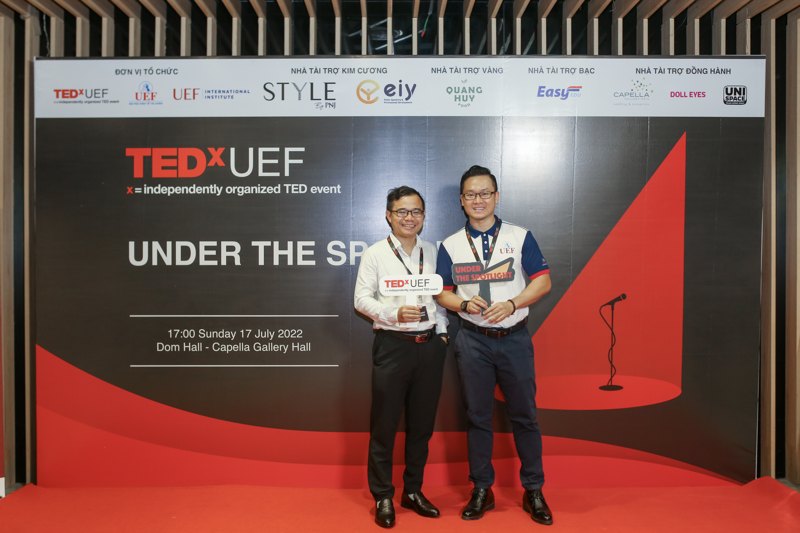 The event was hosted by UEFers themselves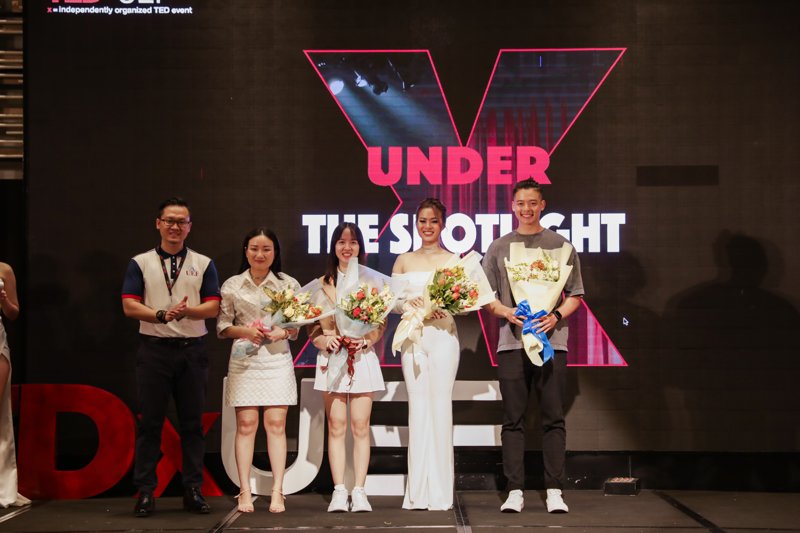 Dr. Do Huu Nguyen Loc – UEF Vice President gave out flower bouquets to express gratitude to the speakers
In the intimate setting of Capella Gallery Hall Convention Center, UEF students gained valuable lessons through sharings from prominent influencers. They were Hot TikToker Tri Phan (Tri Thit Boa), 1st runner-up of Miss Vietnam 2020 Phuong Anh, Startup & UEF alumni Nguyen Ngoc Lan Anh, CEO of The Tutors IELTS center Nguyen Le Minh Chi –, and two talented UEF students Pham Ngoc Phuong Thao (Theresa) and Trinh Thi Hoang Kim (Miss Kim).

Lan Anh began the show with her topic "Self Confidence," noting that people often lack confidence when they are in the spotlight, but in the meanwhile, by stepping outside of their comfort zone, they might develop their confidence in unfamiliar situations. "The spotlight will open the way to success. It will show me my strengths and weaknesses, and I am willing to accept both. This is where my confidence is explored - under the spotlight," she added.

She showed four steps to gaining confidence, comprising self-awareness, self-understanding, self-acceptance, and self-respect. With gentle and close guidance, Lan Anh brought valuable messages to the audience" Anyone can be confident and shine under the spotlight".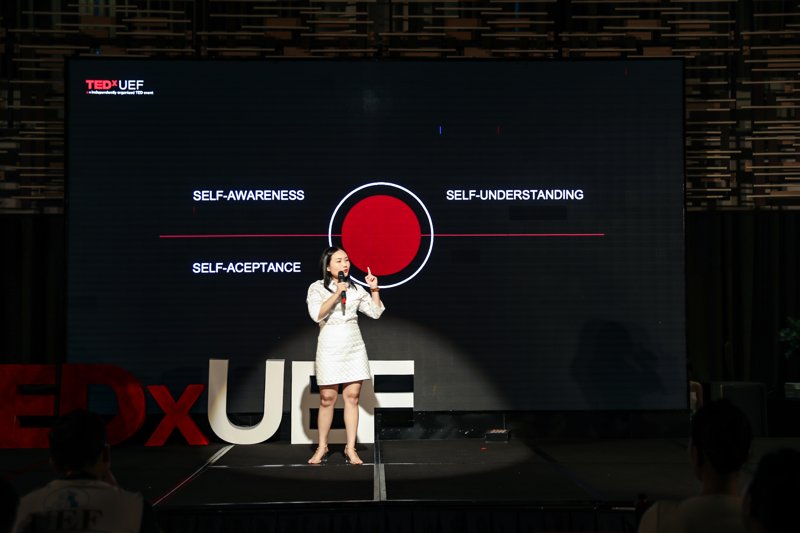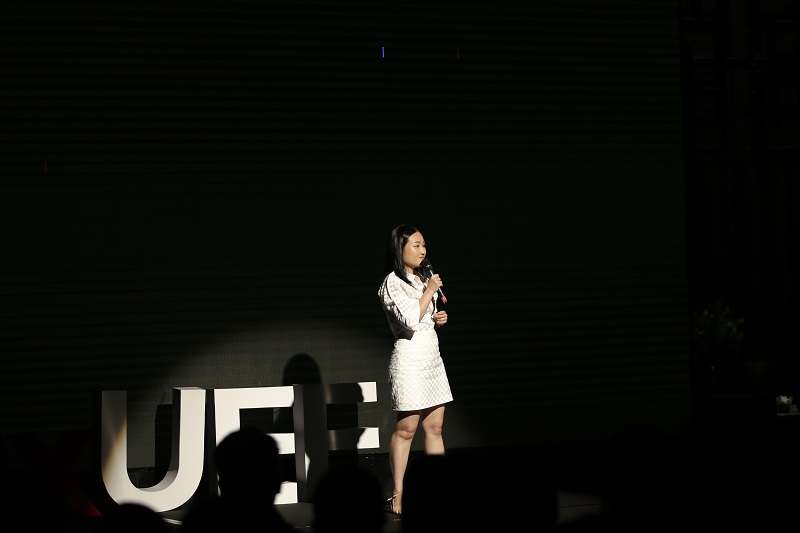 Lan Anh talked about different levels of confidence
Phuong Thao, with her young and energetic vibes, surprised the audience through her story named "The Pressure". From her perspective, "pressure makes diamonds" is true but not everything. It is calmness that outweighs pressure in honing problem-solving skills and completing someone in a more balanced way. She showed a different approach to pressure, which helps develop inner tranquility. Specifically, rather than getting negative impacts from pressure, you can instead earn calmness by successfully figuring out solutions. She then gave some suggestions on how to deal with pressure, by answering these questions "How will I face it?", "Where did it come from?", "In what aspects did it result from and why?". She eventually concluded the talk by sharing her own experiences as demonstration.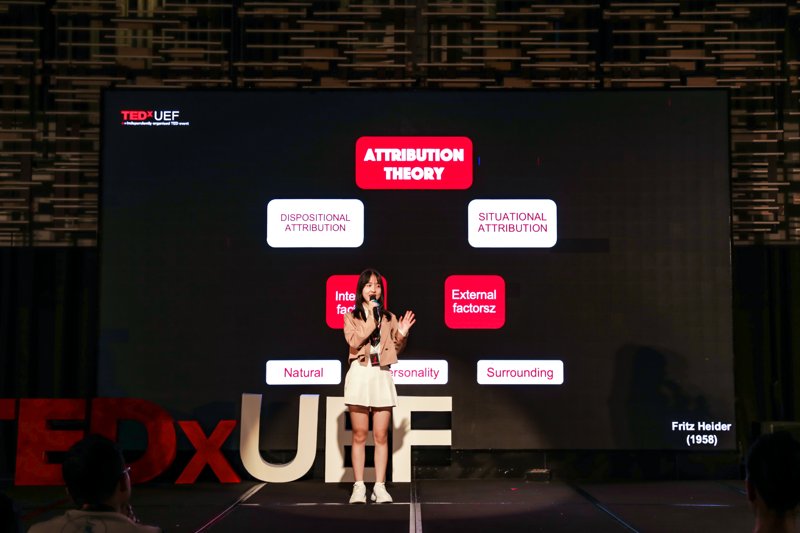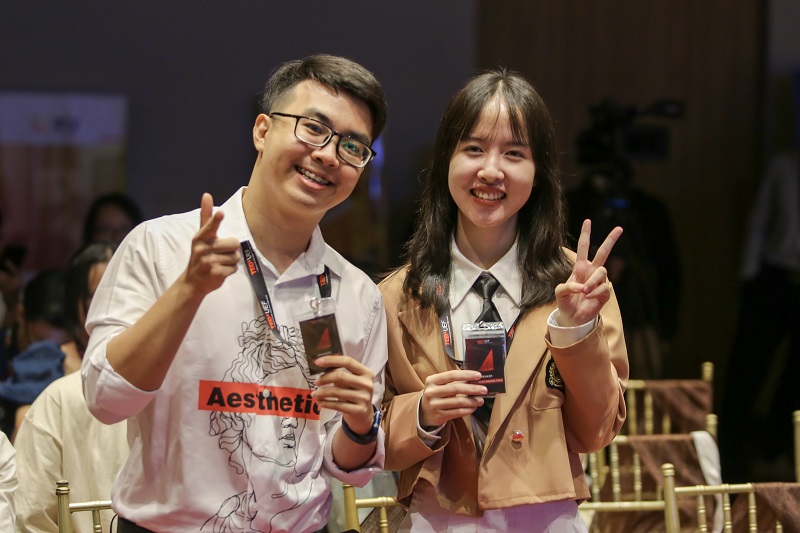 Phuong Thao undisputedly proved herself as the prime example of "calmness makes diamonds"
Miss Vietnam 2020 1st Runner-up Phuong Anh lit up the stage with her intellectual beauty. With the theme "Travel Story", she named three major lessons she learned through her trips, comprising adaptation, flexibility, and gratitude. She believed that the global exposure she has gained on the journeys helps her remain calm, seize every chance coming, even turn challenges into opportunities.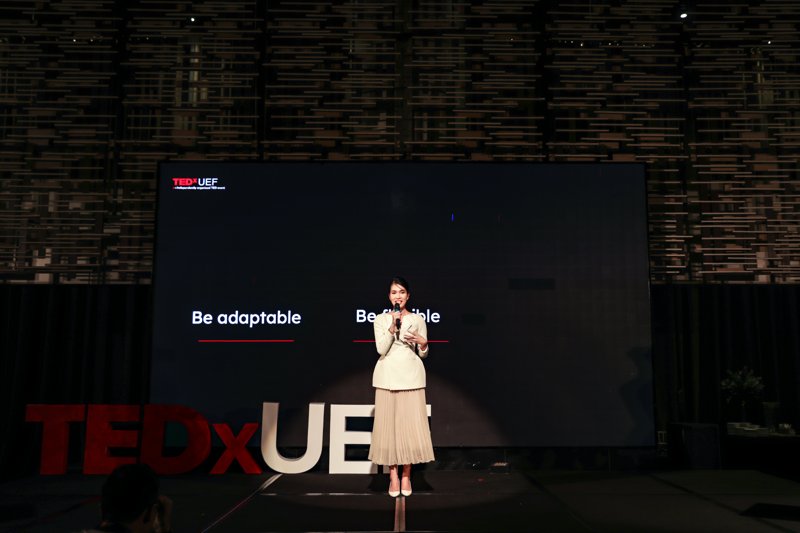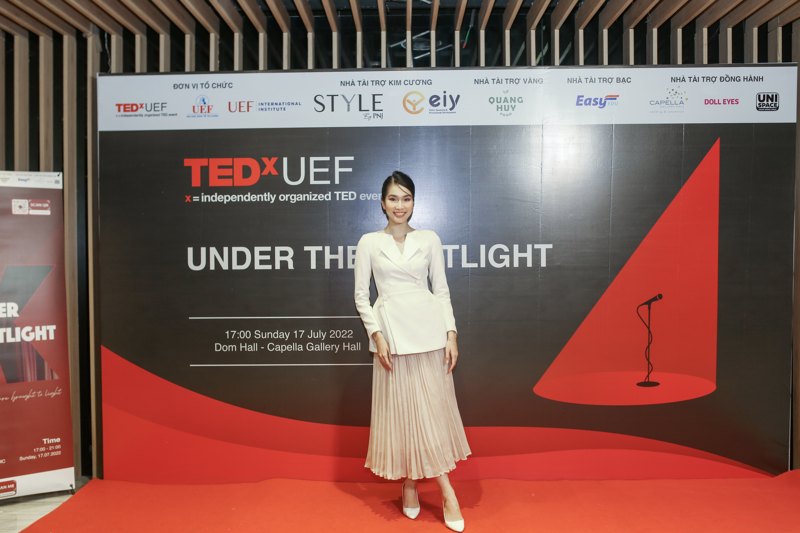 Phuong Anh shared her life stories through the traveling journey
CEO Minh Chi introduced "The Power of words" to his audience by highlighting the hidden power of words in communication. He started his talk saying that hurtful words might result in terrible consequences. He therefore recommended some key letters to have a more positive impact on conversations, using "S for Smile", "C for Compliment", "C for Care", and "S for self-awareness".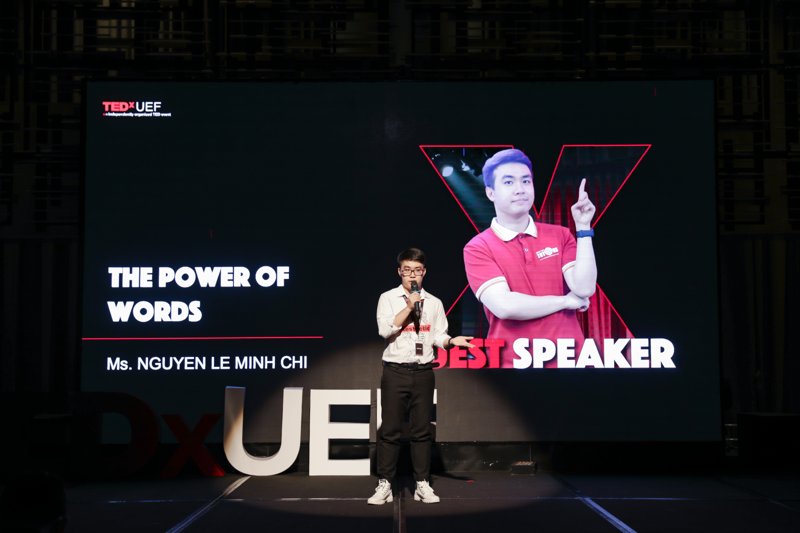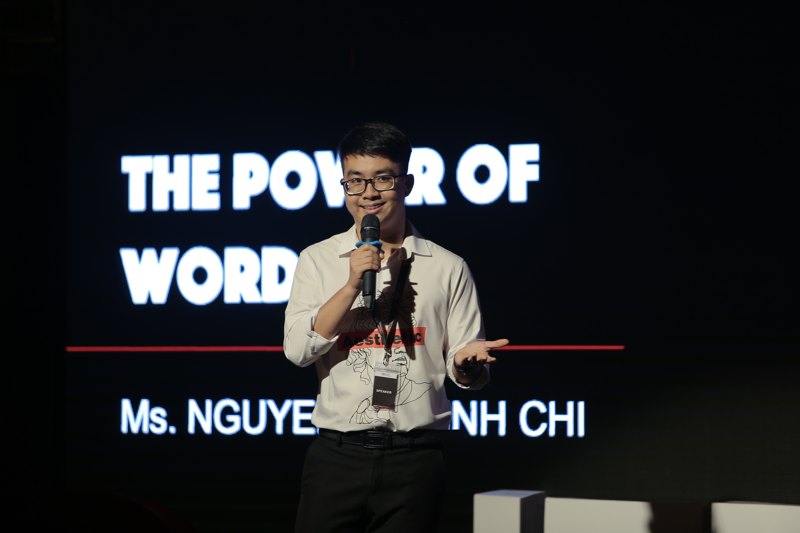 CEO Minh Chi talked about The Power of Words
If UEFers often attended events at UEF or regularly used Tiktok, they would become famimiar with Hoang Kim, a lovely and energetic MC. She delivered the message "Familiarity is Key" via a series of vivid and attractive examples. She expressed that familiarity facilitated communication between speakers and listeners. The message they delivered should be related to the audience. In addition, she added that people should actively build relationships and connect with their friends, because they cannot do everything well alone.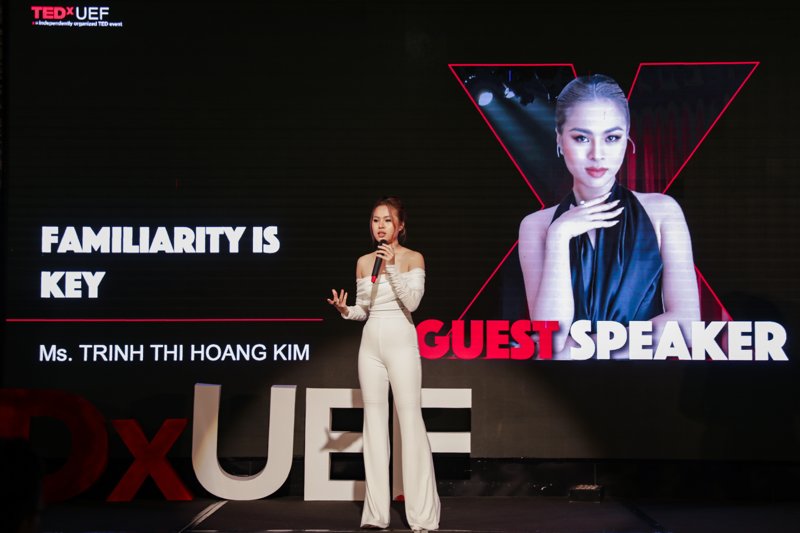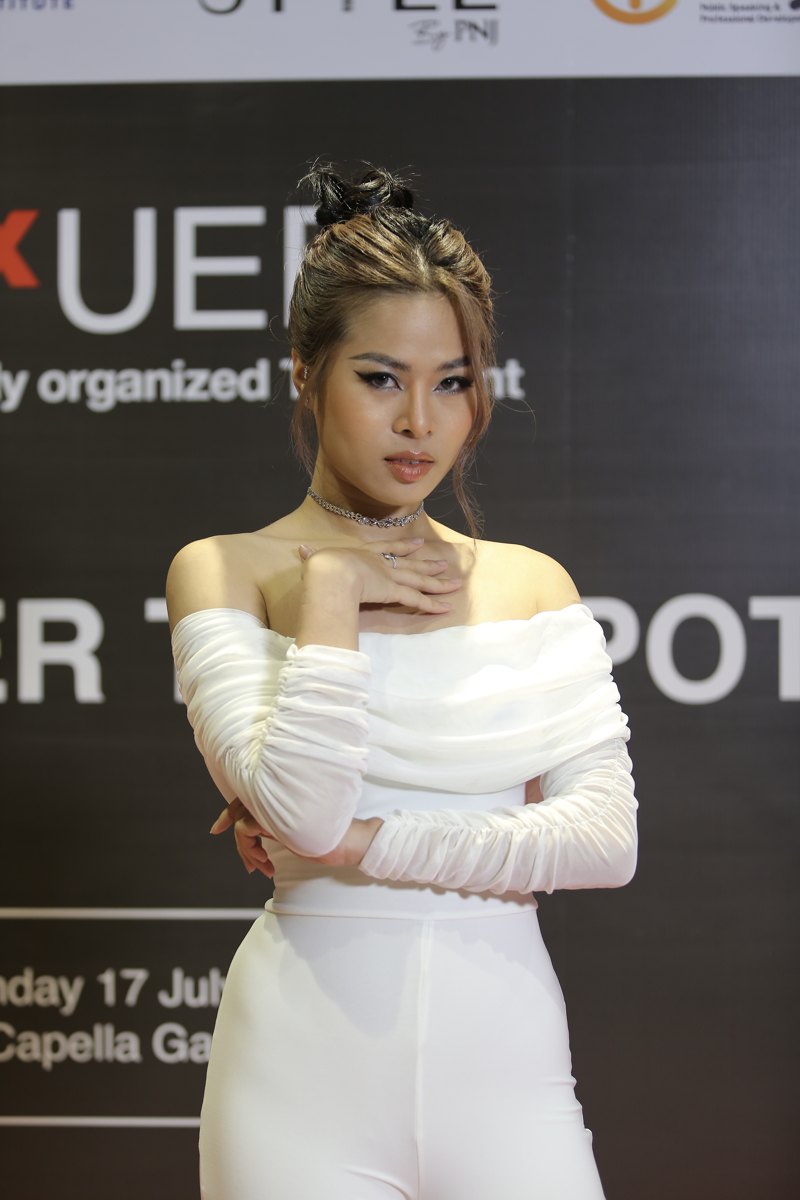 Miss Kim impressed the audience with her great charisma and positive energy
Tri Thit Boa concluded the TED talk with a list of five elements for a successful social media channel, including TikTok, YouTube, and more. As a "key opinion leader" with great influence on mass media, he looked at some aspects to demonstrate the successful destination of a social media channel was a harmonious combination of many factors, such as Content is king, Personal Branding, Consistency - Virality, Keep it simple, and Purpose. Regarding the concept of personal brand, he underlined the importance of creating one's own style of video products. Personal brands did not necessarily come from one's physical appearance. Instead, it could be from the way they expressed words, the way they filmed, or even their own personality.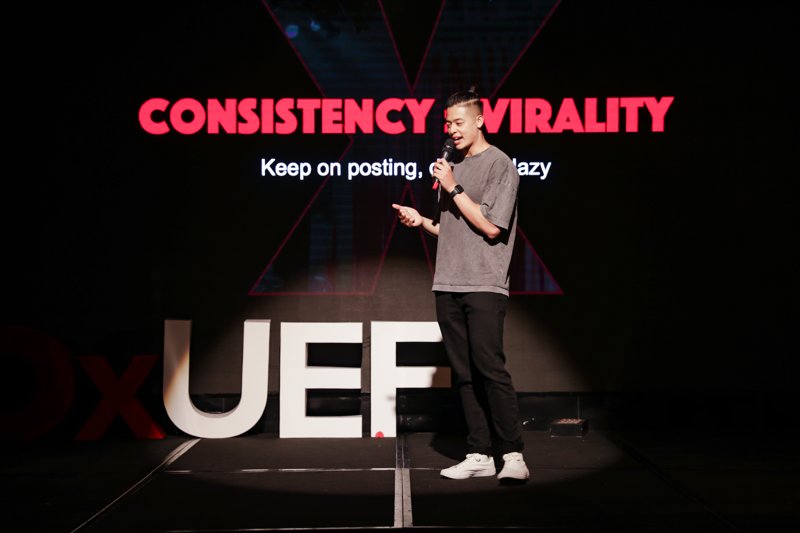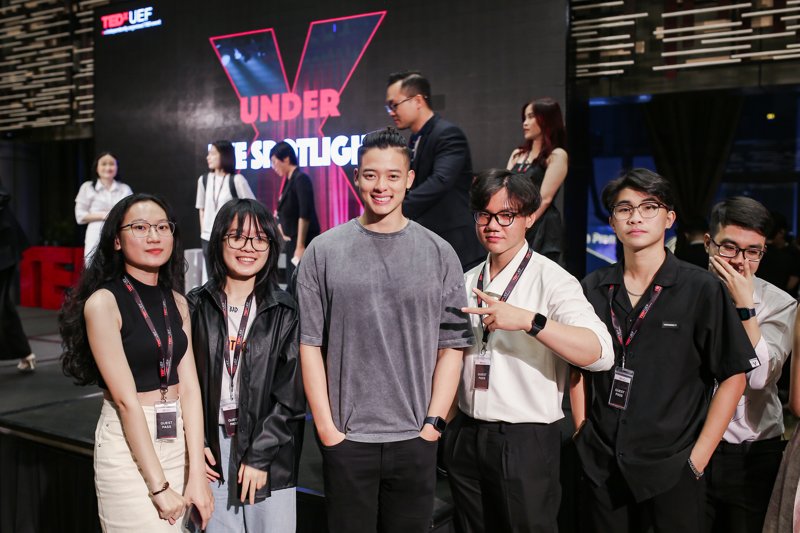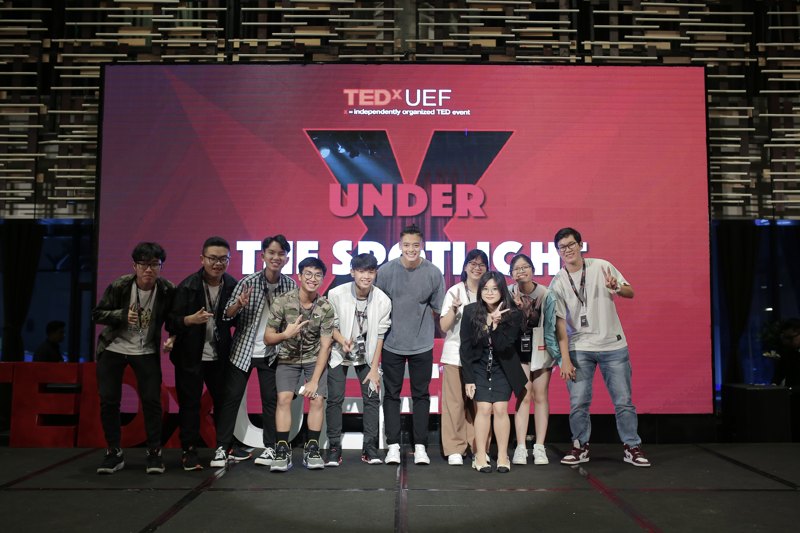 Tri Phan highlighted 5 factors to creating a successful social media channel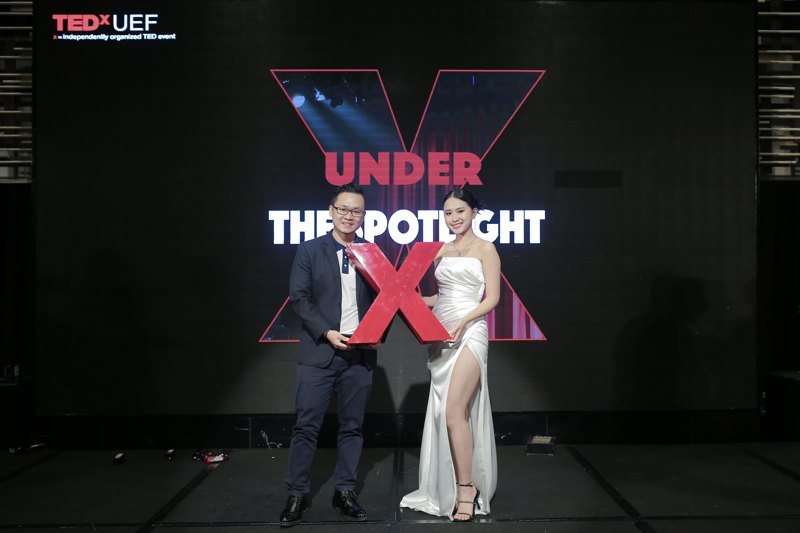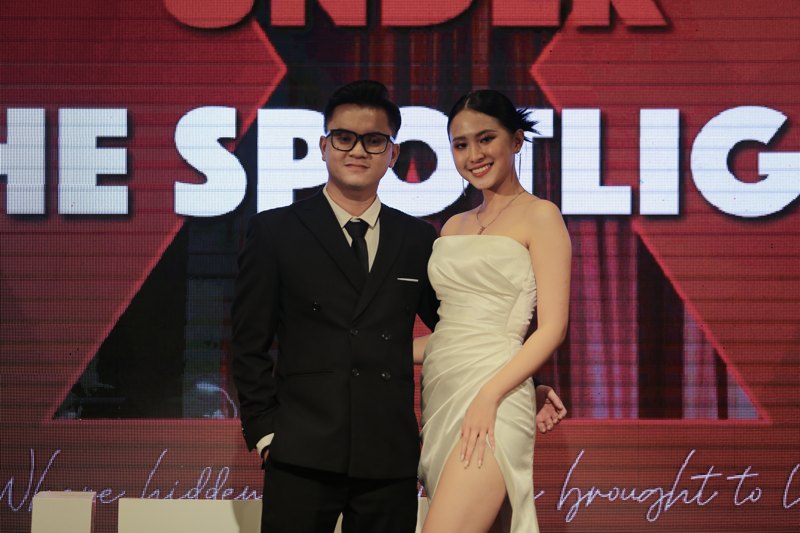 Phu Bao Nghi – Miss Vietnam 2021, was one of the two MCs at the show
Not only did the show help spread important messages, but it also demonstrated UEFers' expertise in event planning and management. They have worked harmoniously together to bring a spectacular event with great speakers, professional stage design, and meaningful messages. UEF student speakers did a great job in showing their confidence, exceling in foreign language skills, and giving impressive presentations. The fantastic weekend night show offered lots of inspirational talks delivered by multi-talented young people who never stopped learning and confidently turned "thoughts into meaningful messages".
TT.TT-TT
Photos: BTC