UEF is appealing to foreign students with its cultural diversity, especially those from neighboring countries such as Laos. At UEF, not only academic learning process but also spiritual life of international students are wholeheartedly support.
April 14, the Department of Student Services and the Faculty of International Relations co-hosted an interchange activity on the occasion of Bunpimay - the traditional Lunar New Year of Laos, aiming to celebrate a Bunpimay festival atmosphere for Laotian students at UEF.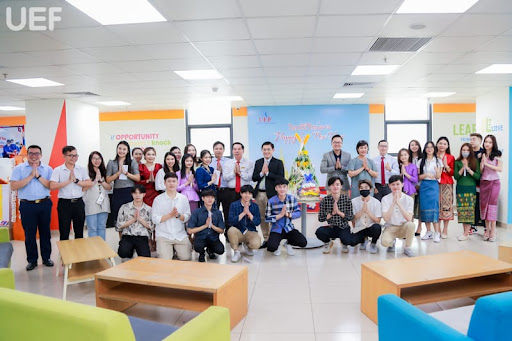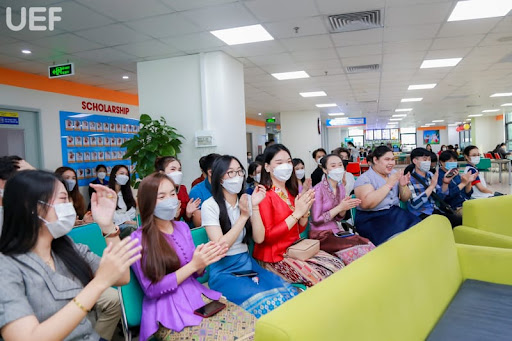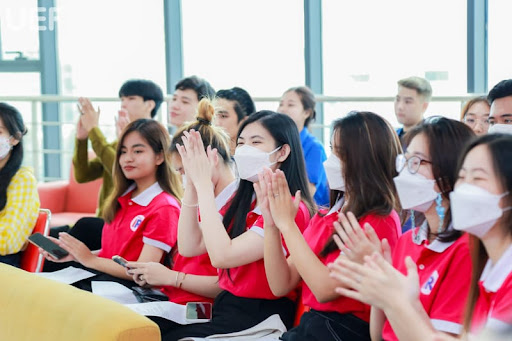 The activity 32 Laotian attendees and many others from the Faculty of International Relations
The activity featured the participation of Dr. Nhan Cam Tri – UEF Vice President; Dr. Do Huu Nguyen Loc – Vice President & Director, UEF International Institute; Dr. Tran Van Thong – Vice Dean of Faculty of Hospitality & Tourism Management; Mr. Vu Anh Sao – Vice Dean of Faculty of Law; Mr. Le Dung – Director, Department of Academic Services; Mr. Bui Quang Dong – Director, Department of Student Services; Ms. Nguyen Thi Nguyet Hoang – Vice Director, Department of Academic Services, and Mr. Nguyen Huynh Sinh – Vice Director, Department of Academic Services.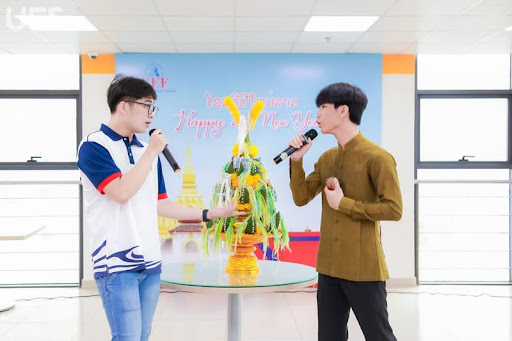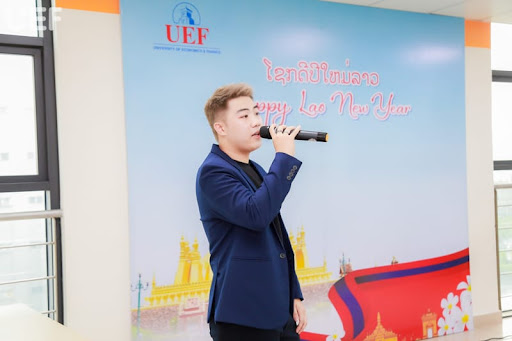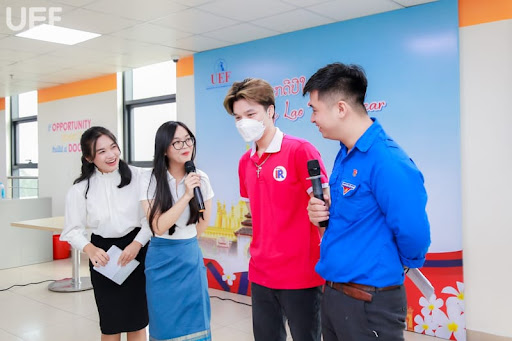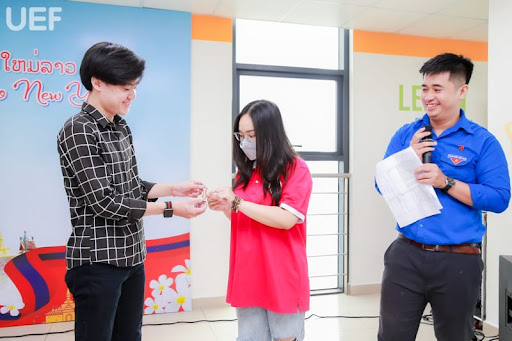 A variety of interchange activities were celebrated to strengthen Lao-Vietnamese students friendship
In addition to minigames and zestful performances, 32 Laotian students got the chance to introduce UEFers o the meaning, ingredients, and recipe of Larb - a type of Lao meat salad that is the national dish of Laos. Moreover, Lamvong - Laos's traditional folk dance was also skillfully and wonderfully performed.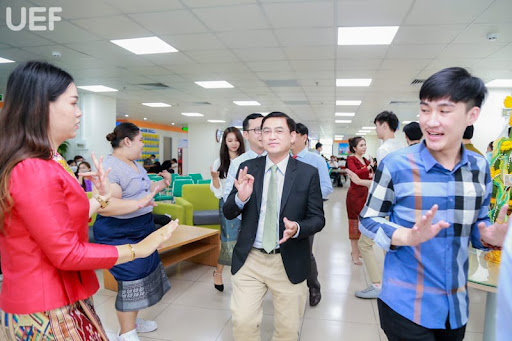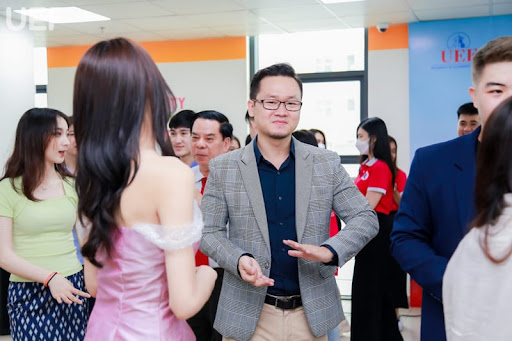 All immersed themselves in Lamvong Dance
Unique cultural rituals such as water splashing and palm-tipping were also enthusiastically performed at the event. Lao people believe that these rituals would wash away bad things and sickness, and also welcome a prosperous new year. All activities are intended to bring safe and sound to all UEF members.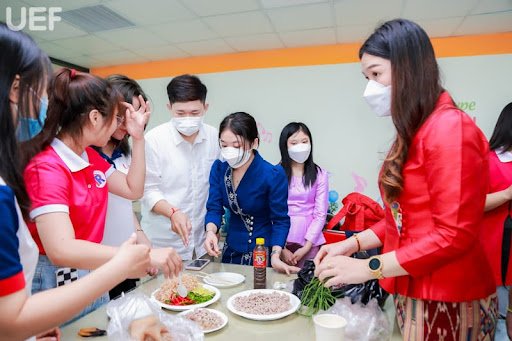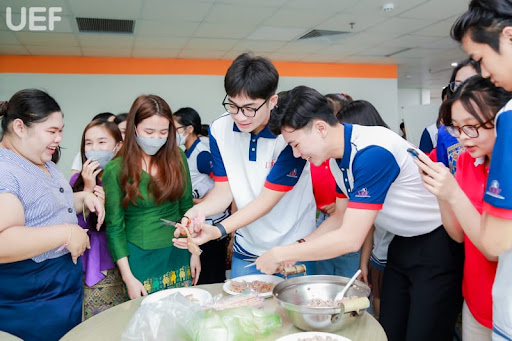 Laotian students taught Vietnamese peers how to make Laotian Larb
Dr. Nhan Cam Tri The made a speech at the ceremony: "New Year festival of each ethnic group is very sacred, carrying the meaning of reunion and happiness. I hope this meaningful ceremony will partly bring Laotian students a warm atmosphere reminiscent of their homeland. I am delighted that a number of Lao exchange students were commended and rewarded by the Ho Chi Minh Party Committee in the previous year. I wish Laotian students all the peace, happiness and outstanding academic achievements in the new year".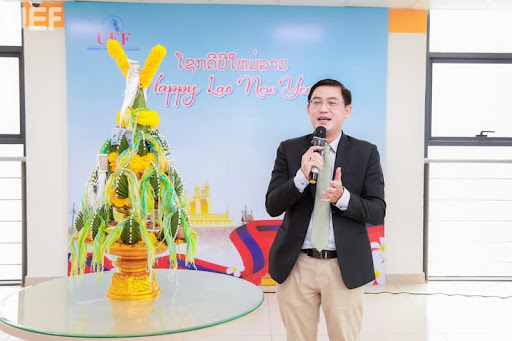 Dr. Nhan Cam Tri sent New Year greetings to Lao students at UEF
On this special occasion, Phainam Phiouvanna - a Lao exchange student, emotionally expressed her own feeling:"Today is the first day of the Lao New Year, I am very grateful that we could always receive love and caring from UEF, and I wish you good health and luck. I hope I could have a golden opportunity to welcome you to Lao and then introduce meaningful rituals in Bunpimay festival one day".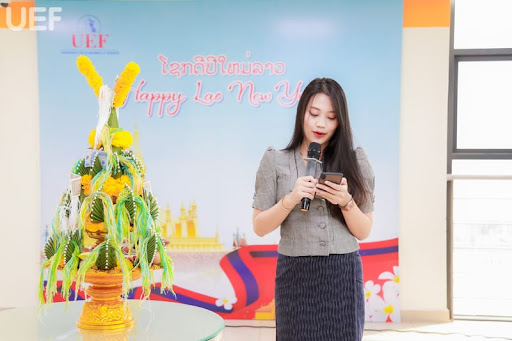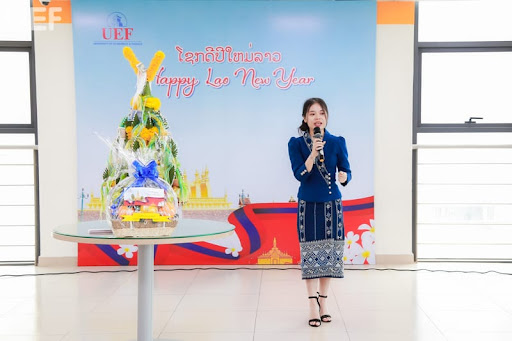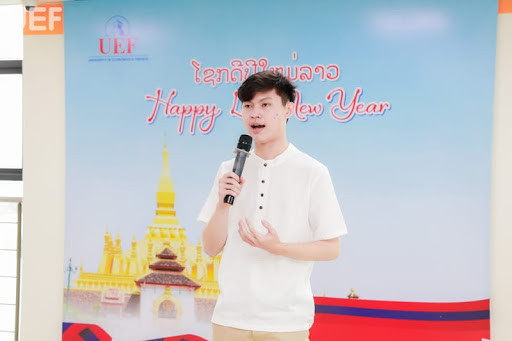 Laotian students shared the meaning of various rituals and Bunpimay festival
Additionally, Laotian students also gained the love and care of all UEF members through New Year's greeting cards and meaningful souvenirs from faculty members.
UEF's reputation has always placed the trust of Lao international students in recent years. The celebration of the Bunpimay festival demonstrates that UEF has always paid attention to the life and study of Lao students, strengthening the relationship between students as well as Vietnam-Laos solidarity and friendship.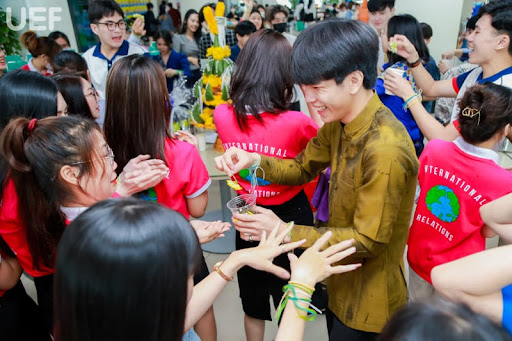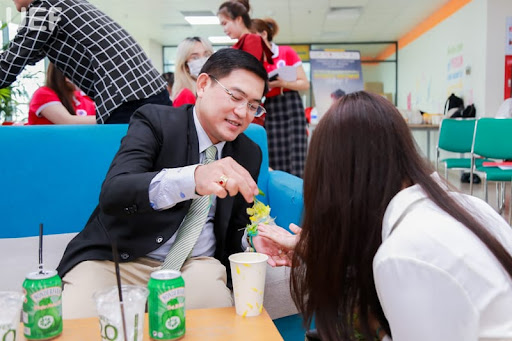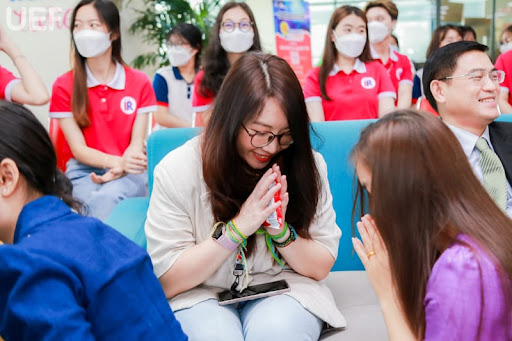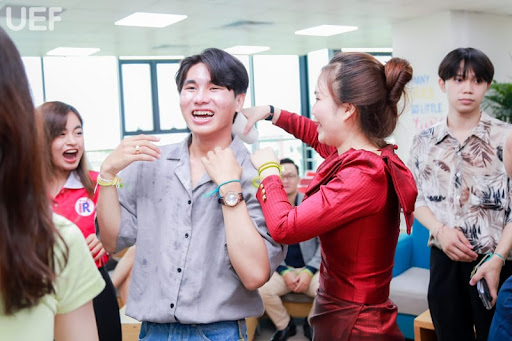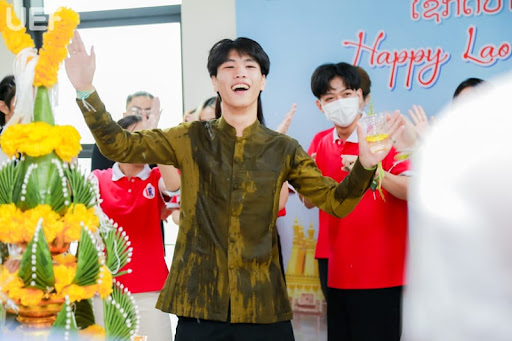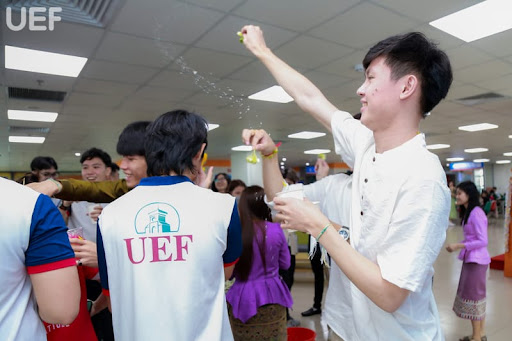 The rituals of wishing for a peaceful, lucky and favorable New Year of the Laotian students were carried out at the UEF
With this meaningful spiritual encouragement, hopefully Laotian students will continue to strive toward their studies and spread UEF's international values ​​to a large number of young people in Laos. Once again, wishing Laotian students a peaceful, happy and prosperous new year.
News: Quy Nguyen
Photo: Hong Quan