After officially checking-in UEF, the candidate have been enthusiastically guided on the admission process for international program students. As a result, she can quickly complete the admission procedure and officially become a "citizen" of UEF. Especially, after completing the admission procedure, the freshman of the UK bachelor's program also received a surprise gift - a cute bear from the Vice-President, Director of the International Institute - Dr. Loc Do. This is a UEF-marked gift for congratulations and encouragement for the first freshman to strive to study in the near future.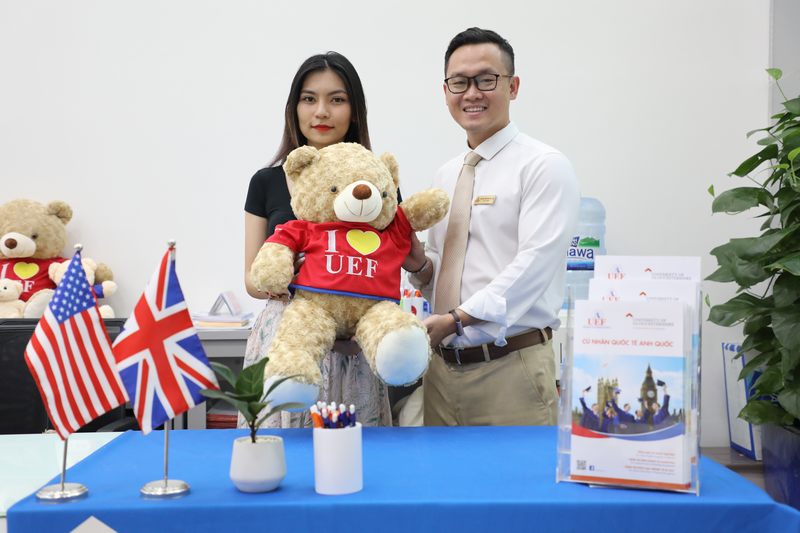 Dr. Loc Do - Vice-President of UEF gave souvenirs to a freshman
Sharing her feelings at the admission session, Nguyen Thuy Thao Van - a new student of Business Administration and Marketing was surprised and excited. Thao Van added that she was planning to apply for a study abroad program in Canada, but under the current fluctuated situation and after studying the UK bachelor's program at UEF, she found it interesting and decided to change the learning orientation. Before applying, she had carefully researched information about UEF and had friends who are studying at the school therefore she did believe in her choice. Participating in the UK bachelor's degree program in association with the University of Gloucestershire, Thao Van expected that she would transfer to study in the UK in the final years

The UK bachelor's program at UEF is currently joint training with two universities: the University of Gloucestershire and Leeds Trinity University. This is an international affiliate program that possesses outstanding advantages such as: saving money "going abroad", studying entirely in English, the content of the program combining theory with practice, creating all conditions for students develop comprehensively, practice in the process of learning with foreign teachers, the opportunity to participate in exchange programs with many famous experts in the world, ...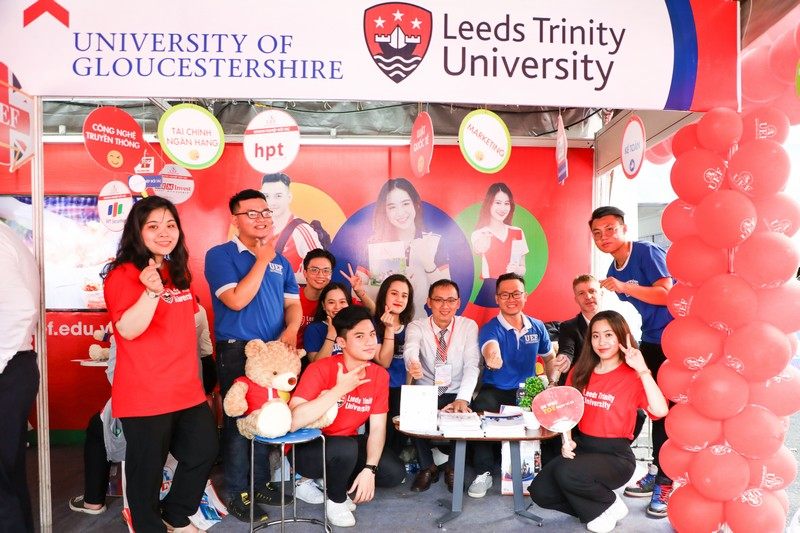 Candidates have many options when signing up for UEF's on-site study abroad program
The University of Gloucestershire's bachelor's program in UEF is currently training three disciplines: Business Administration and Marketing (Bachelor of Arts in Business and Marketing Management); English and Linguistics (Bachelor of Arts in English language and Linguistics); Management of hotels, resorts, and tourism (Bachelor of Arts in Hotel, Resort & Tourism Management). In addition, candidates may choose to study International Business at Leeds Trinity University. Currently, UEF is accepting applications for UK bachelor programs until July 31, 2020.
Admission documents include:
- Application for admission (according to a separate form of the school);
- 02 notarized copies of high school diploma or temporary graduate certificate (notarized);
- 02 notarized copies of High school transcript (notarized)
- 02 notarized copies of ID card / Passport (notarized);
- 01 curriculum vitae verified by the locality;
- 01 copy of the Birth Certificate;
- 01 Health certificate;
- 04 photos of 5x5 international standard with white background;
All the details please contact us:
UEF International Institute (4th floor)
University of Economics - Finance Ho Chi Minh City, 141 - 145 Dien Bien Phu, Ward 15, Binh Thanh District, Ho Chi Minh City.
Hotline: 094 998 1717 - 091 648 1080 Email: international@uef.edu.vn
Once again welcome freshmen who have officially become members of the UEF Home. It is hoped that coming to a new, dynamic, creative, multicultural learning environment, at UEF, freshmen can have the most beautiful learning experience and unforgettable student-life memories.

News: Quyen Cuong, Photo: Duc Huy