04/22/2016



Creating a good learning environment of international standards is one of UEF's top development strategic plans. To achieve this, UEF has continually sought and broaden cooperation with prominent partner universities around the world. After an extended period of study and academic exchange, on March 17

th

and 18

th

, 2016, a delegate of leaders representing UEF visited and formed a strategic partnership with Bangkok University, Thailand (BU).

UEF's representatives include
Assc
. Prof. Bui Xuan Lam – Vice Chairman of the Board of Directors, Dr. Nguyen Thanh Giang – UEF's President and Dr. Do Huu Nguyen Loc – Deputy Director of the Institute of International Education, all of whom were warmly welcomed at BU's main campus in Bangkok.

At the signing ceremony, the sides agreed on an agenda of cooperation. Specifically, UEF will conduct a joint program in Master of Business Administration with BU; and BU's top lecturers will come to Vietnam and teach alongside UEF's counterparts at UEF's main campus.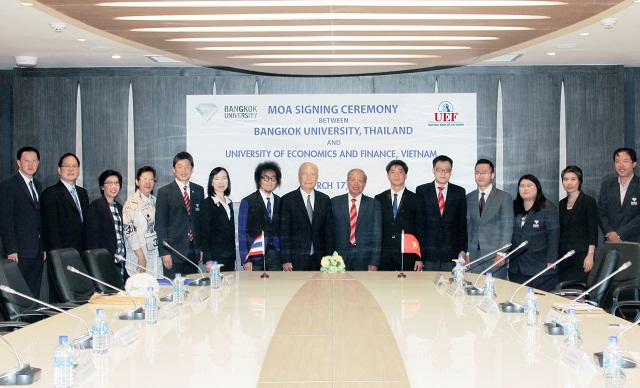 The strategic partnership marked an important milestone in the relationship between UEF and BU
The representatives of two universities went into details on teaching new majors such as Entrepreneurship Management and Knowledge Administration. In the future, these fields of studies are expected to attract not only Vietnamese students but also those across the region. Besides, both sides also agree on coordinating student and lecturer exchange programs and joint programs. Furthermore, Bangkok University planned to have cooperation with UEF on the two majors of media and tourism.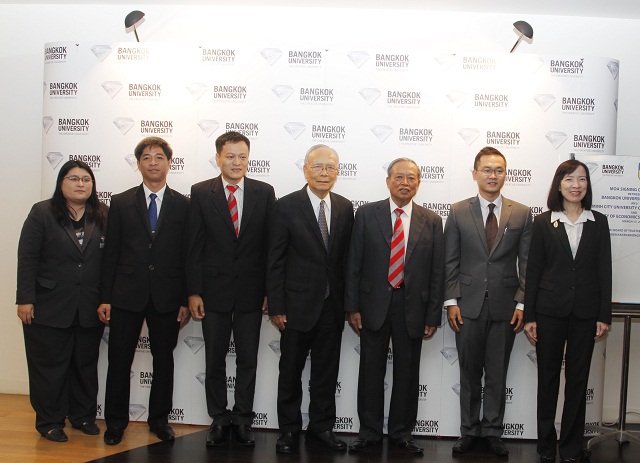 UEF's representatives posed for a picture with BU's leaders
To mark the milestone in partnership, 20 outstanding students from UEF will participate in the Academic Exchange Program with BU on May 3

rd

and 7

th

, 2016. Through this activity, UEF's students will have a chance to experience an international learning environment at BU. Vice versa, in late June, students representing BU visit and participate in cultural and academic exchange with UEF students.
UEF Institute of International Education