OCTOBER 20 - Being unable to manage time effectively and balance study and part-time jobs, family and career is a common issue facing most students. To aid them in mastering their own life, UEF International Institute held a workshop "Time management & Global Engagement Skills" catching the interest of many students.
The workshop featured the presence of 3 speakers, namely Mr. Nguyen Thao Quan – Deputy General Director of Nova Service, Mr. Adam Briffett – Lecturer of UEF International Institute, and Ms. Nguyen Hong Anh – Former Vice President of IE Club. From UEF, there were Dr. Do Huu Nguyen Loc – Vice President & Director of UEF International Institute, Ms. Huynh Tu Anh – Deputy Director of UEF International Institute, and Ms. Tran Phuong Quynh – Deputy Director of UEF International Institute.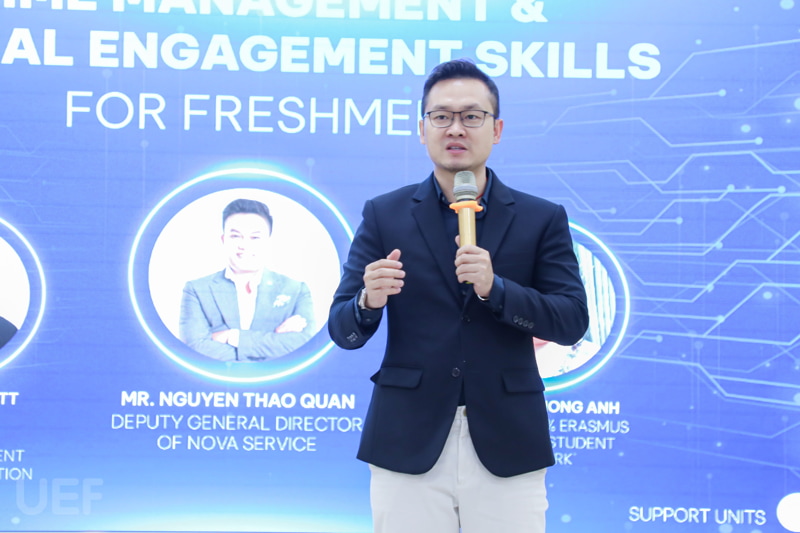 Dr. Do Huu Nguyen Loc emphasized the importance of soft skills to students
To begin the workshop, Mr. Nguyen Thao Quan told students his personal but familiar stories revolving around the keyword "late" and several visible consequences of tardiness such as leading to a stagnant life and loss of credibility. After listening to his narrative, several UEFers found themselves in the stories.
For him, being late and procrastinating is a common habit of many people, but we can completely change and get out of this habit by following three steps:
(1) Arranging an appointment and using different tools like notebooks, apps in your phone to mark the appointment;
(2) Evaluating and estimating the completion time for each deadline and implementing it seriously;
(3) Making a list of priorities and adamantly refusing invitations and suggestions if you feel you cannot perform well.
Through these steps, he hoped that students could manage their time and balance the elements in their life in a more effective way.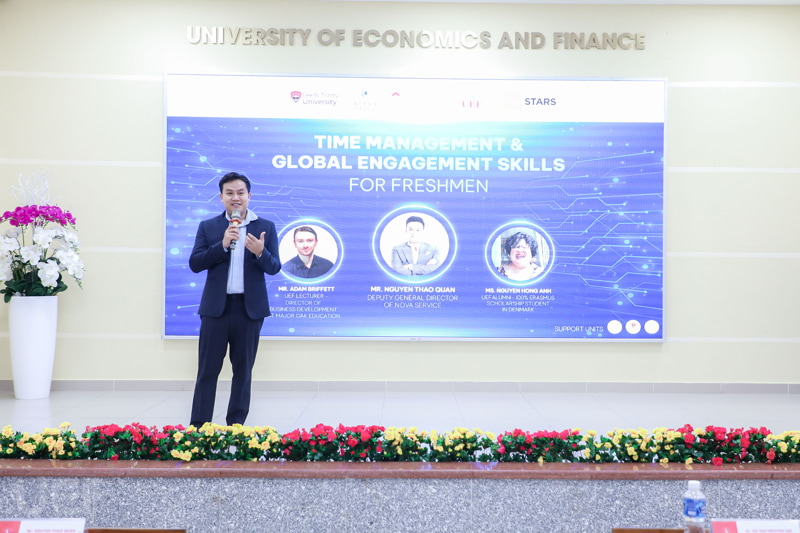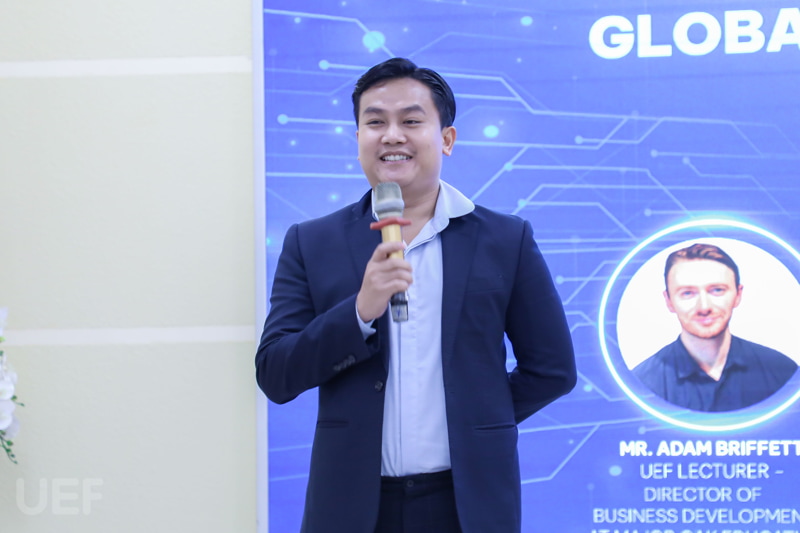 Mr. Nguyen Thao Quan gave valuable sharings about effective time management
Besides, there were many questions from the students, not to mention "How can students balance part-time jobs and full-time study?", around which Mr. Thao Quan gave many practical sharings. Along with some tips to balance time, he especially emphasized that students should take part-time jobs to gain more experience and professional knowledge.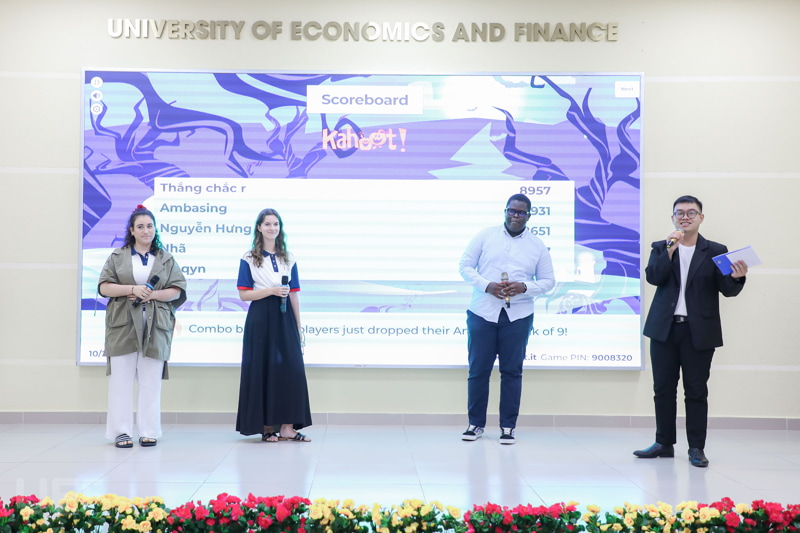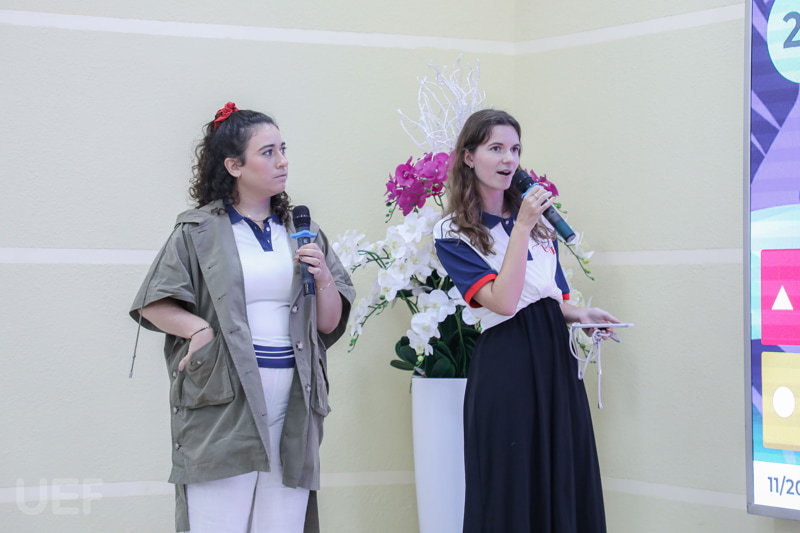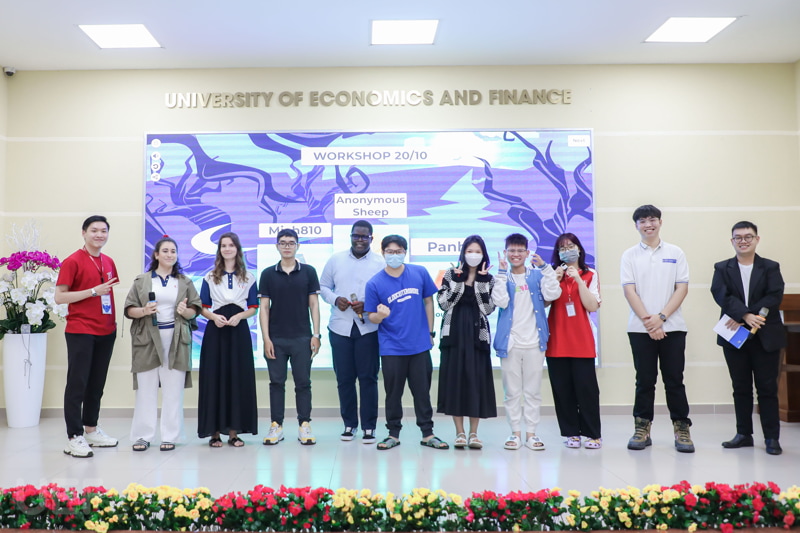 The discussion between UEFers and international students created an electric atmosphere and affirmed UEF's spirit of integration
In the game section, the atmosphere here was livened up with 20 English Kahoot questions about Vietnamese and foreign cultures. The game was enthusiastically participated by the students, bringing a lively atmosphere and providing a lot of sound knowledge. In particular, the highlight of this section was the presence of 3 friendly and dynamic international students from a beautiful country, France.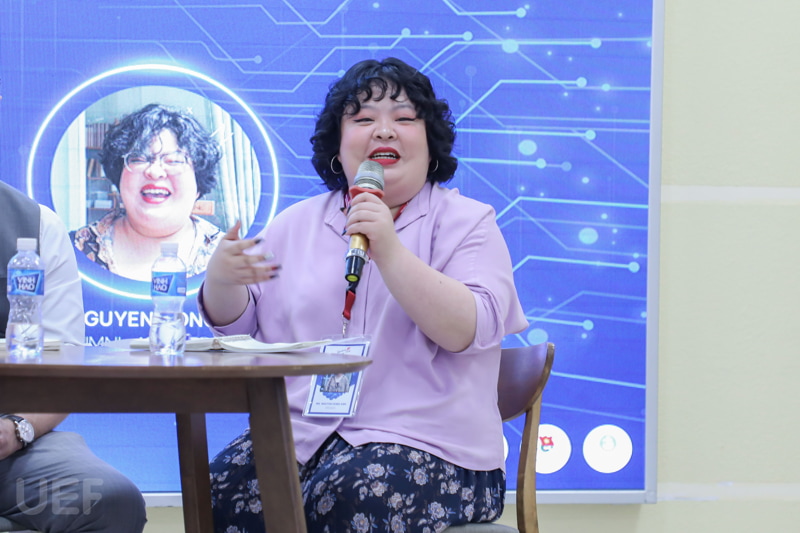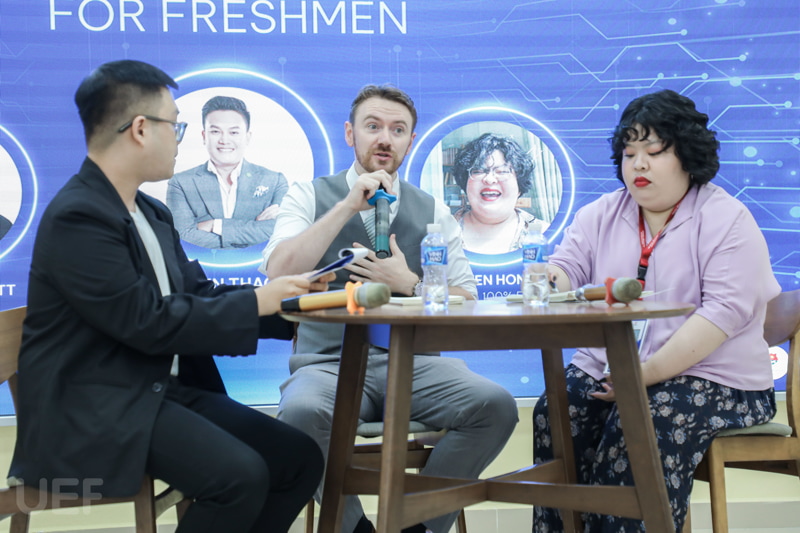 Mr. Adam Briffett and Ms. Hong Anh provided information about exchange programs
At the end of the workshop, Mr. Adam Briffett and Ms. Hong Anh provided UEF students with information about exchange programs and useful advice on self-improvement, things to keep in mind when studying abroad, as well as sharing their own experiences.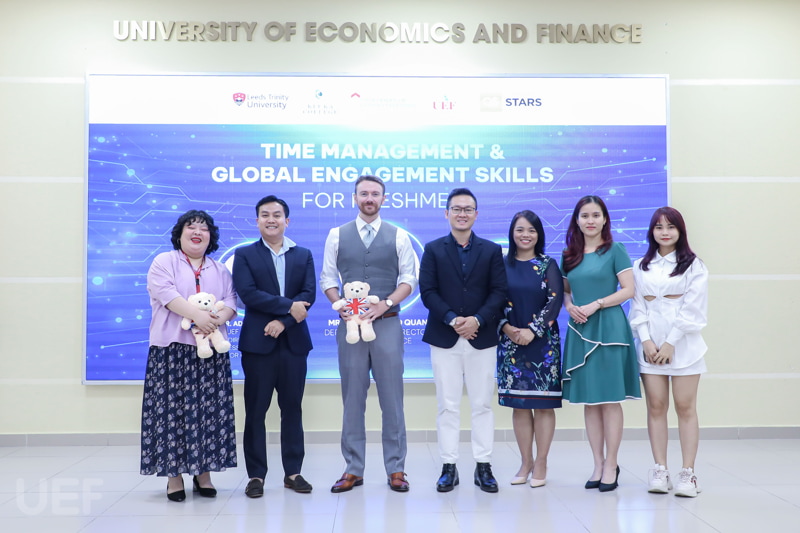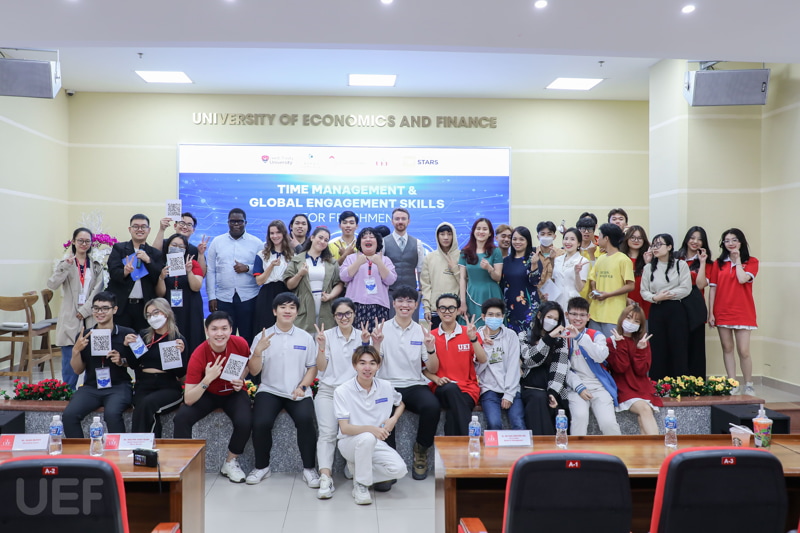 The program brought UEF freshmen practical knowledge for studying in an international environment

Through the workshop, students have been presented with numerous valuable information, skills as well as practical experiences from the speakers and hope that students can implement these insights into their daily life to better themselves from now on.
Anh Thy
Photos: Khanh Vy