Students from University of Economics and Finance, Ho Chi Minh City (UEF) are expected to return to school on Feb 17, 2020, after having to stay home to help prevent the spread of the new strain of Coronavirus (whose official name is COVID-19). Before that, the university has taken many measures to protect the health of the staff and students as well as to help put the disease under control.
Daily
anti
bacterial hygiene
During the shutdown, UEF has conducted daily cleaning and disinfecting buildings. The staff have also cleaned the work area and things that could spread the virus as well as ensure ventilation, etc.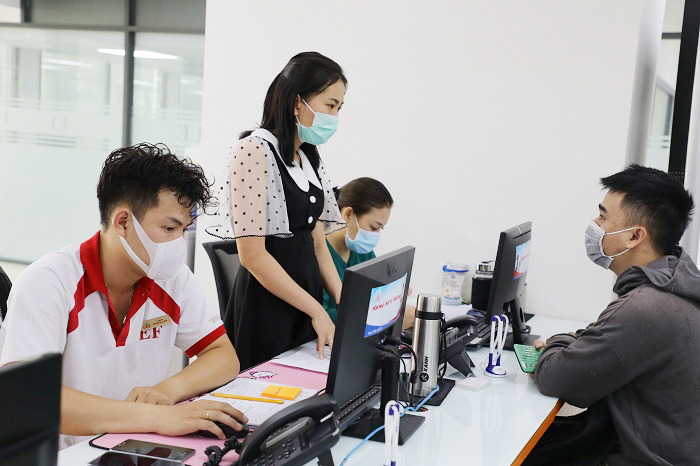 Lecturers and students are advised to wear protective masks when going to school
Checking students'
temperature
at
the school gate
Currently, the school has employed an infrared thermometer, made a detailed temperature measurement plan right at the school gate, and been ready to take student's temperature when they come back.
The university conducts temperature measurements for officials, lecturers, and students
Instruction
board
s with necessary information
The university has arranged information boards on how to prevent COVID-19 virus, to wash hands properly in the hall area, stairs, elevators, etc.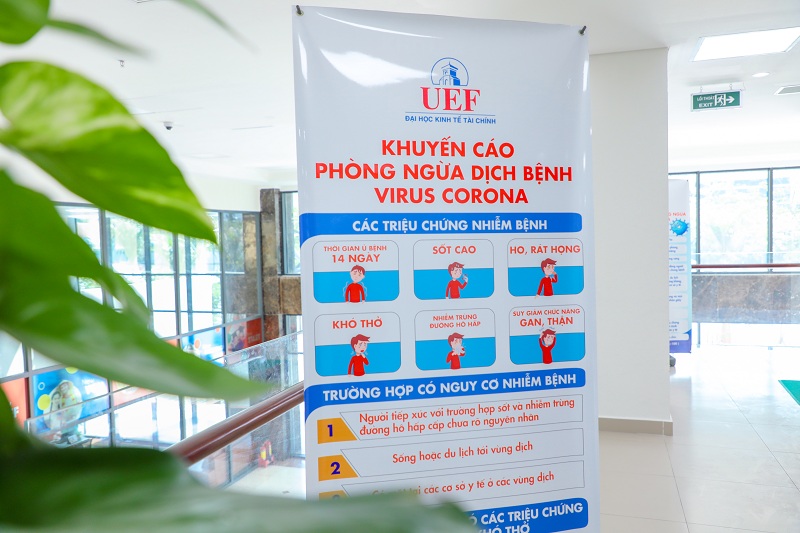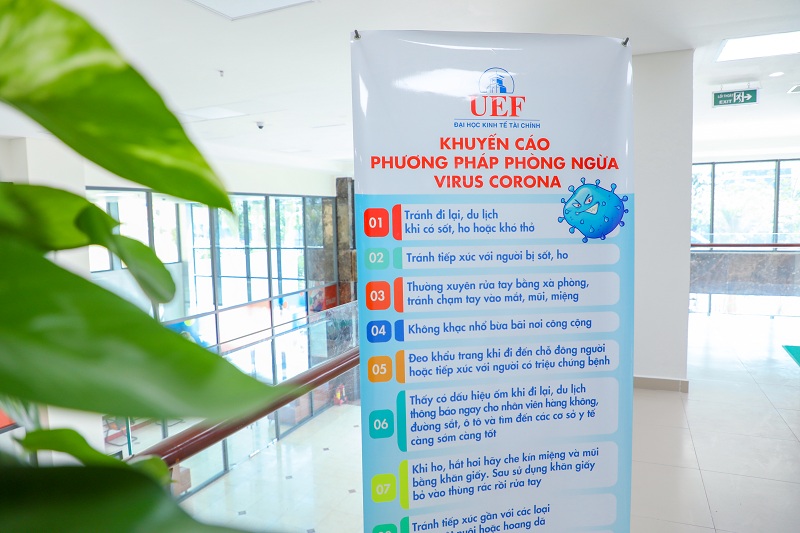 Recommended guidelines must be strictly followed to to ensure safety
Moreover, UEF also sends text messages and emails detailing how to prevent the virus to parents and students, sets up a hotline, and constantly keeps track of disease progress based on information from Vietnam's Ministry of Health and national news agencies' official sites to post timely updates on UEF media channels, etc.
Equip
ping
anti
septic
hand sanitizer
At work locations, lecture halls, restrooms, the university has also increased the number of hand sanitizer to serve the needs of officials, lecturers and students.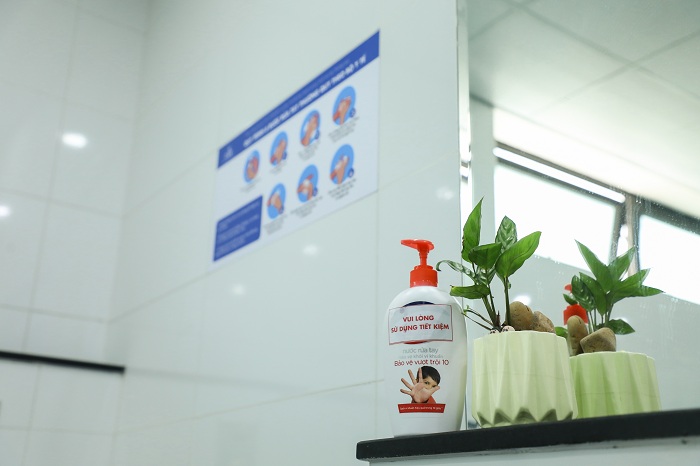 Equipping hand sanitizer at work locations and restrooms
Establish
ing
the
committee
on
CoV prevention
Under the University Board guidance in specific measures to prevent the COVID-19 virus, UEF Board issued Decision No. 09 / QD-UEF to establish
the Quick Response Committee on CoV prevention
.
The Quick Response Committee on CoV prevention is intended to develop a specific program of action and response scenarios, to promptly inform lecturers, staff, and students of the virus progress and guidelines, to proactively work with health facilities and authorities in controlling and countering the penetration and spread of disease in the university.
In addition to the establishment of the Quick Response Committee on CoV prevention, the university also receives information, resolves queries, gives advices, and handles matters relating to COVID-19 for students via hotline: 028.5422 6666 (ext. 100) .
Besides protecting the health and mental safety of officials - lecturers - staff and students, the university also rearranges the study plan to stabilize the situation, keeping the teaching and study routine on track.
To protect
your own
healt
h and that of
the community and
to
actively prevent t
he
spread of COVID-19 virus, besides wearing
protective
mask
s and
regularly wash
ing
hands with soap, UEF
advises
the following measures:
+ Cover your nose and mouth with a tissue when sneezing and coughing.
+ Avoid close contact with people
suffering from
fever, cough.
+ Only
consume
cooked
foods and ensure food safety
.
+ Limit direct contact with domestic pets and wild animals
.
+ Do not bring pets to class
.
+
Put
waste in the right place
and do not smoke.
From the
Information - Communication Center