UEF, DongA Securities and Aladin Jsc. yesterday (December 12) jointly signed the official MOU and launched the virtual Stock Exchange at UEF.
The MOU signing ceremony has strengthened the collaboration of UEF and corporates, one of the key strategies of UEF for years, to lift training quality of the institution.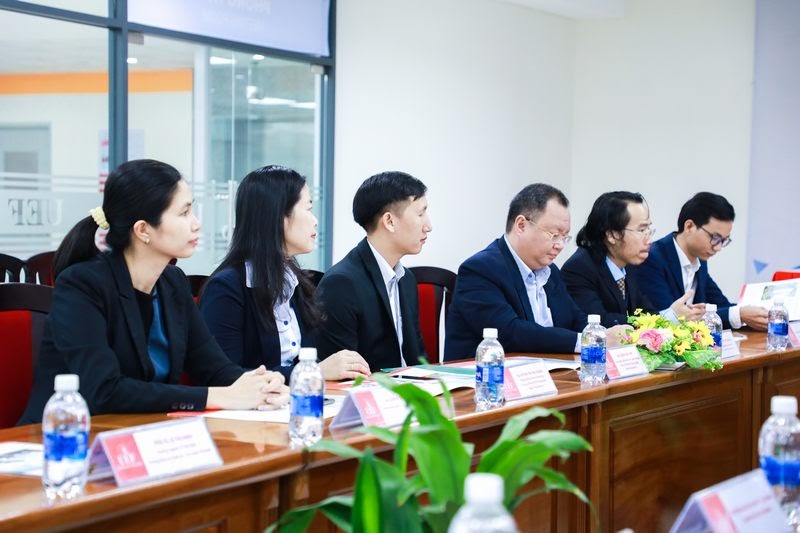 The signing ceremony witnessed the presence of all MOU parties leaders
The ceremony took place with the attendance of all MOU parties leaders: General Manager Duong The Quang, Head of Intermediary Business Development Trinh Duy Viet, Head of General Management Huynh Thi Thu Hang and Head of Bank Investment Services Duong Thuy An (DongA Securities); Director Luong Dang Dzung and Co-founder Phan Huy Tin (Aladin Jsc.); Board of Trustees Vice Chairman Do Quoc Anh, President Trinh Thanh Giang, Vice President Nhan Cam Tri and leaders of offices (UEF).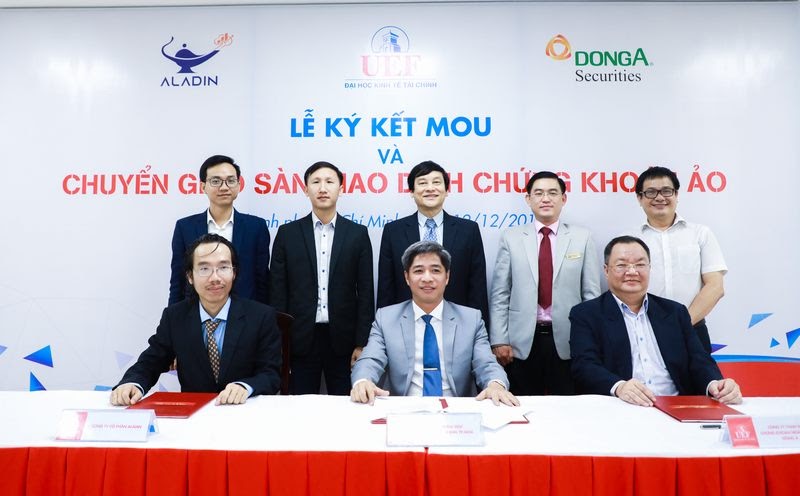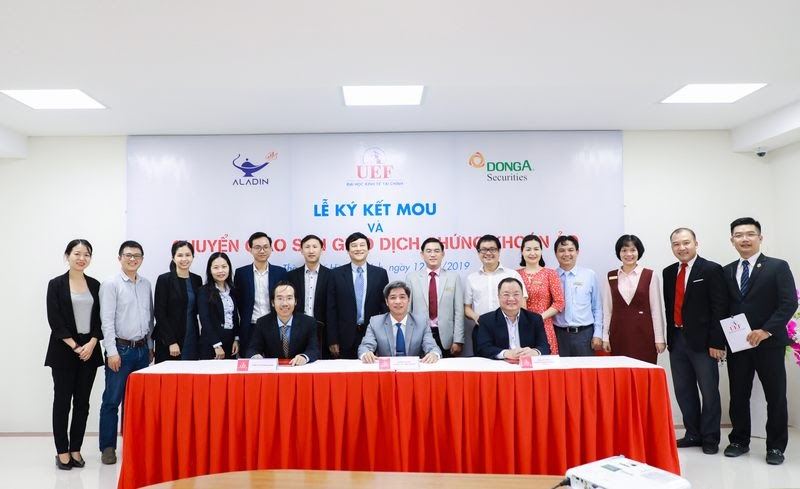 Official MOU signing and transference of virtual Stock Exchange.
In his opening speech, UEF President Dr. Nguyen Thanh Giang shared: "UEF always seeks to enrich the syllabi with practical experiences in corporates to maximize students' professional knowledge. Additionally, we try to update tools and software that corporates use to keep up with current working environment." He also described the close relationship of UEF and corporates in building syllabi, sharings, students' visits and internships at corporates.
Dr. Nguyen Thanh Giang, UEF President, emphasized the importance of corporates collaboration in trainings
"Our corporate is committed to providing a practical Stock Exchange for students to experience and gain more understanding of this field", DongA Securities General Manager Duong The Quang stated.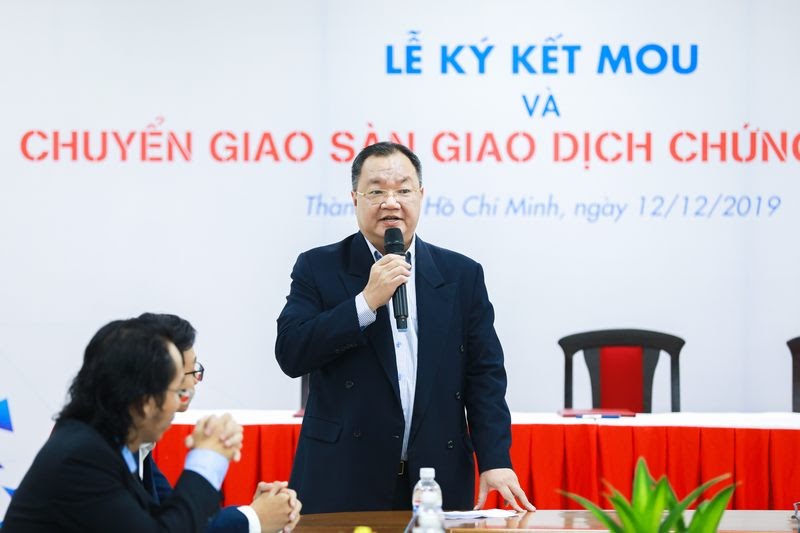 Mr. Duong The Quang from DongA Securities expressed his support to UEF's training strategy.
The ceremony continued with the official signing of MOU parties. After that, the corporates started to transfer and consult UEF staffs in applying the virtual Stock Exchange to professional trainings. Besides, the parties will jointly deliver academic activities such as internship, observations and job offers for UEFers.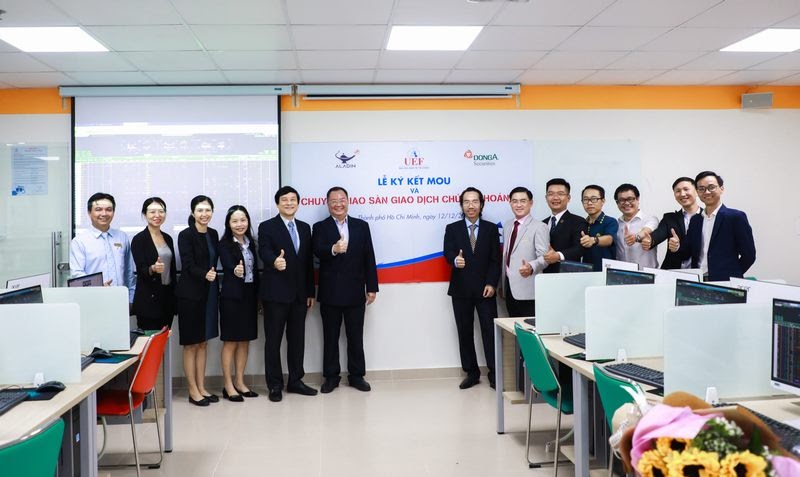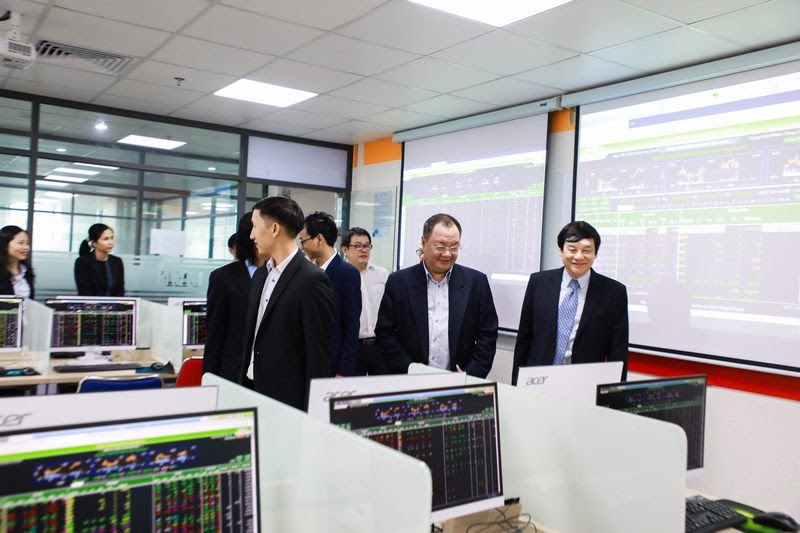 After the signing, the representatives visited the virtual Stock Exchange Lab in UEF
Thus, from UEFers majoring in Economics can enjoy one more practical model right in our premise. The virtual Stock Exchange and assistance from corporates will surely equip UEFers well with invaluable experiences for their future professional life.
News: Quyen Cuong, Photos: Cao Tan