The 4-Stars achievement from the prestigious QS (British organization Quacquarelli Symonds) paves the way for UEF to promote its internationalization in education, bringing students international exposure through various activities.



Signing MOU with prestigious universities globally


With an aspiration to become an international institution in Vietnam, UEF has been unwaveringly endeavoring to expand its international partnership network and launch new joint programs in addition to current bilingual ones.

UEF has offered its students a wide range of accredited articulation programs with more than 50 prestigious international partners, comprising universities, colleges, training institutions, businesses, and international associations, spanning over 30 nations, such as the United States, the United Kingdom, the Netherlands, France, Denmark, Spain, Japan, Korea, China, India, Thailand, Malaysia, and Singapore, to name a few.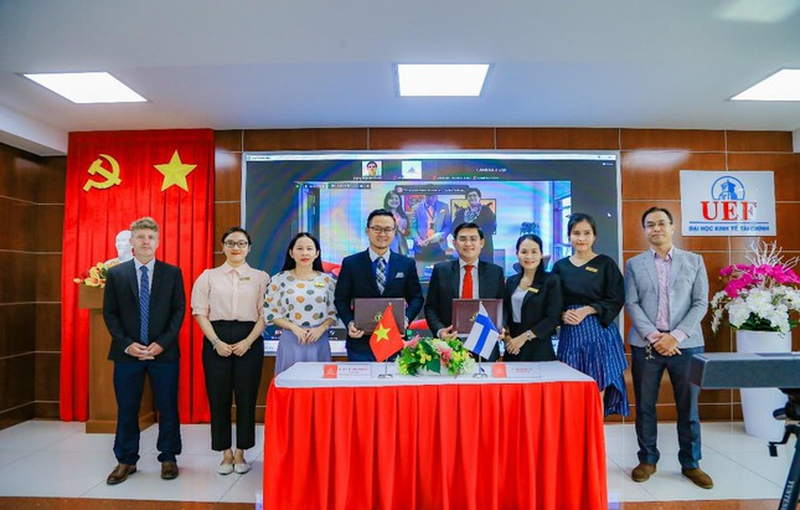 UEF signed MOU with numerous Universities and Institutes around the world
Diverse international programs


Being UEFers means students will have numerous opportunities to thrive further, experience first-rate academic programs, and especially study abroad. All come as a result of UEF's network, which abounds in global partners.

UEF is currently collaborating with prestigious universities in the US, the UK, and Finland, to name but a few, to offer its students various renowned undergraduate programs, as follows:
On-site studying abroad program with the University of Gloucestershire, Leeds Trinity University, and Keuka College;

3 + 1 joint program with Centria University;

2 + 2 & 3 + 1 pathway programs;

Semester abroad program from 3 to 6 months, and so forth.
These aforementioned programs open the way for students to absorb the world's advanced science and promote Vietnamese cultural uniqueness, ethnic identity as well as UEF strengths the world over. This is also a burning desire of Nguyen Tran Tri Duc, a UEFer of the US Undergraduate program who has just gained a short-term immersion scholarship from Arizona State University (ASU).

"The effective learning methods are applied theoretically and empirically, focusing on developing soft skills, such as teamwork, presentation, leadership, etc. Additionally, students can express their personal perspectives, and faculty members are dedicated and devoted", said Nguyen Thi Hoai Phuong, a Gloucestershire program student majoring in English Language and Linguistics.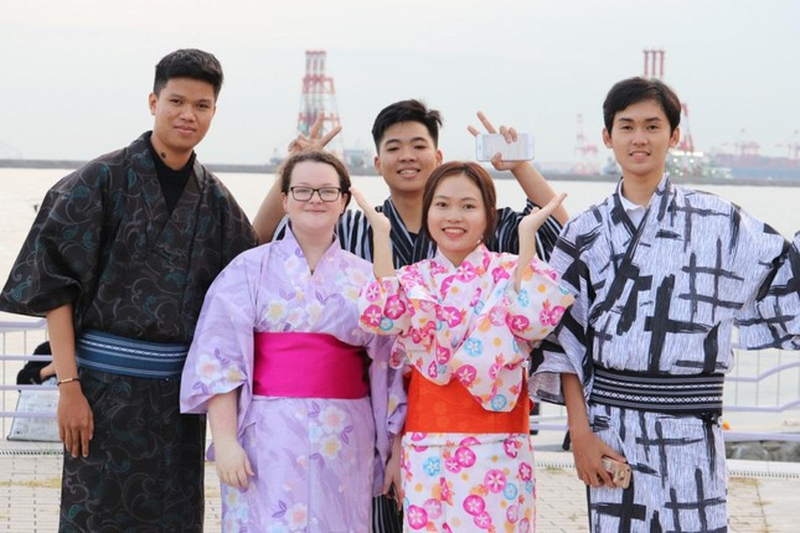 UEFers participated in international semesters in Japan, Germany, etc
Opportunity to study and experience international education


Achieving 5-Star in the Inclusiveness category, one of the rigorous QS's evaluation criteria, indicates UEF's success in building a community of inclusion where students from all walks of life can obtain great benefits and privileges equally.
Dr. Do Huu Nguyen Loc – Vice President & Director, UEF International Institute, stated that UEF's mission was to create a high-quality international learning environment with multicultural experiences. UEF students are able to grow and widen their horizons through a variety of international study and exchange programs with world-ranking institutions.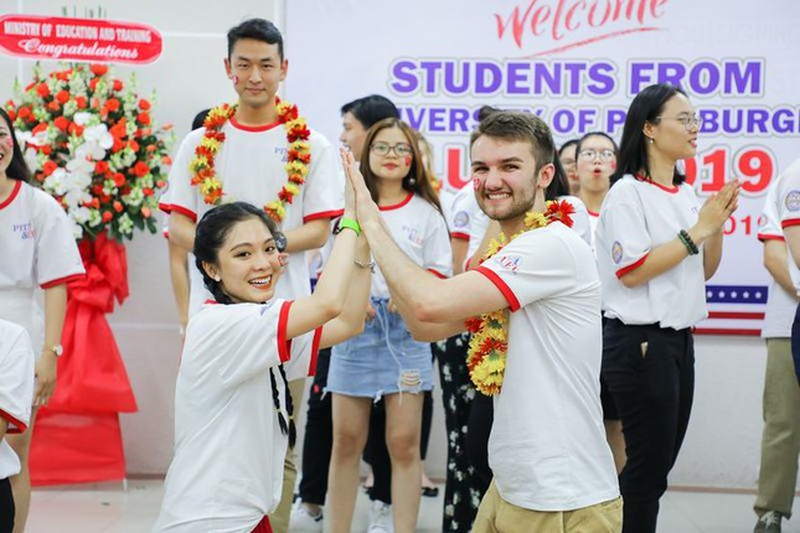 UEFers actively engage in international exchange activities
Foreign language has always been UEF's priority. Therefore, beside bilingual programs, all courses and learning materials are 100% in English, compatible with international-standard curriculum frameworks. Not only that, students have been equipped with pre-sessional English courses since the dawn of being freshmen, so they can easily expand a circle of friends worldwide and gain up-to-date knowledge.

Moreover, UEF students frequently participate in exchange programs, such as the "Plus 3" program with students from the University of Pittsburgh (USA), and other student exchanges with Bangkok University (Thailand), University of Gloucestershire (UK), SEGi University & Colleges (Malaysia), etc. This allows UEFers to explore different cultures, countries, and ethnic identities while also making new friends and broadening their perspectives.
Admission for international undergraduate programs is open until June 30. Candidates applying for these programs have a chance to win entrance scholarships worth 25% or 50%.