On May 17, UEF and Dai-ichi Life Insurance Cambodia have successfully signed a cooperation agreement including priority right to enroll international programs. The signing ceremony opened up a long-term cooperation relationship between UEF and Dai-ichi Life, expanding the university's international program enrollment.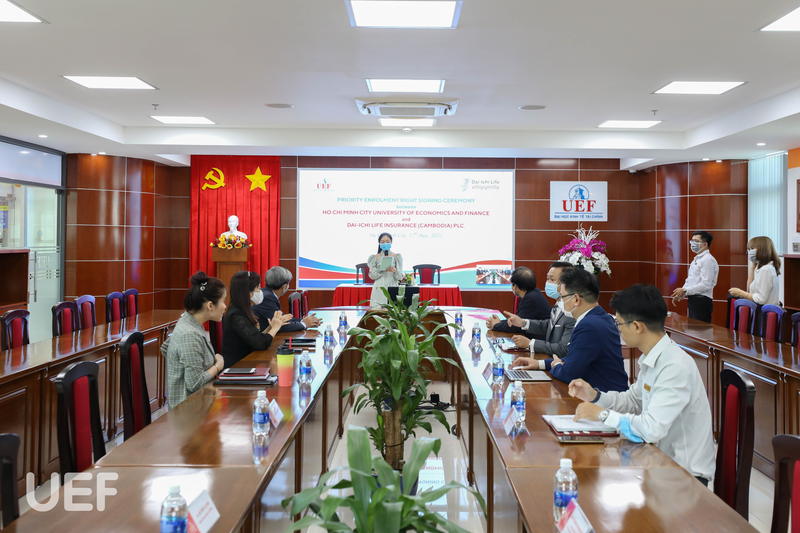 Overview of the signing ceremony

Because of the general situation of society, it is difficult to move and meet in person, so the signing ceremony was held online. Attending the ceremony were leaders of the University and representatives of Dai-ichi Life Vietnam.

On the side of Dai-ichi Life Cambodia, there were the attendance of Mr. Allen Thai - Chief Executive Officer, Mr. Kamata-san - Deputy Chief Executive Officer,, Mr. Sakai-san - Head of Distribution Planning Department, Mr. Lay Sithy - General Manager of Partnership, Bancassurance Business and Partnership, Mr. Netr Pho - Chief Agency Officer.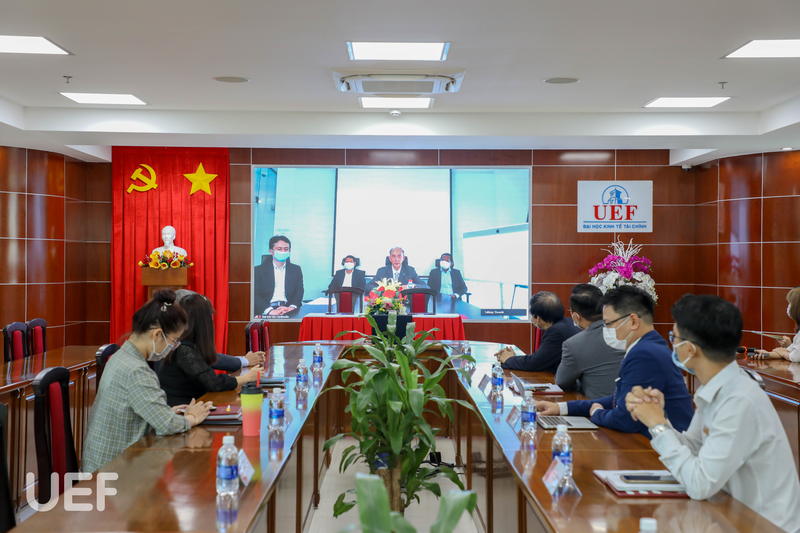 Representative of UEF and Dai-ichi Life Cambodia at the signing ceremony
Opening the program, the representative of UEF, Dr. Do Huu Nguyen Loc - Vice President, Director of the International Institute shared with partners about internationalization activities and international training programs of UEF. Accordingly, the university hoped to have a long-term cooperation with Dai-ichi Life to create more environments supporting students. In response, the representative from Dai-ichi Life Cambodia gave many compliments to UEF, especially highlighting the advantages of international students' access to international programs that UEF is providing.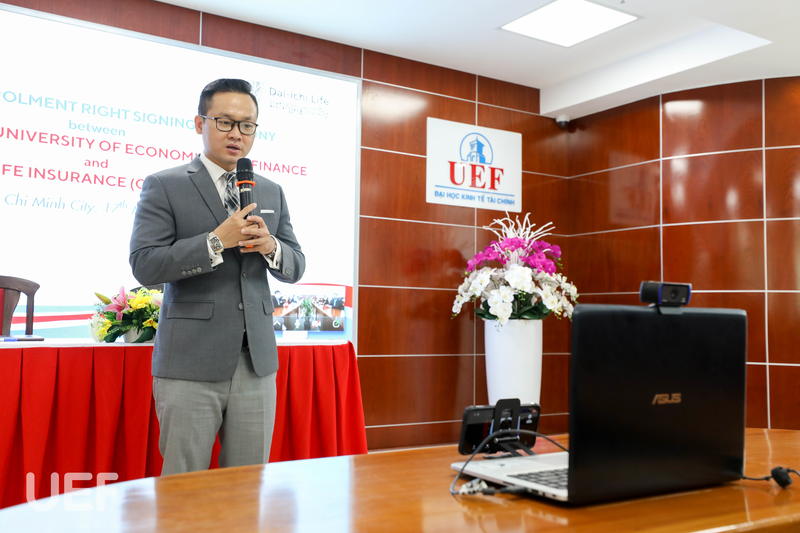 Dr. Do Huu Nguyen Loc gives a speech at the signing ceremony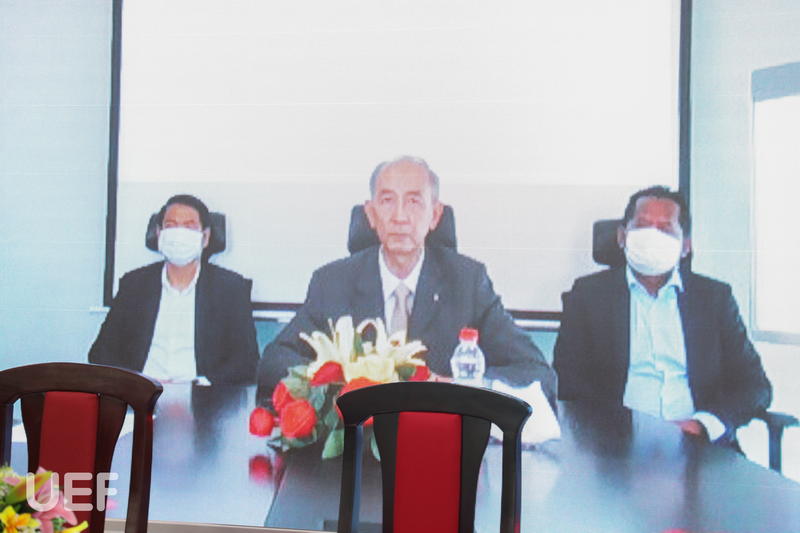 Partner representatives highly appreciate UEF's international cooperation programs

After that, Dr. Nguyen Thanh Giang - UEF President and Dr. Do Huu Nguyen Loc represented UEF to sign the agreement with partners under the witness of leaders and lectures presenting at the ceremony.

In the spirit of cooperation, Dai-ichi Life Cambodia policyholders will be given priority to enroll their children at UEF. This not only helps parents reduce the tuition fee of university, but these Cambodian students themselves will also have access to a quality and prestigious university education environment as well as experience the UK education in Vietnam. Besides, UEF will also develop friendly relations with neighboring countries.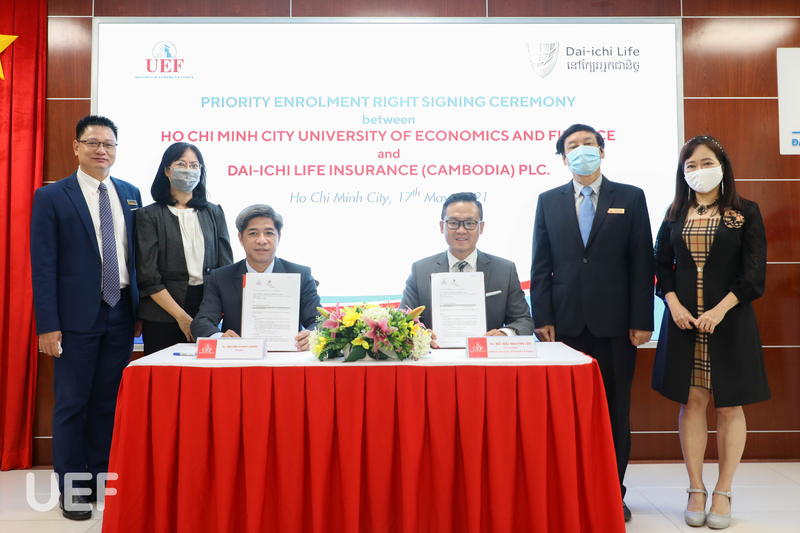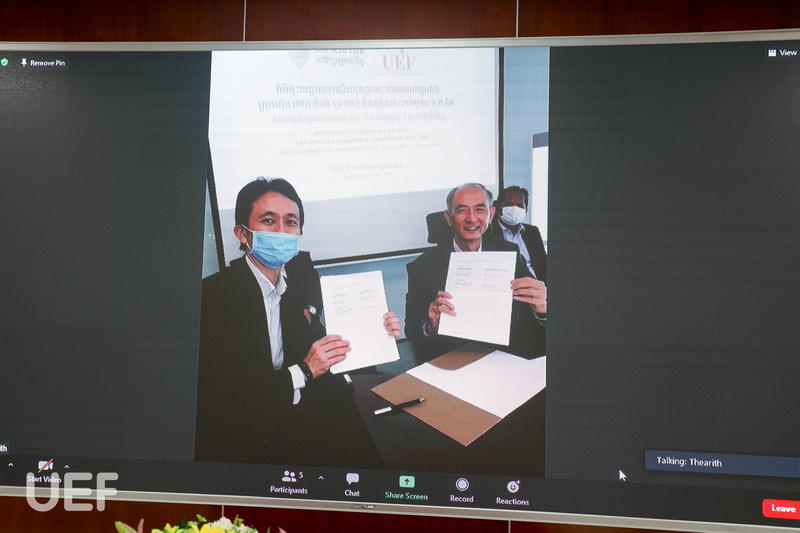 In the pandemic situation, the two sides celebrate the online signing ceremony

In addition to the priority policy in enrollment, both sides will also cooperate in student exchange program to promote study and research activities, articulated training programs which both sides are interested. At the same time, through this cooperation, UEF can expand the enrollment of international programs in Cambodia. In contrast, Cambodian students have access to a prestigious and quality educational environment in the region at a reasonable cost and close range.

The signing ceremony between UEF and Dai-ichi Life Cambodia took place successfully. This close cooperation relationship promises to develop more educational support programs in the coming time.
News: Quy Nguyen
Photos: Jerry Trinh