In recent years, studying abroad in-country has become the path chosen by many young students to continue the dream of experiencing an international education program, especially in the context of the complicated development of the COVID-19 epidemic. Thanks to many advantages in learning and reducing the financial burden, the majors of the local on-site studying abroad program start to become a focus of young people in every enrollment season.
The outstanding advantages of the on-site studying abroad program
At UEF, the International Articulation Program (also known as the On-site studying abroad program) has an outstanding plus that students studying in Vietnam still enjoy good study conditions under the national training program. Especially, the training quality of these programs is based on the transfer program between Vietnam and the UK, so it almost meets the training criteria of respective universities.
What's more? Recently, on-site studying abroad helps candidates both ensure to pursue an international degree as well as keep them safe and close to their relatives in the context of COVID-19. Therefore, UEF's International Articulation Program has become one of the trusted destinations for many domestic candidates and international students returning to Vietnam.
Besides, on-site studying abroad also helps candidates reduce financial burden and fear of culture shock.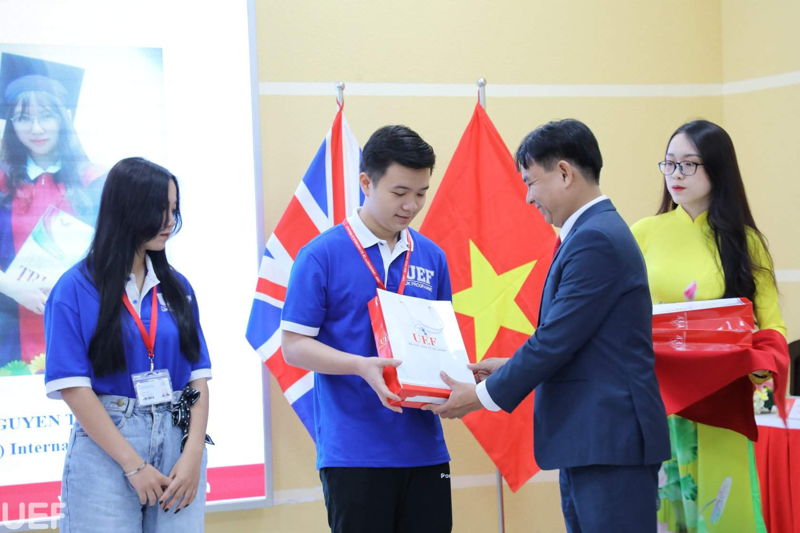 Valuable scholarships are the support for candidates pursuing on-site study abroad programs
The opportunity to receive scholarships of up to 50% of the tuition fee
In 2021, UEF will offer valuable scholarships to students who have been admitted to an on-site study abroad program with good entrance examination results.
UEF's scholarship policy is designed with the desire to encourage talents, expand opportunities for students to experience an international learning environment as well as the quality of English-focused training in the current integration context. This scholarship is granted an unlimited number and applies to candidates who have been admitted to all four enrollment methods in 2021 including Admission according to the results of the high school graduation exam; Admission according to the 12th-grade transcript with 3 subjects; Examination of high school transcripts according to the total average score of 5 semesters; Admission is based on the results of the Competency Assessment Test of Vietnam National University (VNU) Ho Chi Minh City.
Specifically, in terms of the UK degree program, which UEF co-trains with the University of Gloucestershire and Leeds Trinity University, candidates will receive scholarships worth up to 25% and 50% tuition when successful with the specified score. For detailed points for winning scholarships, candidates refer to the following table:

Conditions for registration and admission documents
Candidates have many options of study with UEF's on-site study abroad program. Specifically, the training majors of the UK bachelor program at UEF include Business Administration and Marketing, English Langues, Hospitality Management, Tourism and Travel Services Management (Gloucestershire University), and International Business (Leeds Trinity University).
Admission conditions
- High school graduate or equivalent;
- Students must achieve an international English level equivalent to at least IELTS 6.0 before joining semester 5 in the main course program.
UEF starts to receive admission documents for the UK bachelor program from March 1, 2021. Application for admission includes:
- Application form for admission (according to UEF's form);
- 02 notarized copies of high school graduation certificate or self-created experiments certificate;
- 02 notarized copies of high school transcripts
- 02 notarized copies of ID card/Passport;
- 01 CV certified by the hometown official;
- 01 copy of the birth certificate;
- 01 health certificate;
- 04 international standard 5x5 white background photos;
Contact and enrollment registration information:
UEF International Institute
Floor 4, 141 - 145 Dien Bien Phu, Ward 15, Binh Thanh District, HCMC
Phone: (028) 5422 1374 - Hotline: 091 606 1080
Email: international@uef.edu.vn – Web: www.uef.edu.vn/vdtqt