On July 23rd, with the objective to expand learning and international exchange opportunities for its students, Ho Chi Minh City University of Economics and Finance hold a meeting with representatives from John Carroll University (USA).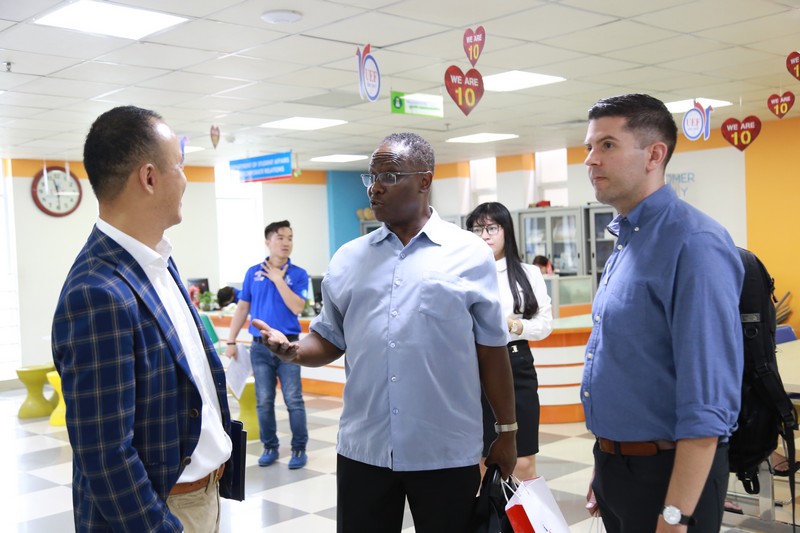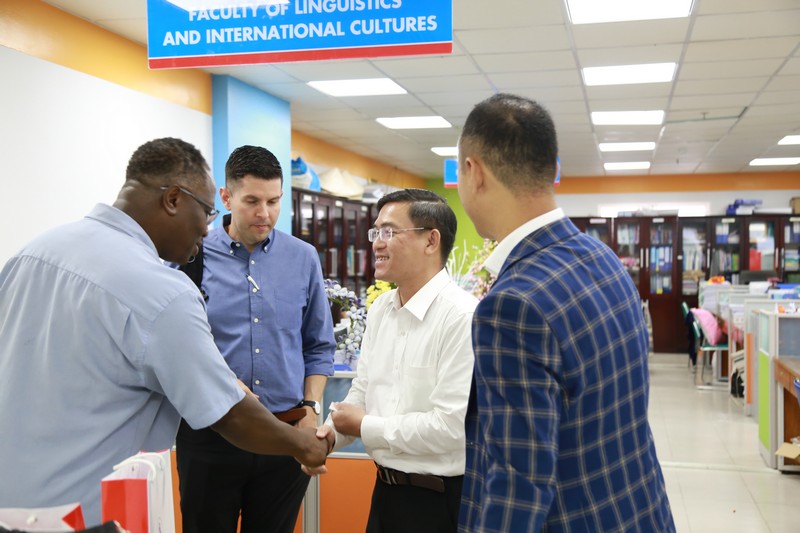 Representatives of John Carroll University are impressed by UEF's international learning environment

The meeting took place with the participation of Prof. Walter Simmons – Deputy Dean of Business Administration and Prof. Nathan Gehlert - Dean of Psychological Consultation from John Carroll University together with delegates from UEF including Mr. Warren Eng - UEF CEO, Dr. Loc Do- Director of Institute of International Education. At the meeting, Prof. Nathan Gehlert expressed his interest in international learning environment, cutting edge facilities, international lecturers, active and creative students at UEF. Besides, after learning about international academic activities organized annually at UEF, representatives from John Carroll University would also like to organize similar academic exchange or international semester like Plus 3 of University of Pittsburgh at UEF in the past few years.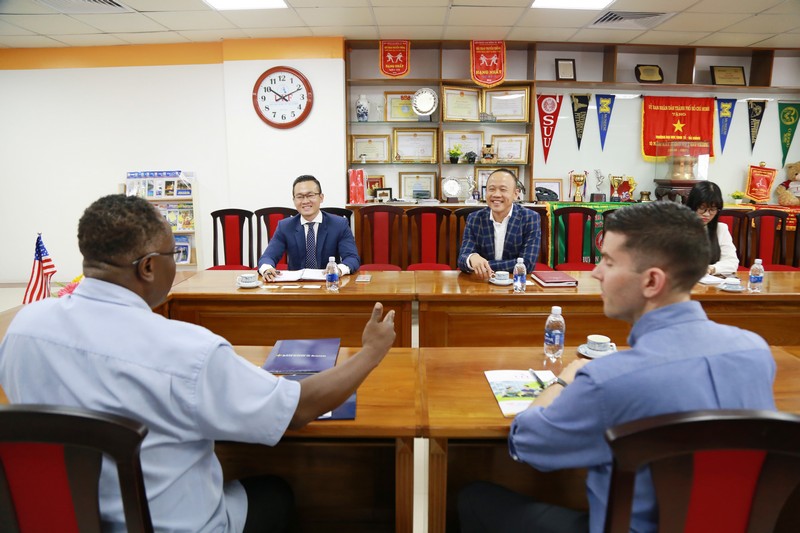 Two sides discussing upcoming cooperation programs.

Representatives from John Carroll University also appreciated UEF's academic programs and hoped to foster the partnership as well as articulate both academic programs. Thus, UEFers have the option to join articulation program 2 + 2 in the USA. During this visit, representatives from John Carroll University also wanted to collaborate with UEF in implementing international academic program for John Carroll University's students to study in Vietnam. UEF is seen as the best place overseas to send their students to study and exchange in the future. This event creates more options regarding semester abroad destination, benefiting from the education quality at one of the most prestigious US Universities.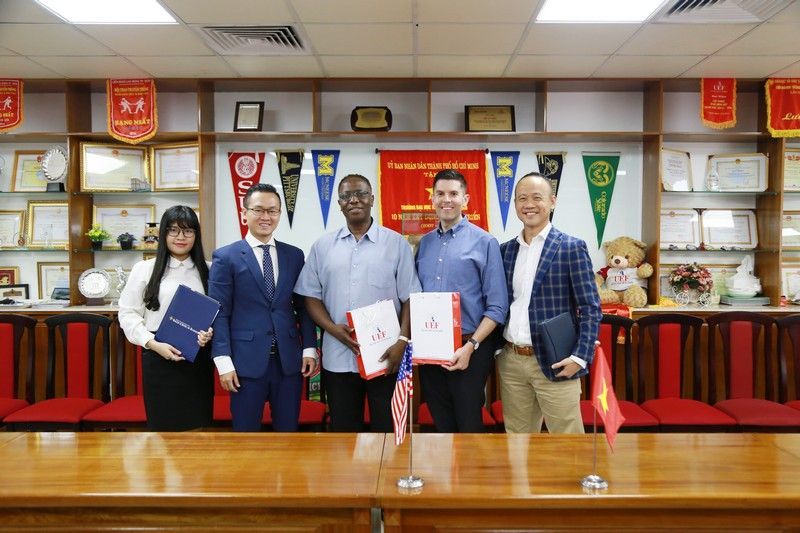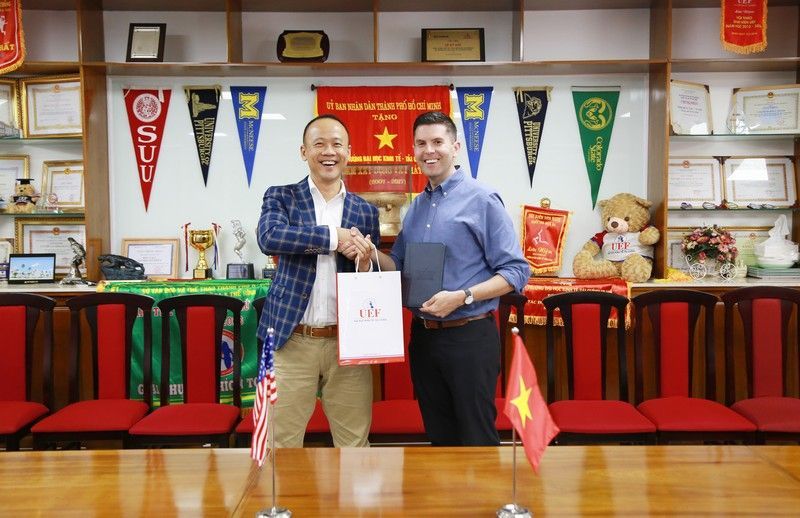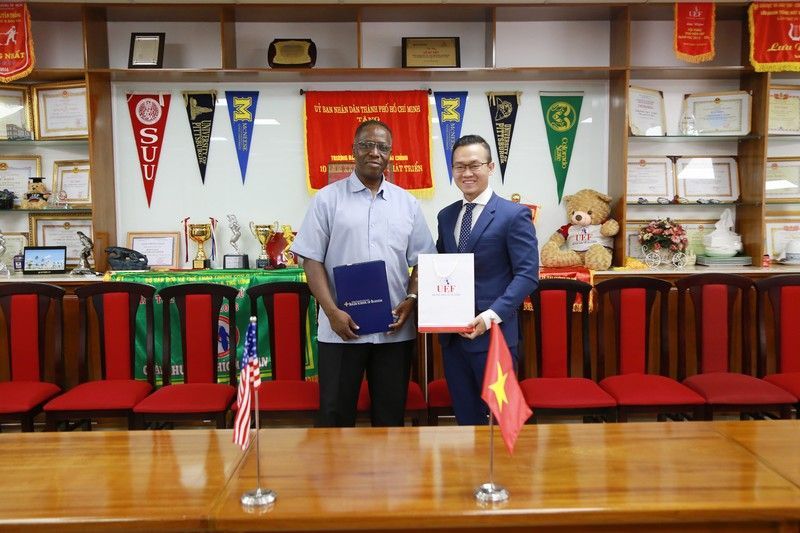 Representatives of UEF offering gifts to mark the visit of representatives from John Carroll University.

Along with high education quality, UEF always leaves strong impression with its numerous international exchange programs and has become a prestigious partner to many universities in the world. Over the years, UEF had lots of cooperation proposals from many universities in countries like Japan, Korea, Thailand, Canada, USA, etc. With such a large partner network, UEF students will no doubt gain more career opportunities at multinational enterprises.

Brief introduction about John Caroll University (US):
John Carroll University is a private university located in Ohio, USA. This university is specialized in social sciences, business, sciences and art. It has approximately 3800 undergraduates and 500 postgraduates and has produced generations of excellent students with remarkable achievements across many different fields up to now.

John Carroll University has continuously ranked amongst the top 10 Midwestern universities for over 30 years according to an annual report by U.S. News & World.
Translator: Linh Phan and Huy Nguyen