JANUARY 13 - UEF successfully signed the Memorandum of Agreement with Marquette University on 2+2 articulation program, marking another important milestone in UEF's international enlargement. This new partnership promises to provide a wide range of exchange programs to students as well as faculty members in Economics and Business Administration.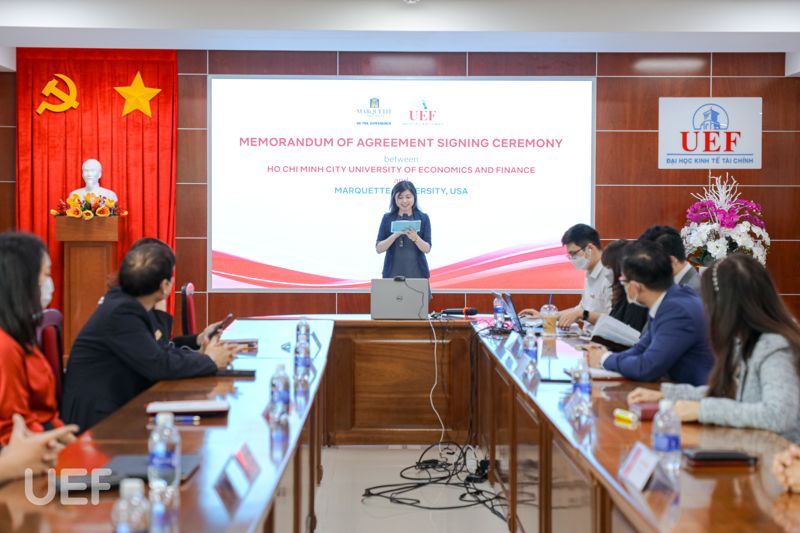 UEF and Marquette University at the January 13 signing ceremony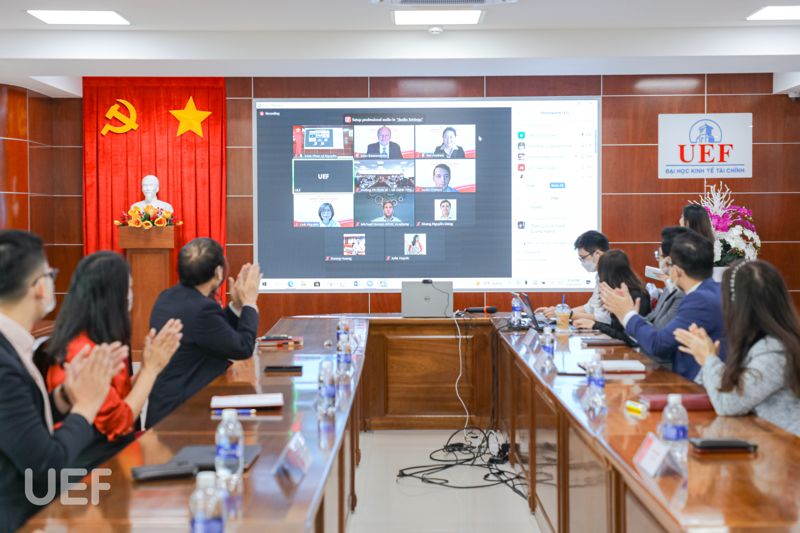 Representatives of the two Universities at the virtual signing ceremony
UEF brought together Mr. Do Quoc Anh – Vice Chairman of Board of Trustees, Dr. Do Huu Nguyen Loc – Vice President & Director of the UEF International Institute, Dr. Ly Thien Trang – Vice President of Board of Management, Dr. Pham Thi Anh Ngoc – Deputy Director of the UEF International Institute, Ms. Huynh Tu Anh – Deputy Director of the UEF International Institute, Mr. Luu Hoang Thien Minh – Vice Dean of the Faculty of Business Administration, Ms. Nguyen Thai Ha – Vice Dean of the Faculty of Economics, and foreign faculty members of the UEF International Institute.
In addition, the ceremony had the presence of Dr. John Baworowsky – Vice President, Ms. Yao Andrew – Coordinator & External Agents for International Recruitment from Marquette University. Mr. Justin Osborn – Director of University Programs, Mr. Michael Stomps – National Director, and Ms. Linh Nguyen – Country Manager in Vietnam, represented IPERC.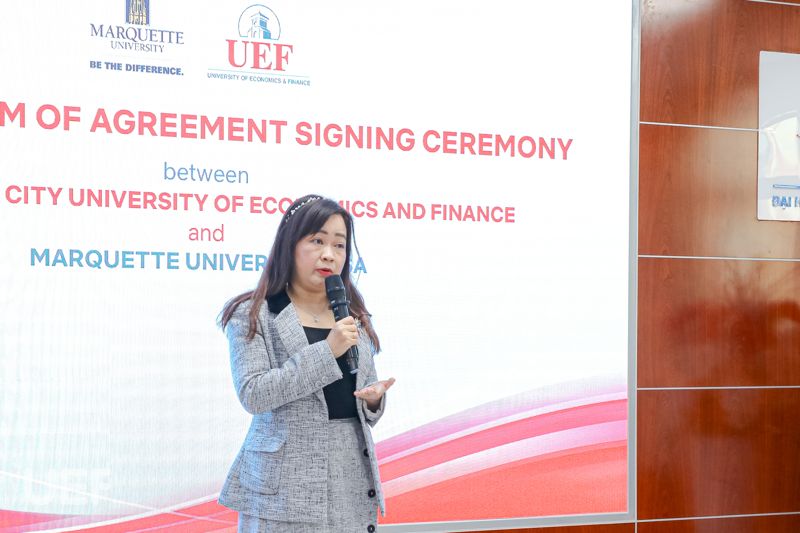 Dr. Ly Thien Trang indicated UEF's distinct advantages and expressed a desire for the collaboration from both sides
Dr. Ly Thien Trang, Vice President of UEF, delivered her opening remarks by introducing the university, and the international collaboration based on the comprehensive data in recent years. She also took pride in the newly-formed partnership between UEF and Marquette University that offers a world-class study program for UEFers. Additionally, representatives from Marquette University had a chance to tour around UEF through a video streaming, in order to get further information about its partner.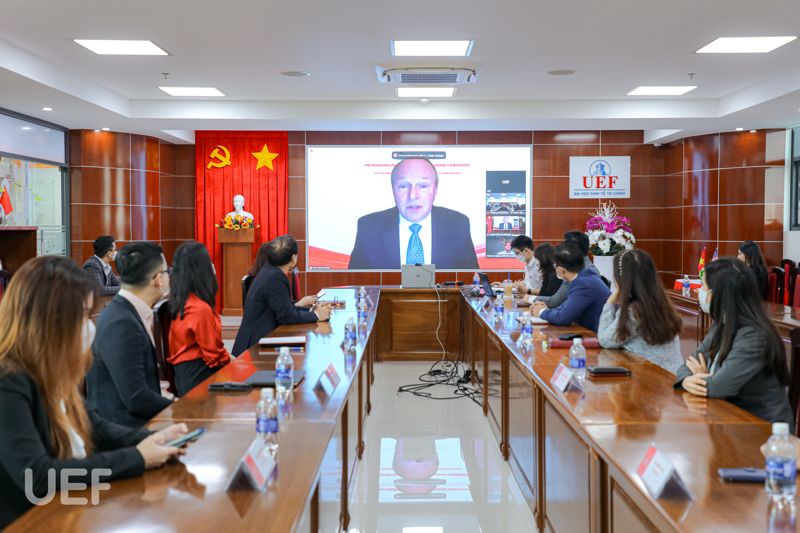 Dr. John Baworowsky introduced Marquette University
Besides, Dr. John Baworowsky represented Marquette University to introduce the high-quality Undergraduate program. Through his sharings, Marquette University is located near the heart of downtown Milwaukee, Wisconsin and home to over 11.500 undergraduates and postgraduates along with 375 international students. Marquette ranked 83rd in America's Best Colleges, 54th in Best Value Schools, 58th in Best Undergraduate Teaching and settled 6th for the job placement rate of up to 95.55%, released by 2022 U.S News & World Report.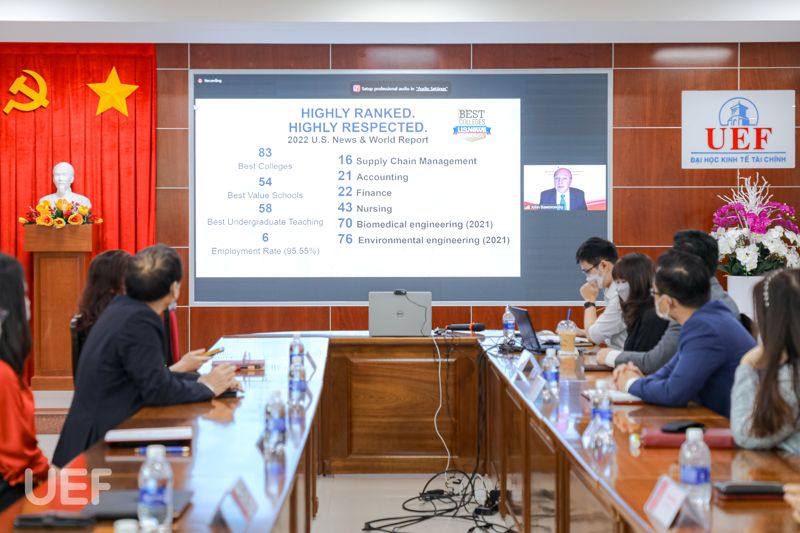 The video about Marquette University presented via online platform
Mr. Do Quoc Anh and Dr. Do Nguyen Huu Loc signed the agreement in the presence of officials from both parties.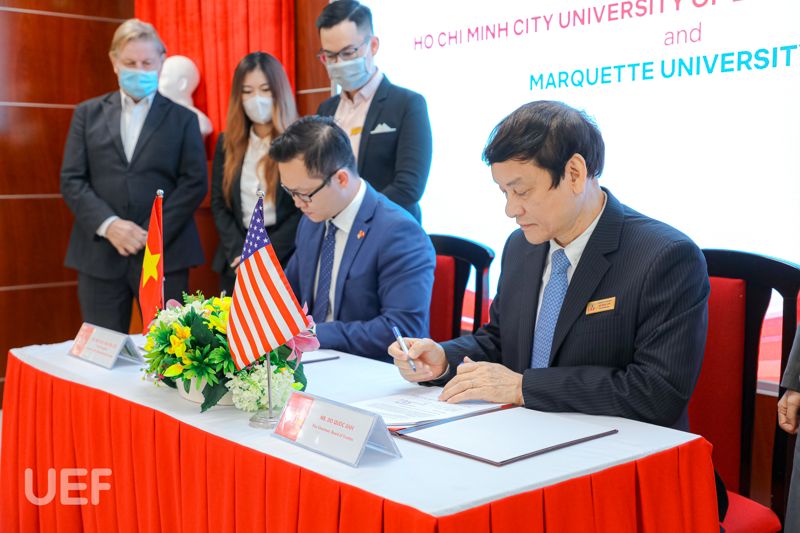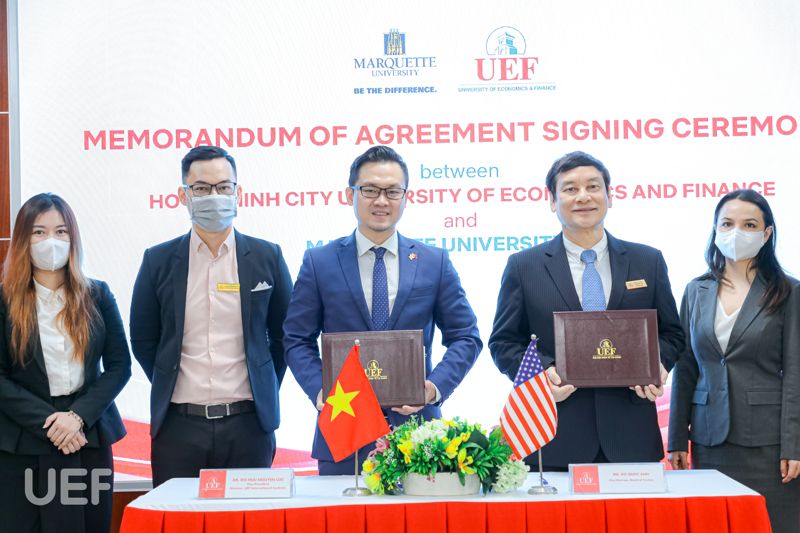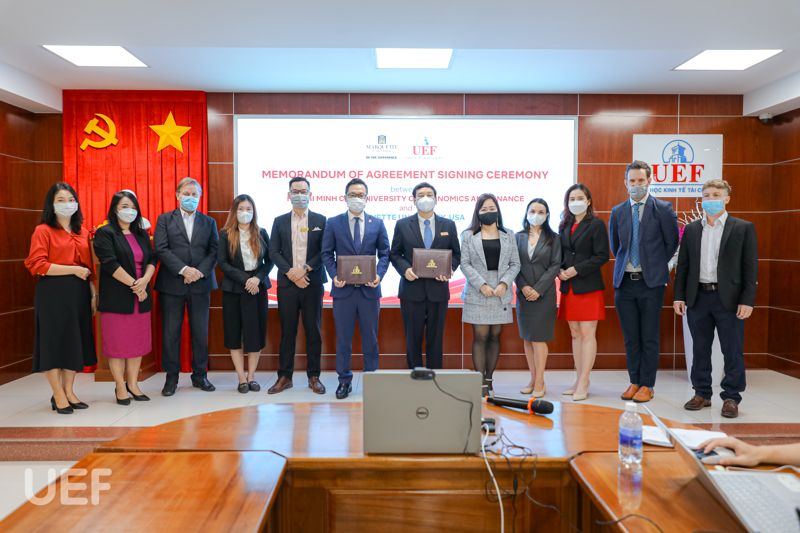 The MOA Signing Ceremony between UEF and Marquette University came to fruition
Given the very successful collaboration, UEFers, especially students in Economics, Business Administration will have various exchange opportunities to study in a world-class and professional academic environment. Additionally, that drives UEF and Marquette's aspiration to tremendous success, which strengthens the relationship in education between Vietnam and the USA.

TT.TT-TT