OCTOBER 31 - Following a series of meetings and working sessions with universities around the world, UEF held another meeting with the delegation from Enterprise Ireland (Irish government's trade and innovation agency) and representative from Irish universities.

The meeting had the honor to welcome the delegation from Enterprise Ireland, comprising Ms. Jayanthi Thevarajah – Head of Education Services ASEAN, Ms. Le Thuy Anh – Market Advisor, and Ms. Elizabeth Mc. Henry – Regional Manager Asia. Representatives from Irish universities involved Mr. John Joe O'Farrell – Director of International Engagement, Atlantic Technological University, Ms. Sheah Lai Yee – Regional Representative, SEA, Dundalk Institute of Technology, Mr. Kean Yeap Yong – International Marketing and Recruitment, Technological University of the Shannon, Mr. James Sergeant – SE Asia Region Manager, University of Limerick, and Bridget Carey – Global Recruitment Manager, Dublin City University.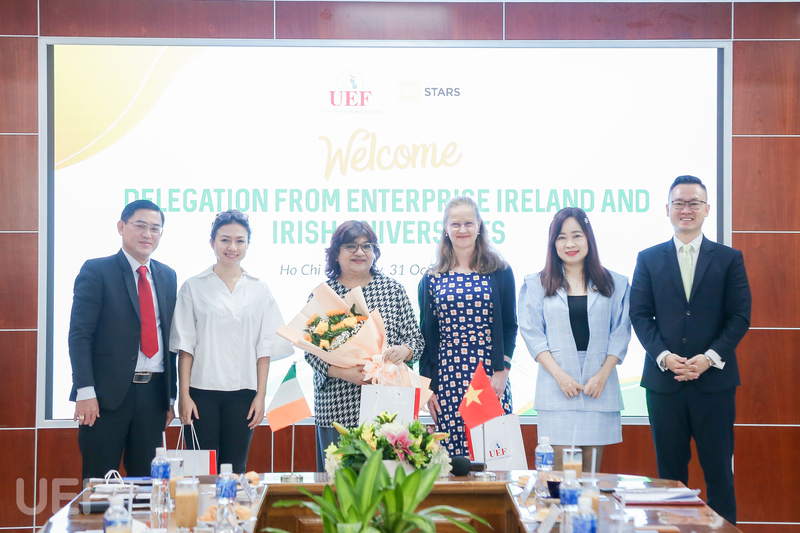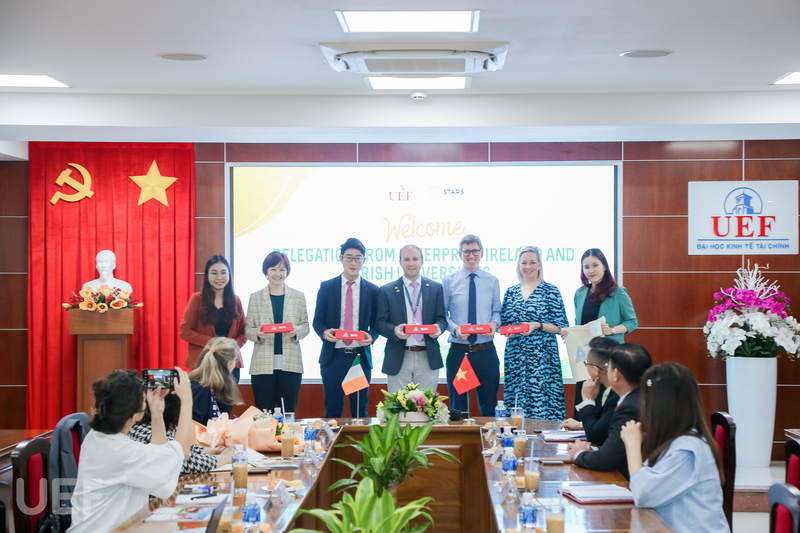 UEF welcomed and worked with partners from Ireland
UEF representatives attending the meeting included Dr. Do Huu Nguyen Loc – Vice President & Director of UEF International Institute, Dr. Nhan Cam Tri – Vice President, Dr. Ly Thien Trang – Vice President, Ms. Tran Thi My Phuong – Deputy Director of Center of Service-Learning, Ms. Nguyen Le Dong Xuan – Deputy Dean of Faculty of Economics, Ms. Huynh Tu Anh – Deputy Director of UEF International Institute, Ms. Tran Phuong Quynh – Deputy Director of UEF International Institute, and faculty members from UEF International Institute.

At the meeting, the parties discussed collaborative programs to promote community service and sustainable development projects, student exchange and faculty exchange programs with Irish universities, short-term courses on sustainable development, effective teaching methods, 2+2 articulation programs, etc.

After touring around the campus, Ms. Elizabeth Mc. Henry – Regional Manager Asia expressed her impression on the facilities, the number of students, and the high quality programs at UEF. She affirmed that Ireland and Vietnam had many similarities, so the cooperation between the two countries in general and the two parties in particular was very promising.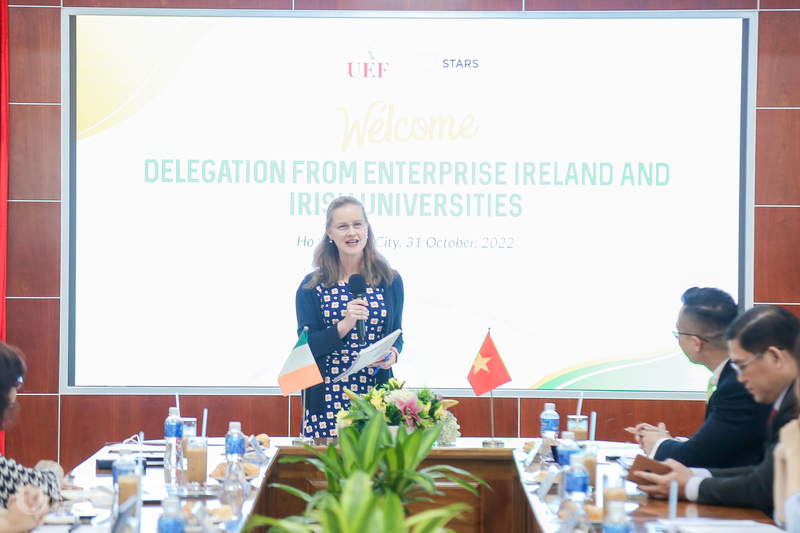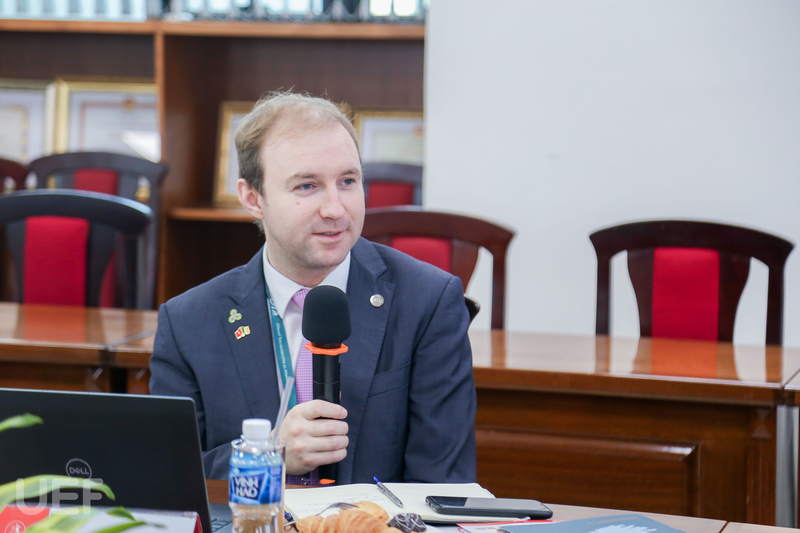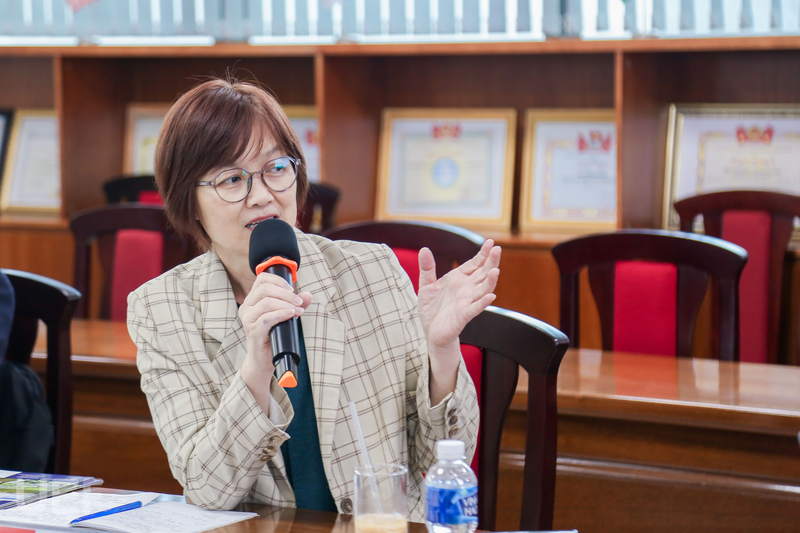 The delegation from Enterprise Ireland and Irish universities highly appreciated the cooperation with UEF
Dr. Do Huu Nguyen Loc, on UEF's behalf, welcomed and thanked the delegation from Enterprise Ireland as well as Irish universities for their visit and interests in cooperation with UEF. He shared: "UEF is a young but fast-growing university in Vietnam focusing on education and service quality. Aiming to connect with international universities, UEF always endeavors to equip students with global skills and seeks to cooperation with higher education institutions around the world."

According to Dr. Ly Thien Trang, UEF has achieved the 4-Star Certification from QS, of which 4 categories are ranked 5 stars. The University has also applied advanced teaching methods, Project-Based Learning, Workspace Learning, etc.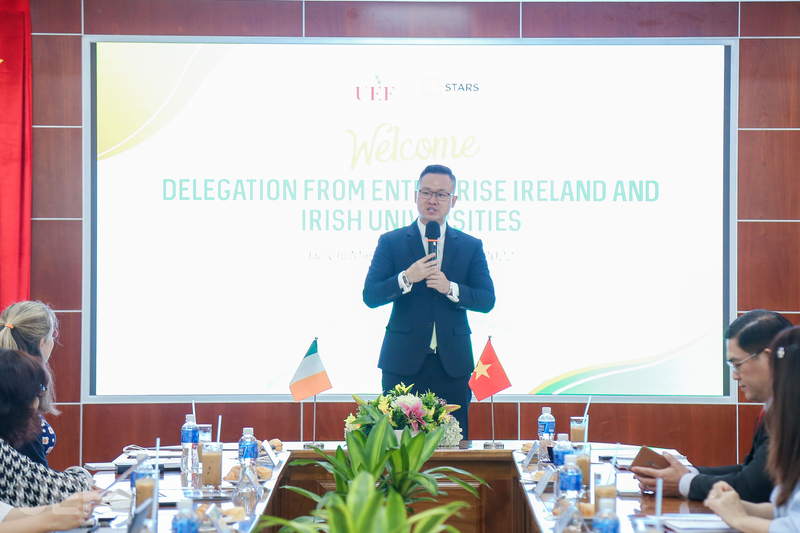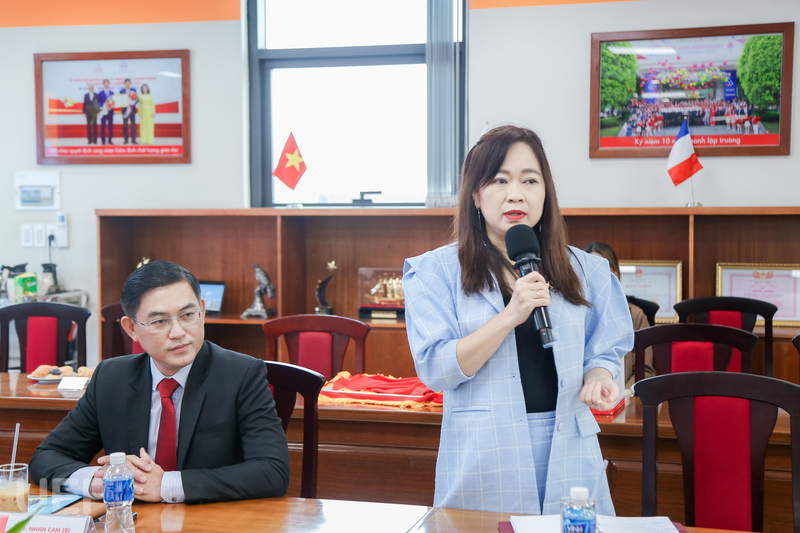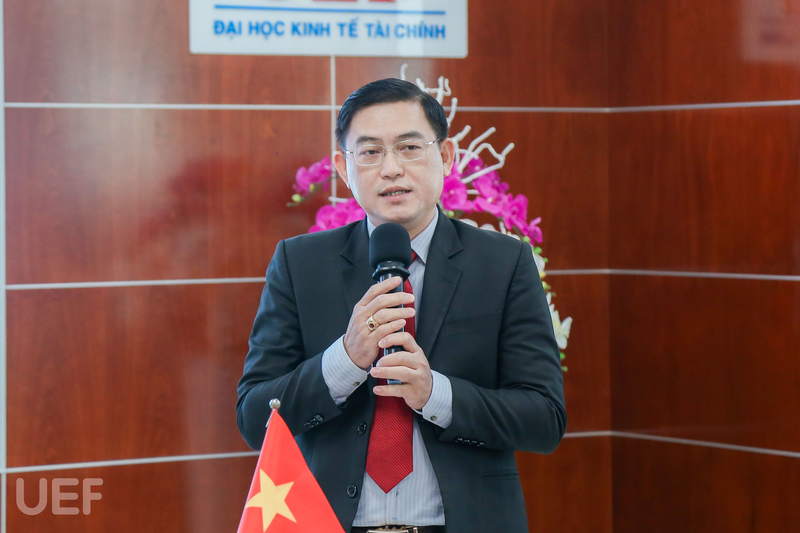 UEF representatives provided an overview of UEF study environment

Introducing student clubs, student activities and events sponsored by the Embassy of Ireland in Hanoi, Dr. Nhan Cam Tri said: "Currently, UEF has about 50 student clubs. We are always seeking cooperation in the field of activities for exchange students, research activities, short-term student exchanges, and projects on sustainable development."

The meeting ended successfully, paving the way for future international exchange, student exchange or articulation programs between UEFers and Irish students in the time to come.

TT.TT-TT