Launched in 2012, Lazada is the number-one online shopping and selling destination in Southeast Asia – present in Indonesia, Malaysia, the Philippines, Singapore, Thailand and Vietnam. As the pioneer of the eCommerce ecosystem in the Southeast Asia, Lazada has 155,000 sellers and 3,000 brands serving 560 million consumers in the region through its marketplace platform, supported by a wide range of tailored marketing, data and service solutions. With 300 million SKUs available, Lazada offers the widest range of products in
categories from consumer electronics to household goods, toys, fashion, sports equipment and groceries. Focused on delivering an excellent customer experience, it offers multiple payment methods including cash-on-delivery, comprehensive customer care and hassle- free returns through its own first and last mile delivery arm supported by approximately 100 logistics partners. Lazada Group is majority owned by Alibaba Group Holding Limited. Our key lines of business include LazMall (authentic branded products), LazGlobal (products imported from/exported overseas), and Lazada Platform (empower local sellers to grow their business).
FORWARD YOUTH FOR MARKETING
We are searching for dynamic, entrepreneurial, broad-minded individuals to join us. Be part of the team that is steering the exciting eCommerce revolution in Southeast Asia!
We are looking for candidates who are:
• Currently pursuing bachelor's degree
• Fresh graduate up to 1.5 years of experience only.
• Self-motivated, can do attitude, enthusiasm for ecommerce and its possibilities
• Team spirit and enthusiasm about learning
• Creative thinking, project management skills
• Excellent interpersonal and relationship building skills
• Good communication skill to work efficiently with cross-functional teams
•
Good knowledge of Facebook, Instagram, Tiktok, Youtube and other social media best practices
• Strong in numbers and Microsoft Office
• Fluent in written and spoken English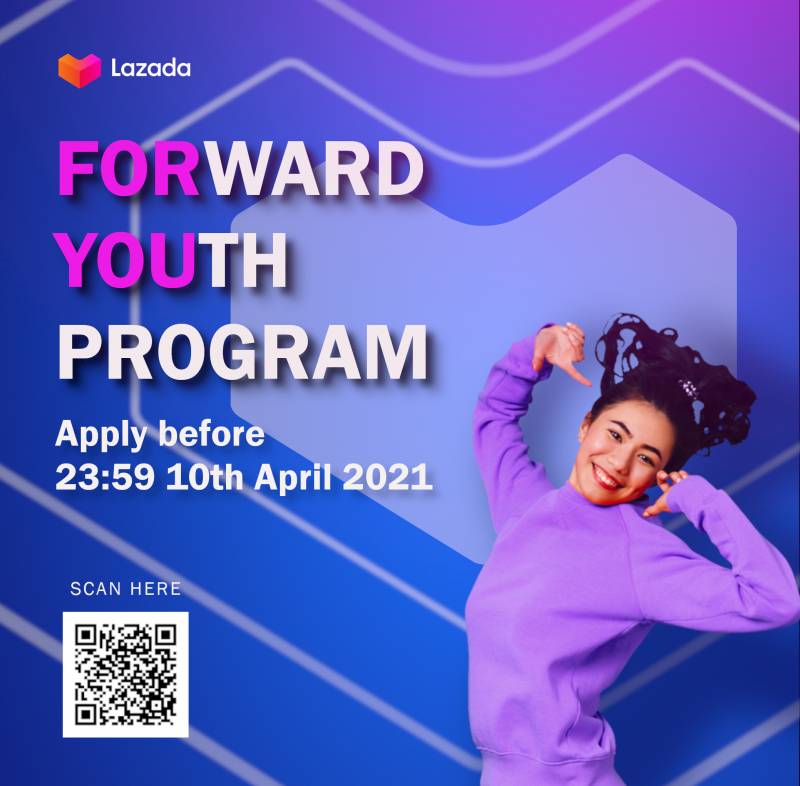 If you are chosen to be an intern for Marketing Team, you will be in charged for one of sub- functions/position as below:
1) Social Media Specialist Livestream
2) KOL Engagement Specialist
3) Affiliate Business Development Analyst
4) Livestream Operator
5) Customer Relationship Management Analyst
6) Campaign Planner
KEY ACCOUNT MANAGEMENT (FRESH GRADUATES)
Job Description
We are looking to hire entrepreneurial and aspiring Key Account Management to join our commercial team in Lazada Vietnam. In this role, you will monitor and empower sellers' performance on our platform. The team is in charge of assortment development and directly contributes to drive category growth and business strategy through data-driven insights.
Reporting to Local Category Manager, you will be responsible for:
•
Establishing strong relations with sellers and supporting their performance, as their main contact point
• Being in charge of the assortment development of a product category for Lazada (Electronics, Fashion, FMCG, General Merchandise, etc.)
• Identifying key assortment opportunities, building sales plan to assist for execution
• Supporting product and content creation process to increase assortment live
• Planning and maintaining constant stock availability
• Ensuring ambitious revenue growth
• Coaching sellers on competitive pricing
•
Suggesting promotions to sellers, selling marketing services, organizing these campaigns internally
•
Building weekly marketing plan, determining which products/subcategories will be promoted on website and through all marketing channels (newsletters, Facebook, and display etc.)
•
Developing strong analytics to evaluate daily/weekly/monthly performance and optimizing further marketing, pricing and product selection

We are looking for candidates who are:
• Currently pursuing bachelor's degree
• Fresh graduate up to 1.5 years of experience only.
• Self-motivated, can do attitude
• Outstanding communication and negotiation skills
• Strong analytical skills and comfort with numbers
•
Interested in e-commerce, retail, business development, buying or project management role
• Strong ownership and attention to details
• Team spirit and eager to learn
• Passionate about improving both customer and seller experience
• Good command of Excel and other Microsoft Office applications
• Fluent in written and spoken English
If you are chosen to be an intern for Key Account Management, you will be in charged for one of sub-functions below:
1) Electronics
2) Fashion
3) Fast Moving Consumer Goods (FMCG) – LazMall
4) General Merchandise
5) LazGlobal
Application process
1. Apply job through Lazada career and register your application (Application via email is not valid) https://www.lazada.com/en/careers/job-search?section=graduate
2. Selection progress
a. Profile screening
b. If you pass the screening round. You will receive the link to complete SHL test and self-interview within 10 days. You must complete the test within 7 days after received test link
c. Join Lazada Interview day in April if you are shortlisted candidate d. Start working on June 2021
Contact us at:
Facebook fanpage - Lazada Vietnam Career
Email:
recruiting.vn@lazada.vn
Contact: 028 730 811 188 – Ext 21003