Learning English has become a phobia among students, especially those who lack the right goals and effective learning techniques. Differences between English in high schools and universities is another major cause of students' nightmares. These problems were addressed by experts in the workshop "How learning English has changed in your university life" held by the International Institute on October 14.
The workshop includes two keynote speakers: Dr. Águeda Benito - Head of Academic Excellence at Cintana Education and Mr. Pham Cong Nhat - Master of Science in Media and Communications Management at University of Stirling (UK), a journalist at Tuoitre Newspaper (Vietnam) and faculty member at University of Stirling (UK).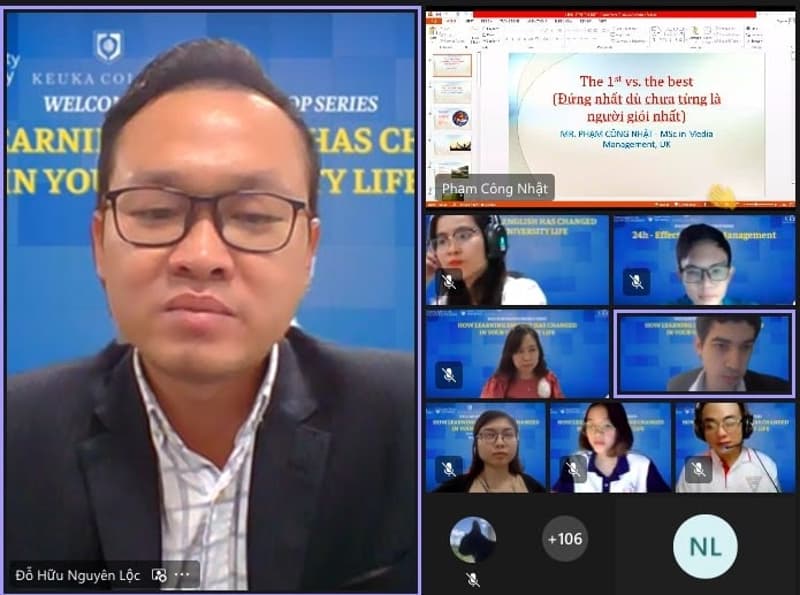 The workshop is one of the events in the Welcome Freshmen Workshop Series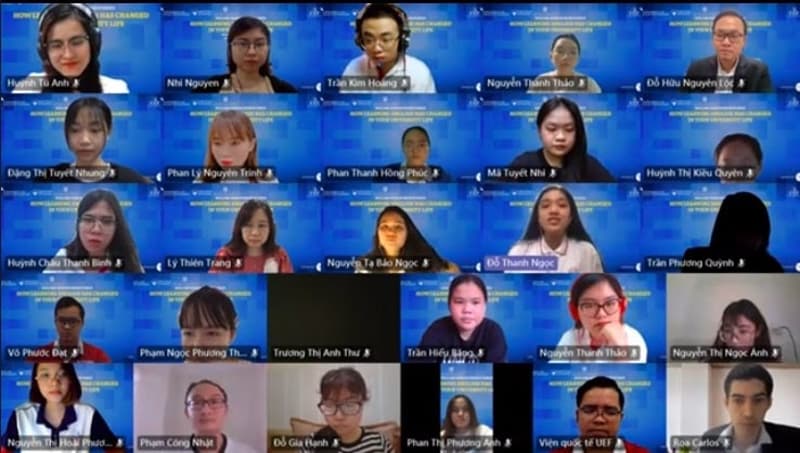 More than a hundred participants joined the workshop
The workshop with the participation of the panel of guests includes Dr. Do Huu Nguyen Loc - Vice President & Director of the UEF International Institute, Ms. Huynh Tu Anh - Vice Director of the UEF International Institute, along with students and the other faculty members.
Mr. Pham Cong Nhat took himself as an example while sharing ways to learn English effectively. Not only when a secondary school teacher told him "You can do it" was he motivated and strived forward.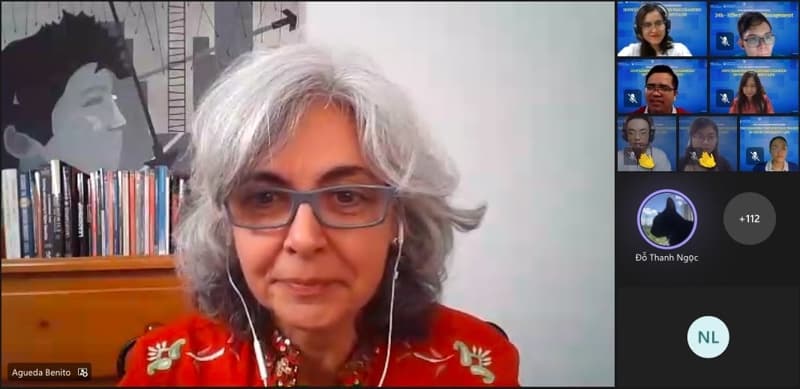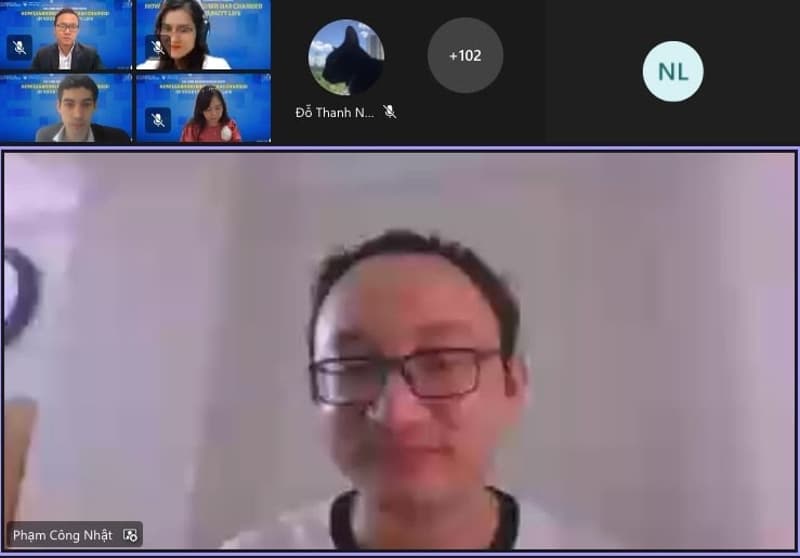 The two speakers shared a number of effective English learning methods with students
His failure to apply for the Foreign Trade University helped him awake to the importance of English. Since then, he has tried his best to grasp opportunities and achieve more. He added that winning first prize at a debate competition was a door open to possibilities that he had never dreamed of before
Getting the hang of it, he advised students not to be discouraged if students hadn't done their best. Dr. Águeda Benito agreed and added a variety of efficient ways of learning English for students.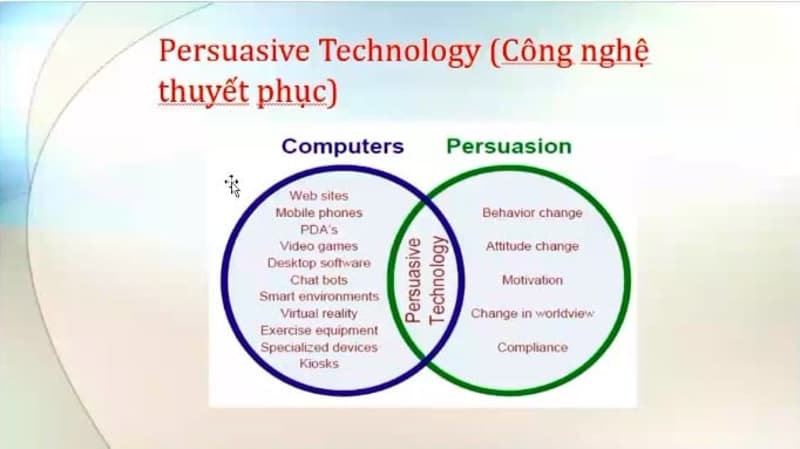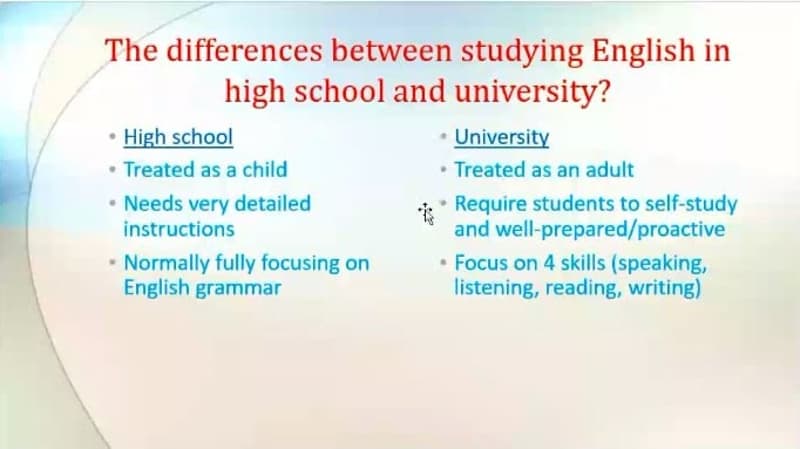 The pressure comes from the differences in English learning methods between universities and high schools.
Thanks to technological advances, students no longer have difficulties in getting access to English. They can learn from watching videos, listening to music, or making friends with foreigners. However, students are still under pressure due to the differences in English learning methods between universities and high schools.
The speakers also pointed out the differences: while high school teachers mainly focus on grammar, university students need to practice and self-study all four English skills.
Speakers share 6 tips to succeed in English study plan according to the speakers:
- Set realistic and specific goals;
- Actively take note of new words or expressions;
- Practice vocabulary repetition and write it down;
- Take initiative for all stages of the learning process;
- Find fascinating and new things in learning English through reading, listening, and watching;
- Realize the importance of learning English and have a positive attitude towards it.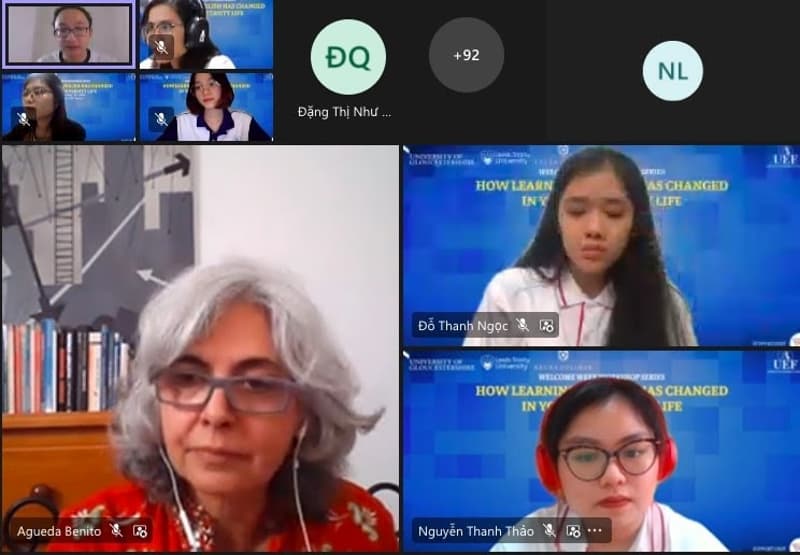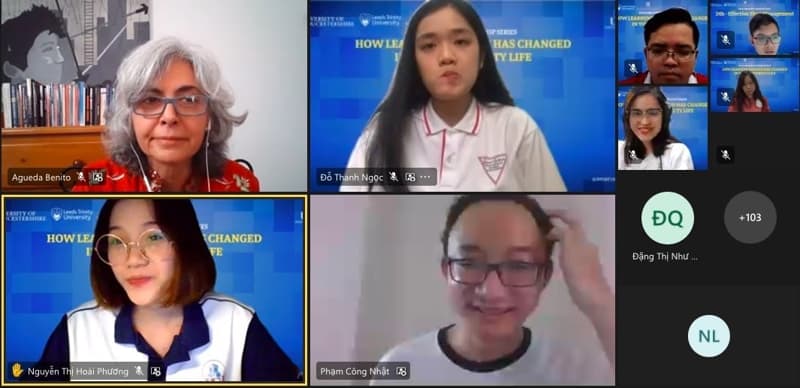 Students actively asked questions and interacted with the speakers
After the Q&A session, Chau Vinh Phat - a freshman of the international bachelor program (Leeds Trinity University), said he was very grateful for the informative workshop. From this day on, he became more aware of the importance of learning English. Besides, he also gained a better insight into his curriculum as well as his whole learning process.
Hopefully, these sharings can help students ease the pressure on learning English and have strategies to dramatically improve their achievement.
Nguyên Lê