If you are interested in a rewarding opportunity to explore and master a new, modern and very interesting technology, UEF's Faculty of Information Technology is your best choice.

Overview

UEF's Faculty of Information Technology is one of the leading training faculties in the field of Computer Networks & Data Communication in Vietnam.
The Academic Team of the Faculty includes lecturers with a Master's or higher degree who are not only experienced lecturers but also managers and leaders from IT multinational companies and groups.

Training Objectives

The training programs of the Faculty aim at providing students with essential knowledge and practical skills to design and set up high standard computer networks for businesses and organizations in need of IT applications.
Enrolled in IT studies, you will have the chance to learn to apply IT to solve daily life problems effectively and creatively.
You will acquire not only background knowledge of new technology in computer networks and modern network devices but also essential skills to integrate IT applications into computer networks effectively and securely in high standard security systems.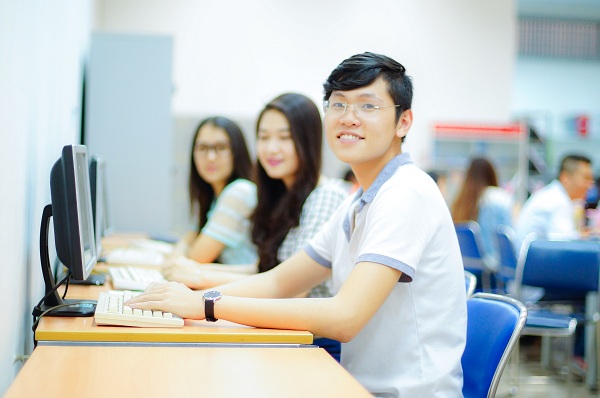 Training Strengths
•
International Training Standards
: To create qualified graduates to meet the employment demand in extensive international integration IT fields, English is the complete mandatory language for training activities in the Faculty. IT students will be provided with updated syllabuses up to training standards of leading universities and academic institutes. It is a great strength, given that IT studies require keeping pace to the stormy development of technology.
•
Chance of comprehensive personal development
: In addition to IT specialized knowledge, the Faculty encourages and affords students good opportunities to develop their soft skills through student clubs and extra-curricular activities, taking into accounts the fact that comprehensive personal growth is favourable for job opportunities and promotion.
•
Enriching practical experience
: With the motto: "Bring Students and Enterprises Together", the Faculty has held many business workshops or seminars and set up internship and job support programs for the students. The activities and programs are opportunities for students to enrich their practical experience, paving the way for their successful careers in the years to come.
•
Wide-open career path
: The increasing demand for information security and effective computer networks is going to cause a thirst for qualified human resources in the field. With UEF's wide connections with enterprises, mostly IT corporations, the Faculty's students definitely have a great advantage of job opportunities and career success.

Training Levels

• Bachelor's Degree Program
• Associate's Degree Program
• Work-Study Program

Degrees & Promotion

Upon your graduation, you will be awarded a Bachelor's degree in Information Technology.
With a strong foundation, it is quite possible for you to upgrade your professional skills in a Master or Doctoral training program and get promotion in IT corporations / companies.