17/01/2017

In the afternoon of January 16, students from University of Gloucestershire (United Kingdom) – UEF's strategic partners had an international academic exchange program with UEF students.

This is an opportunity for UoG students to learn more about UEF and take part in discussing the topic about the "Overview of Vietnam Education and Finance".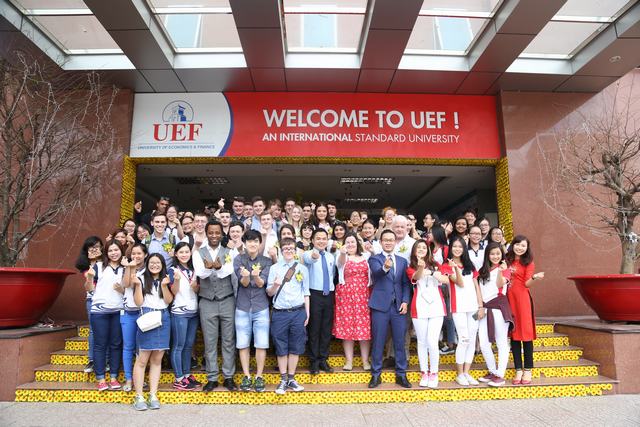 Students from Gloucestershire University presented at UEF in the afternoon of January 16.

Not only impressed by the modern and friendly learning environment at UEF, UoG students also highly appreciated the International Academic Exchange program for providing the knowledge of Vietnamese education and economy.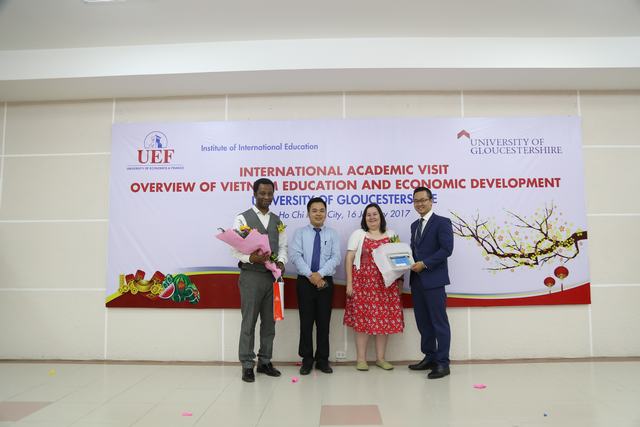 Director of UEF Institute of International Education offered flowers and gifts to the representatives from Gloucestershire University.

After this trip, Academic course leader Accounting Undergraduate Programmes of University of Gloucestershire – Mr. Charles Afriyie shared that: "The exchange program with UEF was cleverly organized. The academic and practical content of the program are closely linked to each other. This brings amazing knowledge, skills, and experiences for students from both universities."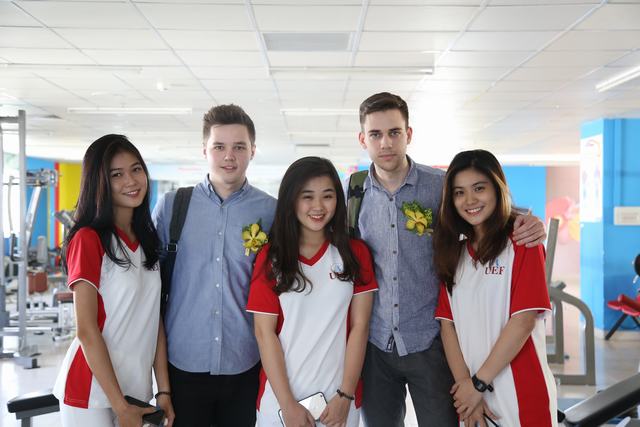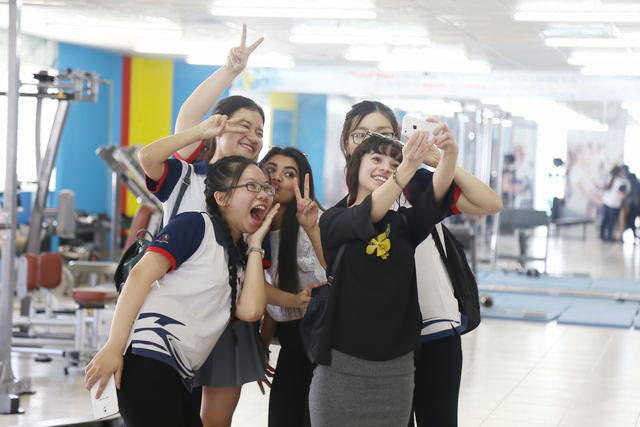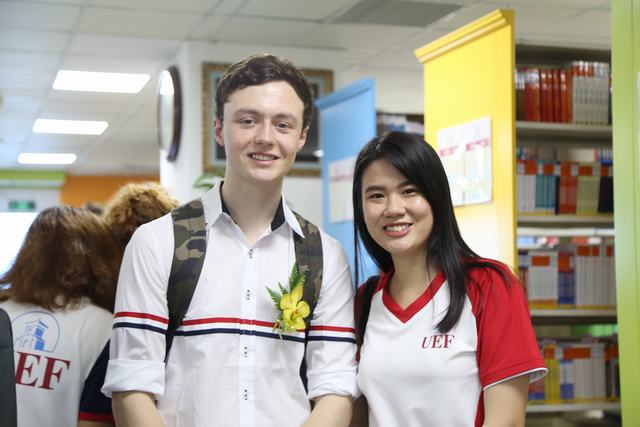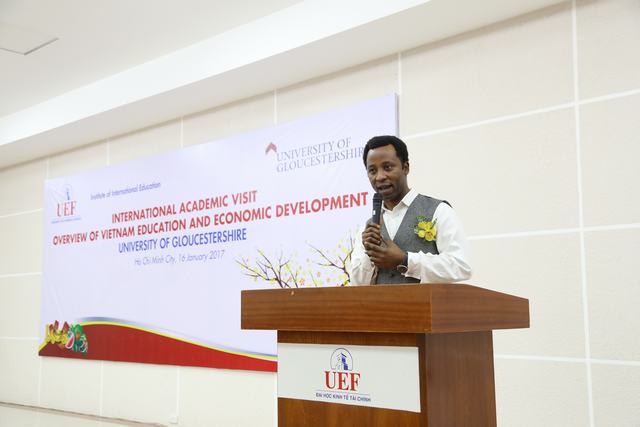 Academic course leader Accountingundergraduateprogrammes of University of Gloucestershire – Mr. Charles Afriyie – praised the education environment at UEF.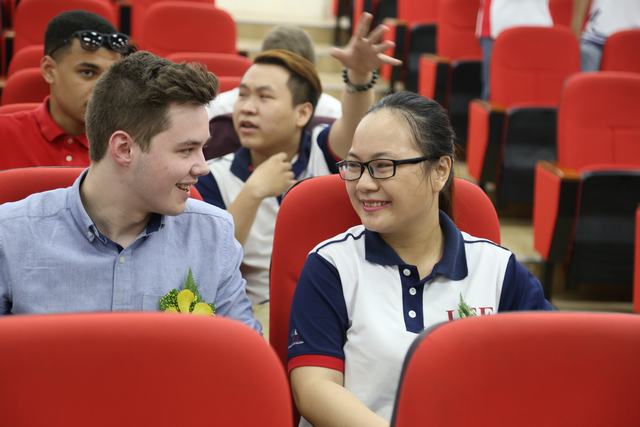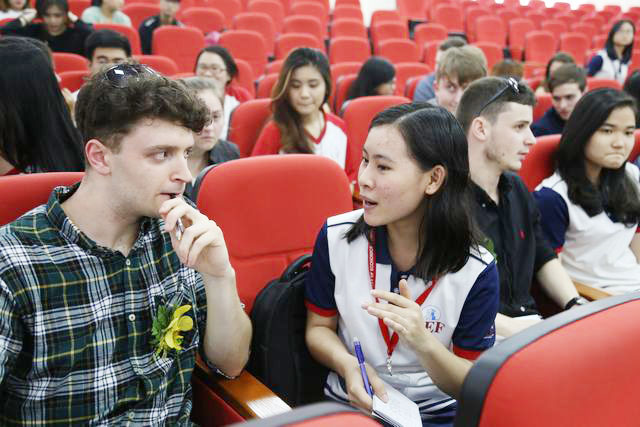 Students from both universities excitedly discussed during the exchange program.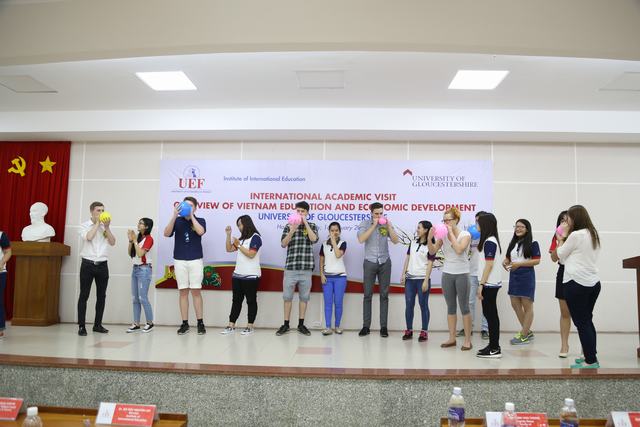 Bonding in engaging activities
The International academic exchange program between UEF and UoG is one of various popular international exchange programs which are held annually. Equivalent events of this are the academic exchange program with University of Pittsburgh (America), University of Bangkok (Thailand), etc.

UEF and University of Gloucestershire signed an education cooperating contract in October 2016. With this agreement, UEF now offers students many international study programs. These include practical academic programs such as international exchange, transfer programs, double degree programs, and many chances for a full cooperation in education.

About the University of Gloucestershire:
·The University of Gloucestershire
is a public university established in 1834
,
which locates in the
center
area of England. It only takes 2 hours to drive from the University to London and less than 1 hour to go to other big cities such as Birmingham, Oxford, and Bristol. The University of Gloucestershire is one of the Britain's top 20 universities that possess extensive experience in teaching, which offers teaching programs from bachelor's level to master's level.

·The University of Gloucestershire attracts more than 10,000 students from 44 countries each year.

·According to ISB 2015, it is rated by international students as one of the leading universities that provide best student services.
·
94% of the students
graduating from the University of Gloucestershire acquire their jobs within only 6 months or go onto further study.
·The University is ranked 4th for Biology in Britain (according to Guardian Good University Guide 2016)
·The University is ranked 9th for Film Production and Photography (according to Guardian Good University Guide 2016)
·The University is ranked in the top 20 in the UK for Economics – Accounting and Finance (according to Guardian Good University Guide 2016)
·The University is ranked in the top 3 universities whose postgraduate students are highly appreciated (according to International Student Barometer 2015)
·The University is ranked 12th­ for high rate of Business, Management, and Marketing students that are recruited after graduation (according to Guardian Good University Guide 2016)
By: Ha Tran
Photos: Tan Cao