You don't' have to go abroad with expensive costs and worries about cultural differences anymore with the UEF academic programs. Let's join us and enjoy full facilities and get international qualifications with an articulation program.

Experience UK education right at UEF

As part of the trend of comprehensive internationalization of education, Ho Chi Minh City University of Economics and Finance (UEF) as well as many universities in Vietnam have been implementing international articulation programs (studying abroad) with prestigious universities in the world.

UEF currently owns a network of more than 60 university partners in 30 countries around the world. The UK Bachelor program at UEF has linked with Gloucestershire University and Leeds Trinity University with the following disciplines: Business Administration, Marketing; English Language; Hospitality Management, Tourism and Travel Services Management; International Bussiness.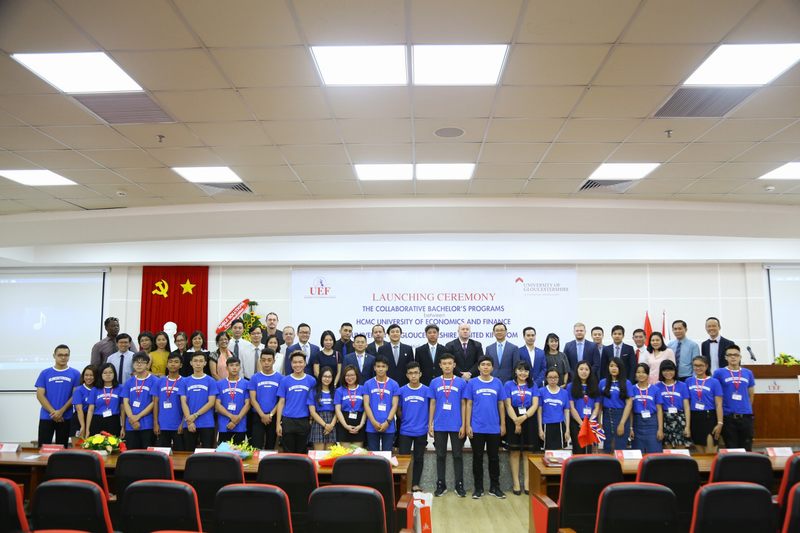 Students can choose to study Bachelor of Gloucestershire University of Leeds Trinity University
The UK Bachelor program at UEF is designed based on UK education standards. The language of instruction is entirely in English, each class has no more than 25 students. Students can get English lessons and reviews at no cost before joining the main course. The lecturers of the program are experts directly involved in teaching from the UK and UEF, integrating many advanced methods, helping to develop creativity, critical skills ...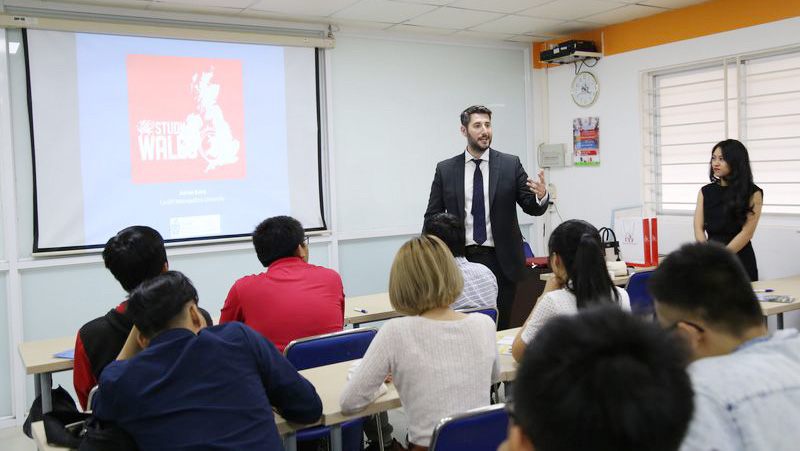 In an international learning environment, students can comprehensively develop in both knowledge and skills
The program is a combination of theory and practice. Students are provided with practical business experiences from successful professionals and entrepreneurs right in the classroom; see job opportunities as well as be inspired to work in a dynamic and modern international environment; focus on researching and proposing innovative solutions related to academic knowledge; facilitate professional practice in the process of learning with the support of lecturers from foreign countries ...
But what's curious, soft skills will be a series of topics that are deployed throughout the learning process to help students cope with future career challenges. These skills will help students adapt and express themselves effectively in the international working environment in the global integration context.
Receive a globally recognized qualification

Nothing beats having a UK Bachelor's degree - a prestigious international qualification recognized by the Vietnamese Ministry of Education and Training. This degree is not only a major key to exciting career opportunities in the future but also the opportunity to receive full scholarships at world-renowned universities for higher education.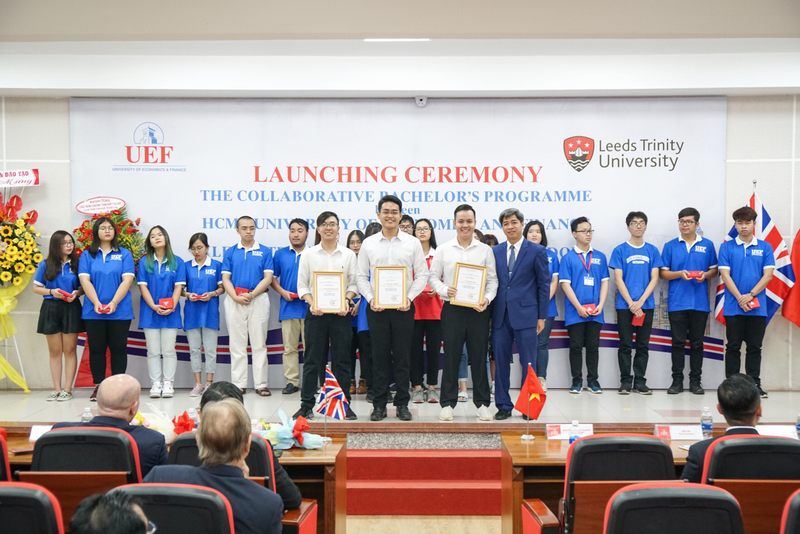 Open up job opportunities when possessing a valuable international bachelor degree

According to a survey by the International Career Organization, there is barely a graduate with a UK Bachelor miss a chance to find a job. UK ranks second in the world in terms of the cooperation between universities and businesses so that employers highly appreciate UK degrees. Many UK courses are designed by leading universities and experts in the fields and taught by those specialists. Therefore, the students gain a lot of practical experience and knowledge.

Making full use of impressive plus points from the UK Bachelor program at UEF, students can realize their dream of getting an international degree right in Vietnam. This is also in the goal of contributing to the internationalization of education of UEF, with the aim of training generations of UEF students to obtain good skills, foreign languages, and achievements in the globalization context.
UEF is currently receiving admission documents for international Bachelor's programs from March 1, 2021.
Contact information:
UEF International Institute (4th Floor)
Ho Chi Minh City University of Economics and Finance (UEF)
141 - 145 Dien Bien Phu, Ward 15, Binh Thanh District, HCMC
Hotline: 094 998 1717 - 091 648 1080
Email: international@uef.edu.vn
According to kenh14.vn