November 17th, 2016

In order to provide students with an opportunity for academic exchange and skill development, the Institute of International Education of Ho Chi Minh City University of Economics and Finance's (UEF) is going to hold a talk show with the topic of 'Entrepreneurship and International Communication' (Room A09.03, UEF head office).

There would be the participation of the speakers coming from the United States: Mr. David Nobles – General Counsel at Dawson Geophysical Company, Mrs. Margaret Nobles – Founder of Margo's Quilting Corner, Mr. Norman Coe – Author of 'Road to Success' and Mr. Jordan Stivers – Deputy Director at Research and Development Quality Control.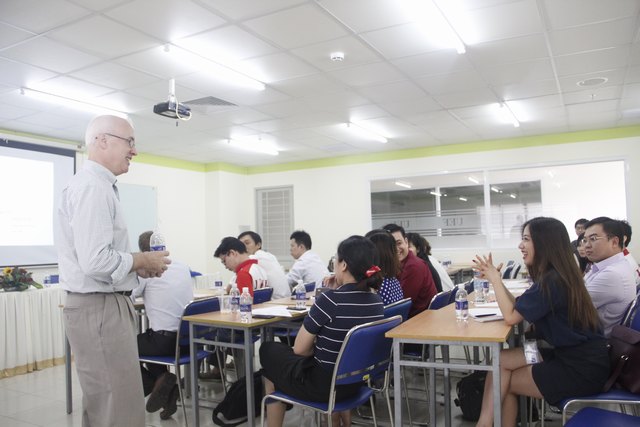 The talk show 'Entrepreneurship and International Communication' is going to take place on November 16th
Participating in the program, UEF's students will be provided an opportunity to listen to the true stories of the experienced speakers as well as to learn about 'startup'. At the same time, they will also have a chance to be oriented in communication skill – one
of
the
most essential
skills in people's daily life and career.
​
Besides, the interaction activities between speakers and audiences will help the students a lot in improving their foreign language skills.
UEF regularly holds English talk shows for students
Through the helpful sharing of experienced experts, it is expected that UEF's students will be able to gain more useful practical lessons, to determine their own value, and to orient themselves in taking up their future career.