20/05/2016
In keeping with the theme "Development", this year's Plus 3 program seeks to facilitate the learning of Pittsburgh and UEF students about Vietnam's economic and technological formation and development through a series of visits to partner companies and corporations.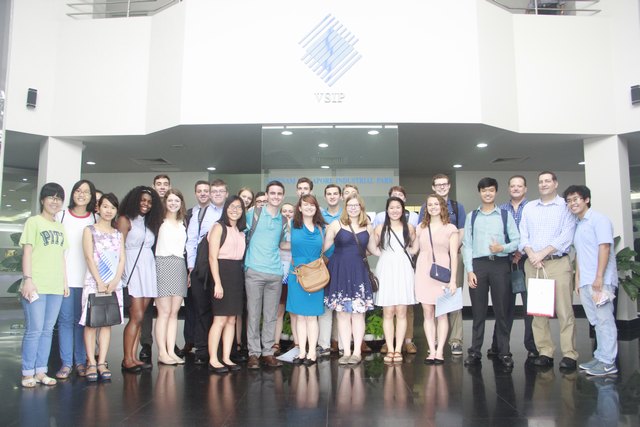 Plus 3 students visit companies as part of a hands-on lesson on development.
The Ho Chi Minh branch of the Thiên Việt Securities Joint Stock Company (TVS) is one of the interesting stops on the Plus 3 – 2016 journey. It is here that students can study to widen their knowledge about stock brokerage, financial consultation, stock investment, securities underwriting and securities depository in the Vietnamese and global market.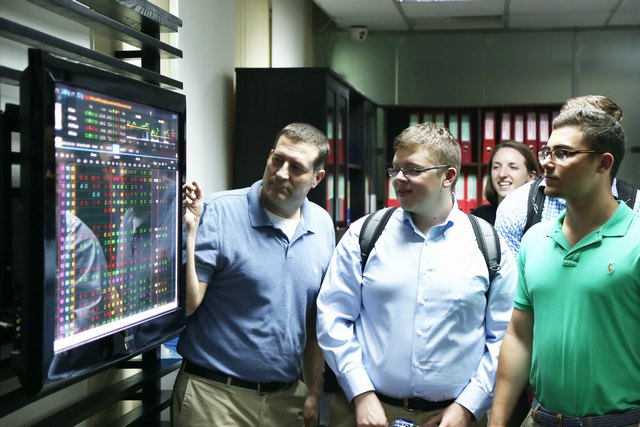 Students learning about stock-related subjects
Moreover, UEF and Pittsburgh students also had a tour of Cát Lái Terminal of the Saigon Newport Corporation. This is the largest and most modern international container terminal in Vietnam and the number 1 choice for clients shipping cargoes across Southern provinces. The tour presents international students with a close look at the development in the shipping industry in Vietnam as well as specialized knowledge in logistics.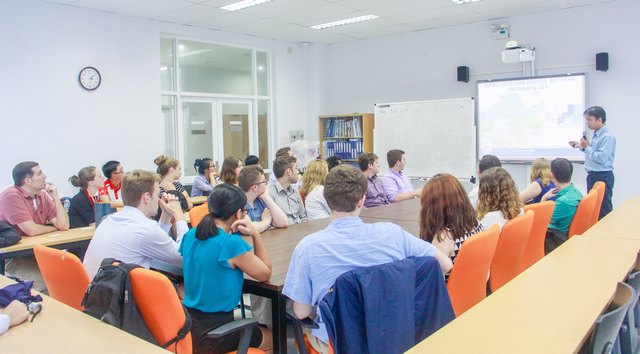 Pittsburgh students pay close attention during a presentation on the history and operation of the Cat Lai Terminal
Another destination is the Vietnam – Singapore Industrial Park (VSIP), Vietnam's leading industrial park and urban developer located in Bình Dương. This is the only industrial park in Vietnam established as a result of agreements between the Vietnamese and Singaporean governments with a view to boosting Vietnam's economic growth and promoting the region's global position. VSIP provides investors with an international business environment with a reliable infrastructure, modern technologies and a harmony between industrial development, commerce, service, and urbanization.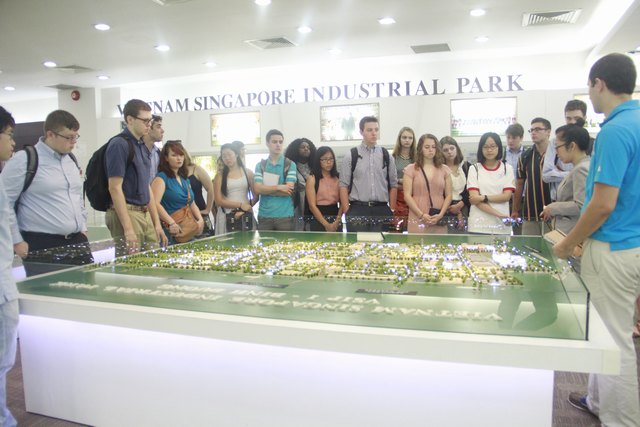 The scale model of VSIP draws much attention from students.
Lastly, Pittsburgh and UEF students had a chance to explore the II – VI Vietnam Company specialized in manufacturing optical fibers. It is also one of Pittsburgh's partner companies in Vietnam.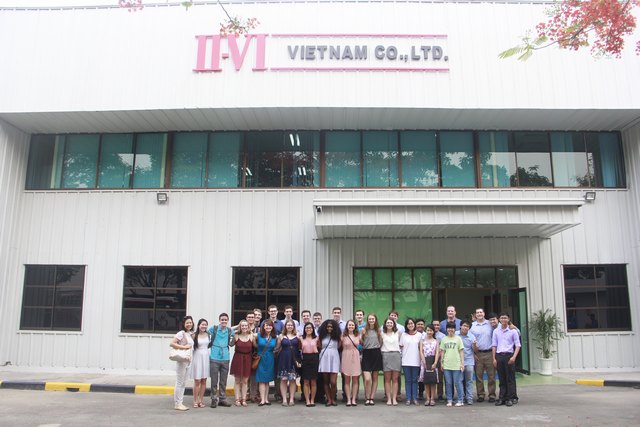 Pittsburgh student visited the II – VI Vietnam Company
Through these visits, UEF and Pittsburgh students had an opportunity to compare and apply the knowledge gained in schools to the corporate reality, as well as decide on their future career path. After precious real-life "class hours", they will have a good time bonding over exciting sports games. Let us look forward to memorable moments in this final stage!
Quynh Anh
Photos: Phu Quang