On 22nd June, Prof. Kamal Bechkoum - Head of The School of Business & Technology at The University of Gloucestershire (UK) paid a visit to international students at the Ho Chi Minh City University of Economics and Finance (UEF). In particular, the "Cyber Security in the Age of all things," chaired by the Professor, has given UEFers new and useful insights into current issues of public interest.
Continuing the Gloucestershire BA program in UEF
The University of Gloucestershire has regularly sent professors and experts from the UK to exchange and share knowledge with UEF students. Earlier on December 8, Richard O'Doherty, Vice Chancellor of the University of Gloucestershire, visited and talked with the students.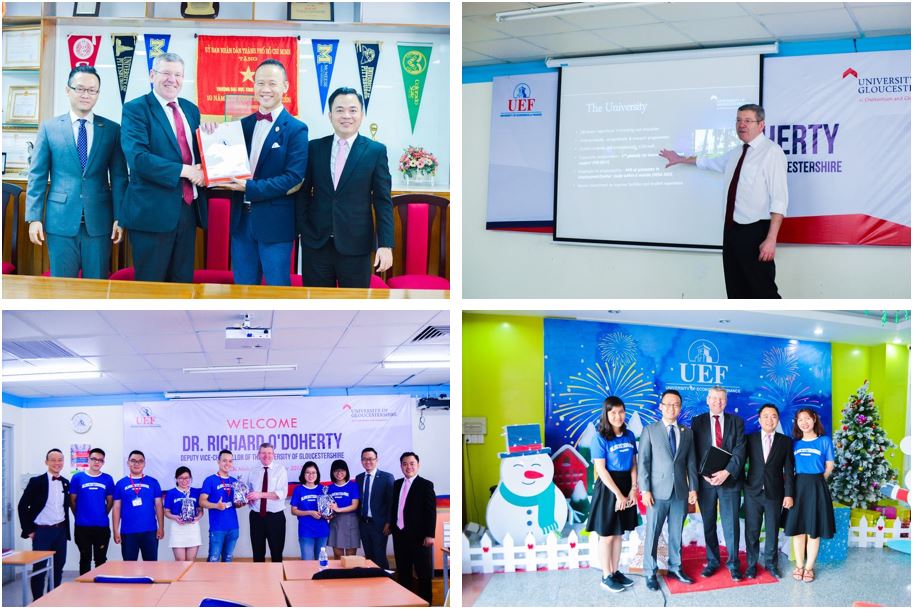 The Richard O'Doherty - Vice Chancellor of the University of Gloucestershire visited UEF on 8/12/2017
In June 2018, Prof. Kamal Bechkoum - Head of the School of Business and Technology continued to represent the University of Gloucestershire to visit and work with UEF. At the meeting, the two sides discussed in details the third and fourth year programs of students studying in the Gloucestershire Bachelor program at UEF.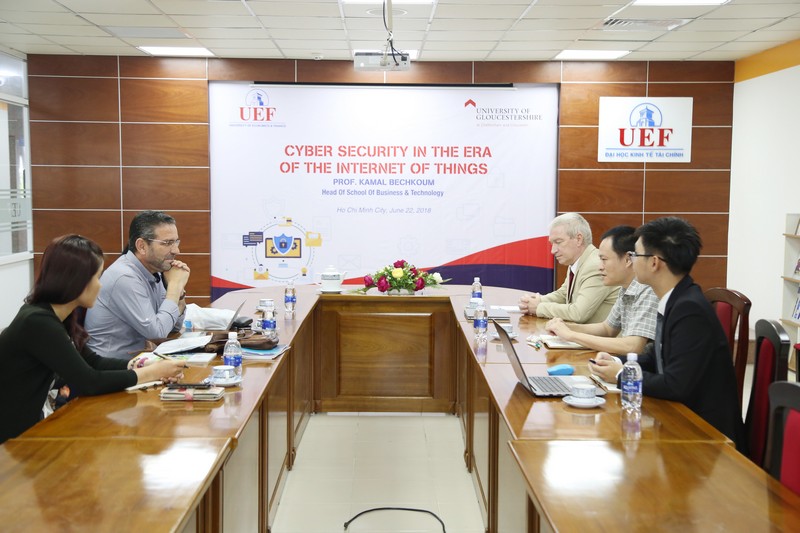 Prof. Kamal Bechkoum works with UEF representative on the Gloucestershire Bachelor program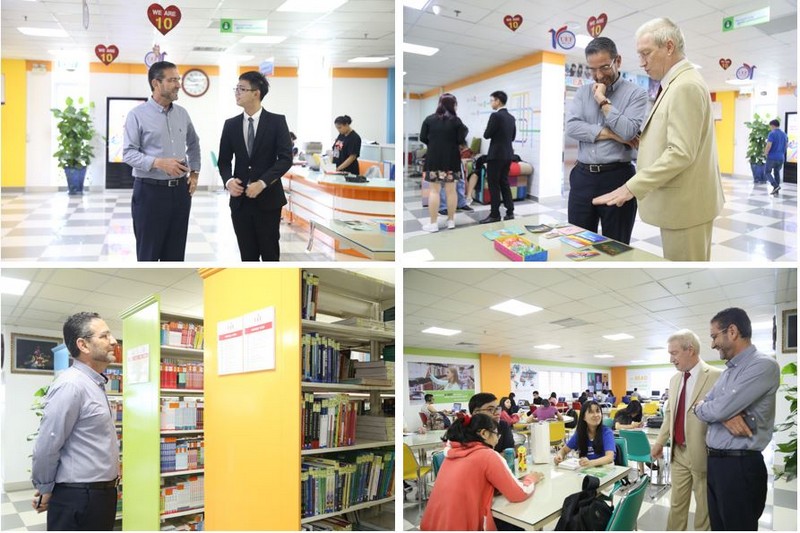 Professor from the UK visits UEF's learning environment
"Network Security in the Age of the all things" workshop and interesting messages
After working with UEF, Prof. Kamal Bechkoum has shared with UEF students about one hot issue: Cyber security.
At this workshop, Prof. Kamal Bechkoum gave a brief introduction to cyber security at the University of Gloucestershire. He also analyzes why cyber security is a matter of concern in the age of technology. When IoT is ubiquitous, people connect via Facebook, chat box, and other forms of internet connection personal information security becomes one of the biggest concerns. Because once you join any social networking site, mostly unbeknownst to you, you are inadvertently sharing your personal information with the whole wide world.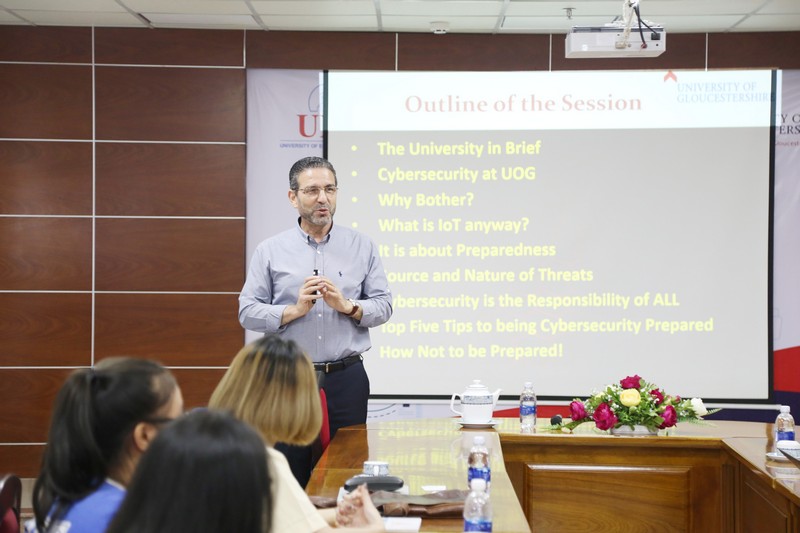 Network security seminars bring new insights to UEF students

Particularly when attending the seminar, UEF students are also provided with expert insights on the preparation, origin, nature and threats of the Internet. Understanding the problem of cyber security, you should know that this is the responsibility of everyone.
Not only that, the professor also revealed top 5 tips for effective cyber security, instructing the students on how to secure their personal information. This is followed by a no less exciting Q&A session.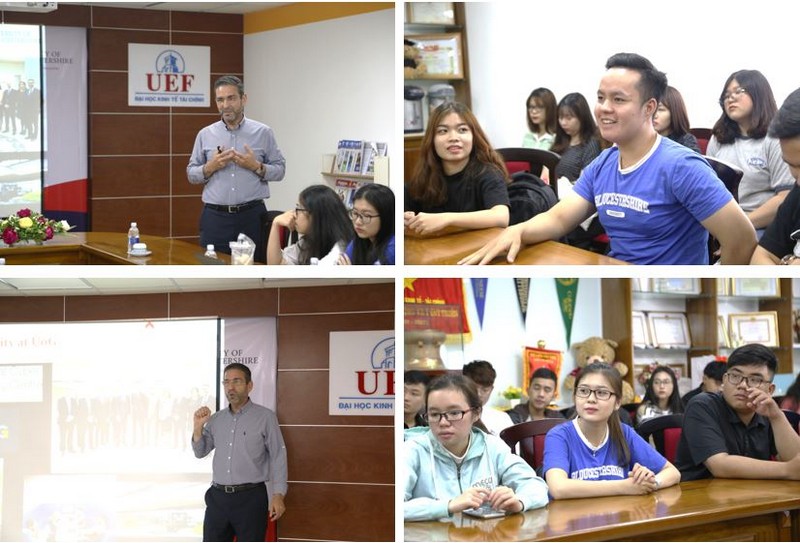 UEF students confidently pose questions for Prof. Kamal Bechkoum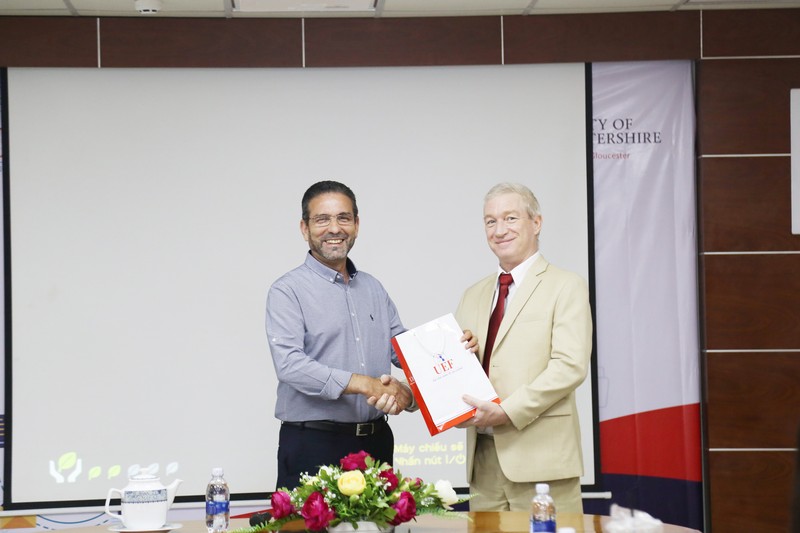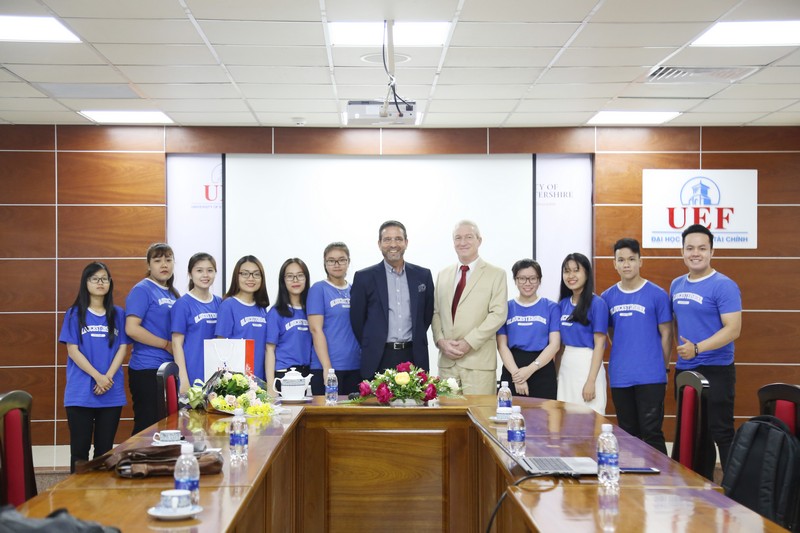 UEF representative gives souvenirs, marking the visit of Prof. Kamal Bechkoum
With the Gloucestershire Bachelor program, UEF students are taught 100% in English, regularly attend seminars by prestigious Professors from the United Kingdom. Through this seminar on the subject of cyber security, they have gained more useful knowledge. Moreover, UEF students also had the opportunity to showcase their ability to communicate in English in seminars from this international program.