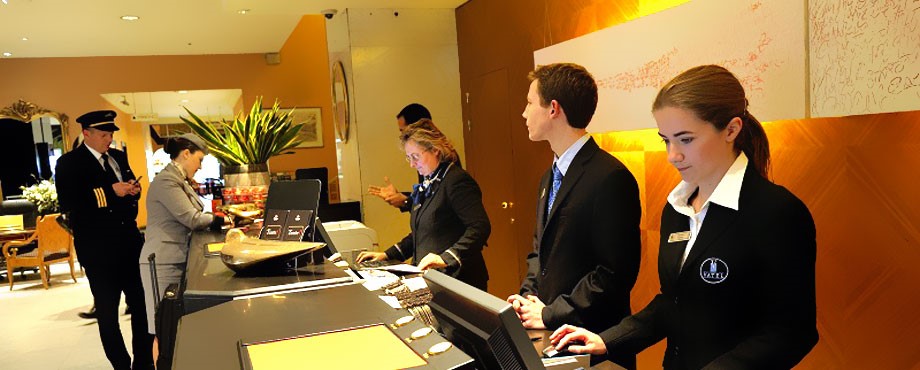 Hospitality Management
Nowadays, the tourism is developing strongly in many places around the world generally, especially in Viet Nam. It has brought a lot of job opportunities in hospitality management field for the younger generation. With a dynamic working environment, strong professional, good at foreign languages and an attractive salary; this is the career bewitched the young today
What is Hospitality Management?
Hospitality management is both a field of work and a field of study. In the work sense, it refers to management of hotels, restaurants, travel agencies, and other institutions in the hospitality industry, including jobs as: planning specific works to each department, urging employees to comply with the plan, establishing the rules in the management of human resources, managing the sold room rate and room availability, managing the food processing ...As a field of study, it refers to the study of the hospitality industry and its management needs.
What can we do after graduation?
With this solid professional skills, the dominant language, a graduate student in Hospitality Management has a lot of attractive job opportunities in restaurants, hotels and resorts in and outside the country with the professional positions, department manager, the group leader, CEO…
Knowledge and skills acquired:
Knowledge overview of business administration and especially in hospitality management.
Equipped with the administrative key subjects such as: Tourism Overview, Hospitality Management, Human Resources Management in the Hotel, Strategic Management in the Hotel Business, Tourism Marketing… Many subjects will be taught according to international standards.
Mastering professional occupations such as: Housekeeping, Front-office, Bartender, Communication Skills in Hospitality… All will be taught according to ASEAN standards.
Besides, students of UEF will be trained in Start-up skills, Team-work, Time Management, and knowledge of relevant legislation.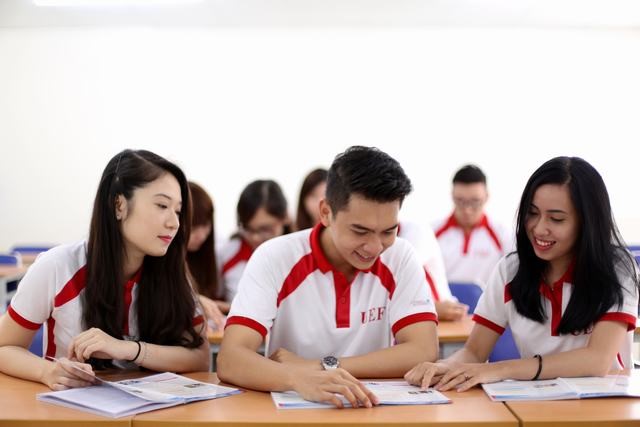 Why choose UEF?
UEF is one of the leading universities in Business Administration.
Access to standardized textbooks whose contents and teaching methods are constantly updated with reference to the United States' universities.
The students can apply the knowledge they have learned in practical work in hotels, resorts, restaurants efficiently during the majored period.
State-of-the-art facilities in the city centre, with air-conditioned classrooms and Wi-Fi access.
Small class size of about 40 students/class to promote friendship in learning and teaching.
Learning with friends who share the same interest in Business Administration from all over the nations.
English is the main communication language, so students who have not yet reached the language pre-requisite are offered intensive language courses.
Senior lecturers with great devotion to teaching, who have studied and worked overseas and got a lot of management experience.
Learner-centered as our pedagogical approach.
Helpful academic support system to timely respond to students' requests and inquiries.
Opportunities for internships and jobs are secured, as UEF has established strong links with reliable enterprises both national and international.
You can be more dynamic, confident and adaptive to working environment via soft skills lessons, students' activities, talent clubs and academic clubs.
Any particular personal qualities required?
Love traveling and passion to work in a dynamic environment
Passion to discover of the regional culture, people, cuisine, places around the world
Confident, dynamic, good communication, enthusiasm and sensitivity
Good work organization
Careful, meticulous, thoughtful, well dressed
Good job under pressure
Career prospects:
The field of tourism in general, especially in hospitality, has developed strongly and intended to be a key economic sector of Vietnam. With the growth in both quantity and service quality of tourism companies, restaurant chains and hotels like nowadays, we can see the human resources for this sector are increasingly interested in. Thus, it has opened thousands of opportunities for the young people who study this career.
Possible Positions:
Receptionist, Housekeeper, Bartender, Chef ... in restaurants, hotels and resorts. After a period of developing the capabilities, you can hold management positions, monitoring in these parts.
In charge of the other parts of the hotel, resort, restaurant as Marketing, Customer Relations, Human Resource ...
Officer in the state management agencies on Tourism
Lecturer in the tourism universities, colleges, vocational schools, tourism companies ...