Not only outstanding for its bilingual training program, UEF is also known for its international articulated programs (on-site study abroad), cooperation with leading universities in the world. Accordingly, in addition to the UK bachelor's program, UEF also cooperated with Keuka College to bring the US Bachelor of Science of Management training program to Vietnam.

So, what are the requirements for admission to the US bachelor program at UEF?



Requirements for admission to the US bachelor program at UEF



With outstanding advantages such as: American standard program, modern environment, friendly and enthusiastic teachers, attractive scholarship policy, etc., the international articulated program is welcomed by many dynamic young people.

To apply for the US bachelor program at UEF, candidates must meet the following requirements:
High school graduate or equivalent.

Students must achieve an international level of English equivalent to at least IELTS 6.0 before graduation.

For candidates who do not have IELTS 6.0, they can submit equivalent international certificates or pass the English Proficiency Test organized by the Keuka Vietnam Program Management Board.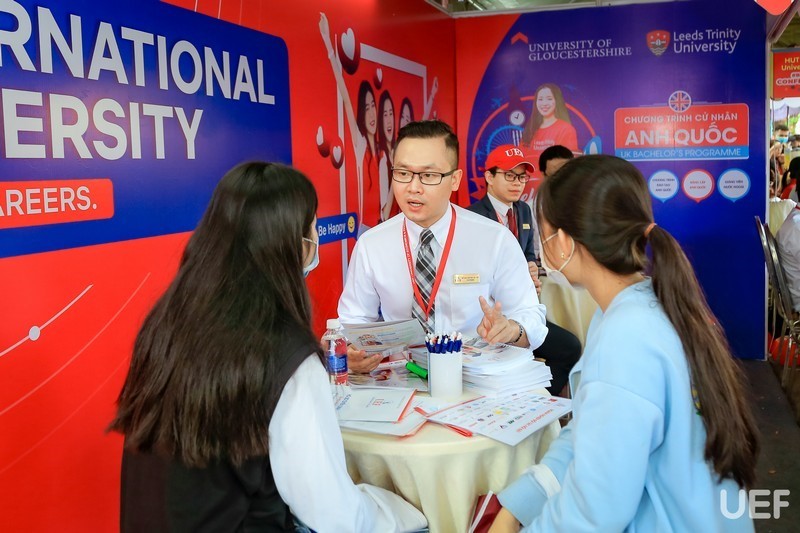 UEF continues to implement the US bachelor program after the success of the UK bachelor program
What are the application documents for the US bachelor program at UEF?



After meeting the pre-qualification conditions, candidates proceed to apply the following documents:
Application for admission (according to the form).

01 copy of high school diploma or provisional graduation certificate (notarized).

01 copy of high school transcript (notarized).

Application fee: 2,000,000 VND/document.
Scholarship policy for students of US bachelor programs at UEF



With the US bachelor's degree program at UEF, students can apply by 1 of 4 methods: High school graduation exam scores (3 subjects in grade 12), transcript scores in 3 subjects' grade 12, transcripts of 5 high school semesters and scores of VNU-HCM's competency assessment exam.

Having good scores, candidates have the opportunity to receive scholarships worth from 25 to 50% of tuition fees. Students can refer to the scholarship amount in the table below:


The scholarship for the US bachelor program applies to the first 2 years. Candidates choose a combination of 3 subjects that is suitable with examination subjects of the UEF bilingual program.

With the information in the article, we hope to help candidates understand the requirements for admission to the US bachelor program at UEF. In the current context, researching and choosing on-site study abroad programs is a safe solution for young people who dream of experiencing international education.