With the goal of expanding international training programs, in addition to the UK bachelor program, UEF continues to cooperate with Keuka College to implement the US bachelor program. So, what are the plus points of this program? You will know more about the advantages of the US bachelor program - Keuka College at UEF through the following article.



Advantages of the US bachelor program - Keuka College at UEF



The US bachelor program - Keuka College is designed according to American educational standards. When studying this program, students will experience of on-site study abroad and receive the US bachelor's degree with global value. The articulated program having the following outstanding advantages:
- The US bachelor program - Keuka College will help students enjoy the quality of American standard education. Students study in Vietnam and graduate with an internationally recognized bachelor's degree from Keuka College and recognized by the Ministry of Education and Training of Vietnam. Having a prestigious US degree, students can confidently open the gate to the future with many options from businesses.
- Reduce cost pressure. Compared to studying abroad, on-site studying abroad saves 70% of costs, but students still enjoy the best training conditions in the international environment at UEF.
- Besides background knowledge, soft skills will be a series of topics deployed throughout the training process, helping students to adapt and respond well to future career challenges. These skills will help them confidently express themselves in an international working environment.
- Experience the Semester Abroad in the US during the study period.
- Study entirely in English with no more than 30 students per class.
- Students are oriented to practice, job security.
- Opportunity to study 2 majors in 4 years of study.
- Opportunity to receive 2 bachelor's degrees from Keuka College and UEF.
- Study Case Study with CEO in business Field trip.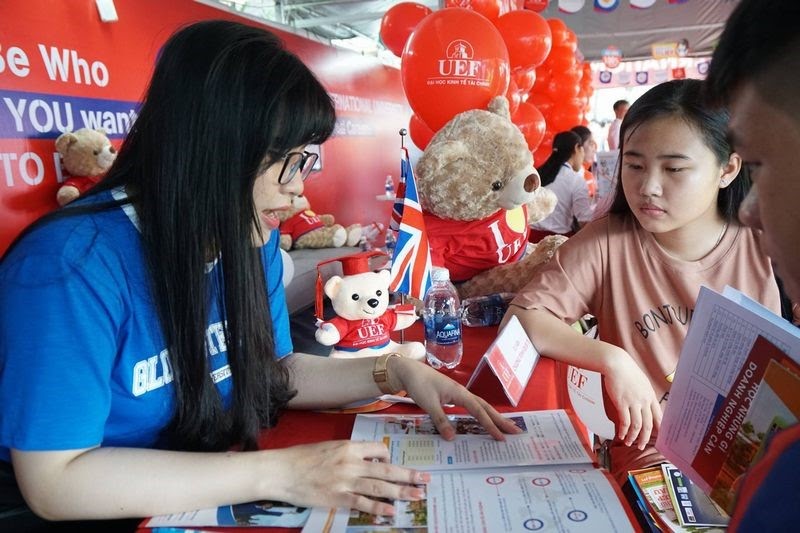 The US Bachelor Program - Keuka College diversifies options for students
Requirements and application documents for admission to the US bachelor program at UEF



Admission requirements
High school graduate or equivalent.

Students must achieve an international level of English equivalent to at least IELTS 6.0 before graduation.

For candidates who do not have IELTS 6.0, they can submit equivalent international certificates or pass the English Proficiency Test organized by the Keuka Vietnam Program Management Board.
Application for admission (according to the form).

01 copy of high school diploma or provisional graduation certificate (notarized).

01 copy of high school transcript (notarized).

Application fee: 2,000,000 VND/document.

With information about the advantages of the US Bachelor program - Keuka College at UEF, you have a basis to realize your dream of studying abroad.

For further details please contact:
UEF International Institute, 4th Floor

Address: 141 – 145 Dien Bien Phu, Ward 15, Binh Thanh District, HCMC

Tel: (028) 5422 1374 – Hotline: 091 606 1080

Email: international@uef.edu.vn – Web: www.uef.edu.vn/vdtqt