In recent decades, Korea's movie and beauty industry have made its way into the life of Vietnamese youth. K-stars have received lots of love from fans around the world for their elegant fashion style, music products, fascinating and unique movies.
From the effects of K-wave, Korean Language is becoming an arising major for Vietnamese students.
To create more opportunities for students to interact, learn and exchange culture with native speakers, UEF always try to find more partners that are prestigious universities from Korea. Lately, UEF has had a meeting with leaders of ChungKang College of Cultural Industries. With a history of over 20 years, ChungKang is one of the top universities in cultural training in Korea.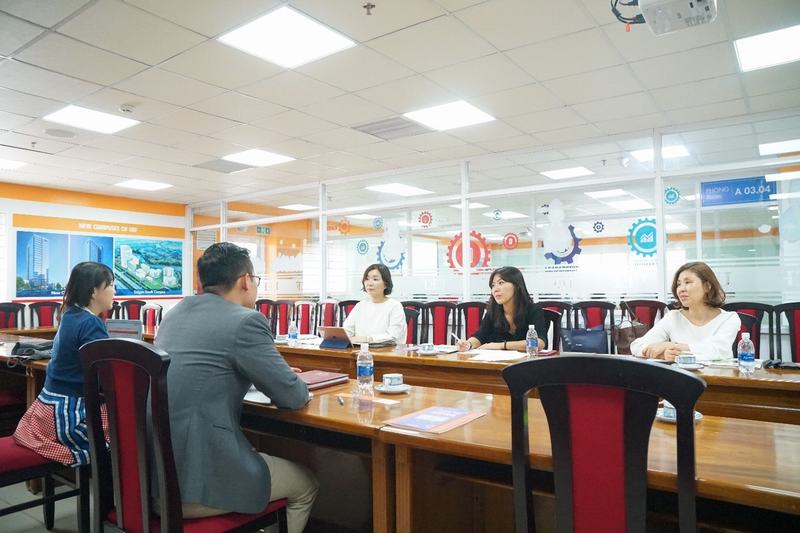 The first meeting day between UEF and ChungKang College of Cultural Industries
During the meeting, Dr. Kim Myung Hee, Dean of Fashion Department and Style Director of ChungKang College of Cultural Industries, represented the school along with two professors as representatives for Korea and Vietnam. UEF representatives were Dr. Loc Do, Director of UEF's International Institute, and UEF's Korean lecturers.
ChungKang representatives were surprised and impressed by UEF's internationalisation vision. In recent years, UEF has maintained an impressive development speed and has partnered with many prestigious universities in Korea.
Notably, the school has experience in organizing international semesters and student exchanges to Korea. Lately, UEF has collaborated with Wonkwang University and successfully organized the Test of Proficiency in Korean (TOPIK) preparation course. Each activity shows the dedication and support from leader of the school for Korean Language - one of the most potential majors at UEF.
During the meeting, both schools agreed on the summer semester curriculum in Korea. Specifically, during the program, UEFers will have a tour around the learning environment of ChungKang College of Cultural Industries, expand their knowledge of the Land of Kimchi and practically learn at top fashion and stylist businesses in Korea.
Continuing on the journey, UEF and ChungKang will organize a Conference (predictably in May 2019) on the topics: KPOP Style beauty and KPOP Styling, covering in-depth knowledge on makeup, and determining a fashionable style by Korean standards. The conference will be hosted by Dr. Kim Myung Hee from Fashion Department and other Korean style experts. Dr. Kim Myung Hee has multifarious experience collaborating with well-known Kpop stars such as SNSD, SPY, Jun Ji Hyun, Ha Ji Won, etc.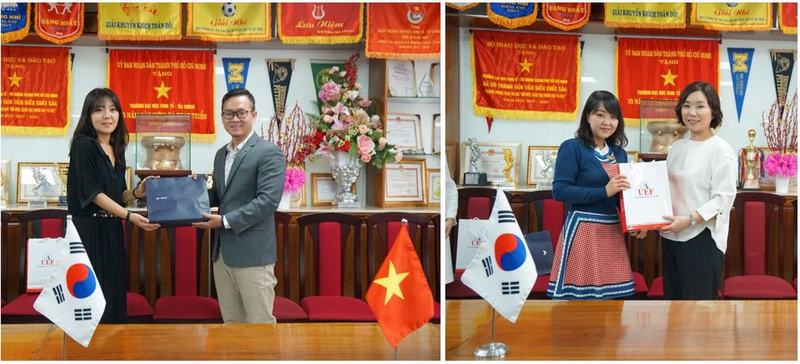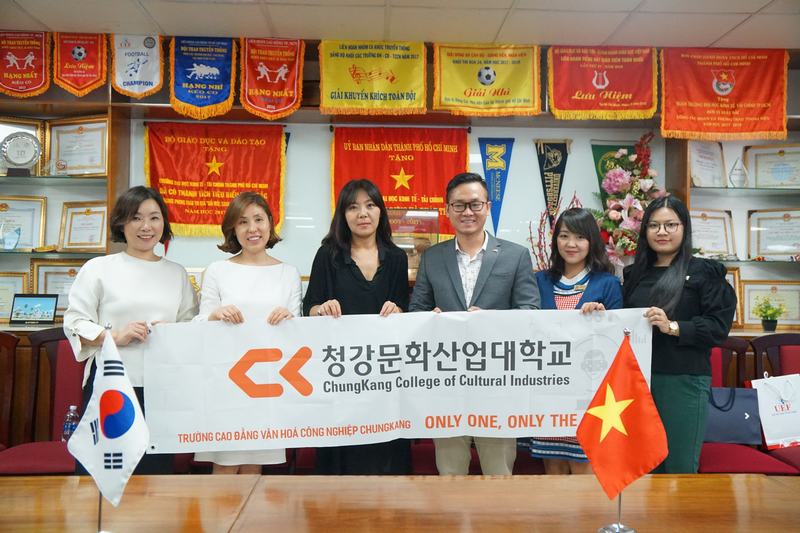 The two schools' representatives exchange gifts to celebrate strong partnership.
The meeting with ChungKang College of Cultural Industries has opened up varied developing routes for the Korean Language major at UEF. This promises more opportunities for students throughout their learning course. Dear UEFers who love Korean language and culture, let's look forward to more information on fascinating activities organized by UEF and international partners.