Nowadays, in the context of integration, English is an effective tool for students to be globally connected and acquire international knowledge. This is also an important criterion that the employers use to shortlist candidates or promote them to higher position in prestigious companies and corporations.
English reinforcement/ improvement for free
To help students to approach to globalization trends and meet the demand of using English intensively, Ho Chi Minh City University of Economics and Finance has designed an advanced English program that is suitable for everyone. The curriculum is supported and taught by qualified Vietnamese along with native English, American and Australian lecturers.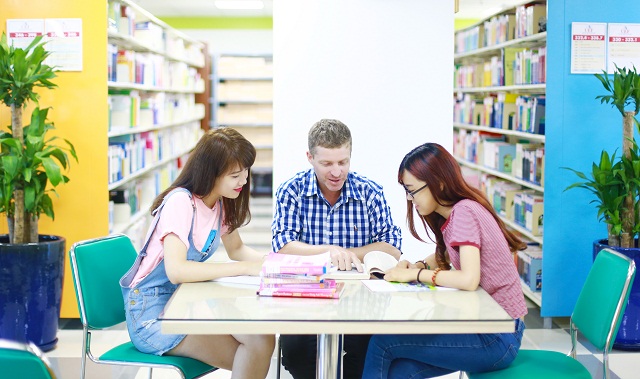 English is the major language in teaching and learning at UEF

Once attending the university, students' command of English is tested. Those who do not meet the requirements will be supported with English Preparation Course and more English classes for free. Thanks to this, students can perform well in the first year and when they study the major subjects in English in the next years.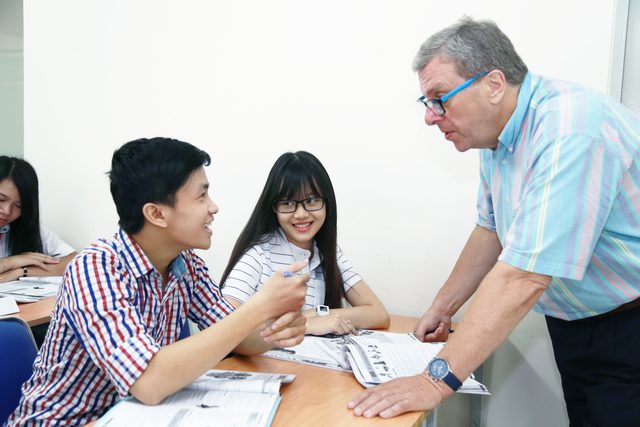 Teachers understand students' strengths and weaknesses better thanks to interactive English programs

At UEF, English classes are the combination between theory and practice, which creates an active environment for students to exchange ideas with lecturers and classmates. This interactive learning method helps lecturers to easily recognize their students' strength and weakness from which they can timely support.
It's not simply about language teaching
English Program at UEF is not only about language teaching but it also aims to offer students a chance to develop their soft skills and integrate with dynamic students' life in such an international university environment through extra-curricular activities. As a result, they become eager in academic exchange programs with foreign students and achieve success in such contests as English Superstar Contest, Nielsen Case Competition, etc.
Especially, with good commands of English and firm professional knowledge, UEF's students who have desire for approaching the international learning environment can be offered 1-2 semester studying abroad at UEF's partner universities. Students also have a chance to receive scholarships or complete their programs of study and earn an international degree at prestigious universities around the world.
Being well-prepared before graduation, students from UEF are expected to meet IELTS band 5.5 or above, possess proficient communication skills and express confidence in starting their own business in the integrated world.
Over the years, UEF students have always been among the top preferred candidates and greatly appreciated in multinational companies and corporations. Those positive feedback from the society and partner enterprises is the driving force behind UEF's improvement in its curriculum, particularly English program in the future.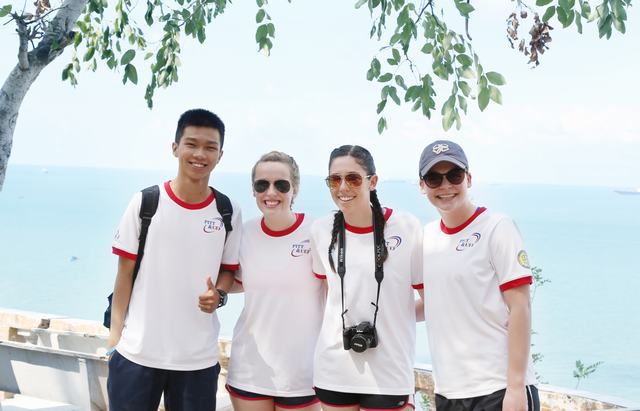 UEF students are offered chances to take part in active and meaningful exchange programs

In 2017, admission process for Hospitality Management at UEF is based on two methods:
- The National High School graduation exam results: Candidates must graduate from high school with the total score of at least 15.5 for 3 subjects in the corresponding subject combination
- Academic transcript for grade 12: Candidates must graduate from high school the average grade-12 score of 3 subjects in the corresponding subject combination should be at least 18 (university level). UEF accepts applications by 20 July. The next batch is expected until 31 July.
For the both methods, candidates taking part in admission process stand a chance to receive a 100% tuition fee scholarship.