On the morning of 9 November, Ho Chi Minh City University of Economics and Finance (UEF) warmly received and signed a partnership agreement with University of Applied Sciences Centria (Finland). With this partnership milestone, UEF students have more opportunities to earn a dual degree and experience international academic terms in one of the world's most developed education systems.
At the signing ceremony, representatives of University of Applied Sciences Centria were Prof. Hannele Teir, Vice President, Ms. Helena Eijsberg, International Communication Coordinator, and Ms. Huong Thai, Vietnam Marketing Assistant. Representatives of UEF were Dr. Do Huu Nguyen Loc, Director of UEF Institute of International Education, together with lecturers of the international programs of UEF.
Over the past 11 years of development, UEF has been constantly expanding its international partnership map, with a network of businesses, educational institutions and universities all around the world. This hugely facilitates UEF students in making easier transition, experiencing international semesters and, above all, studying for a dual degree. Under this program, students will receive a bachelor's degree from both UEF and the partner school.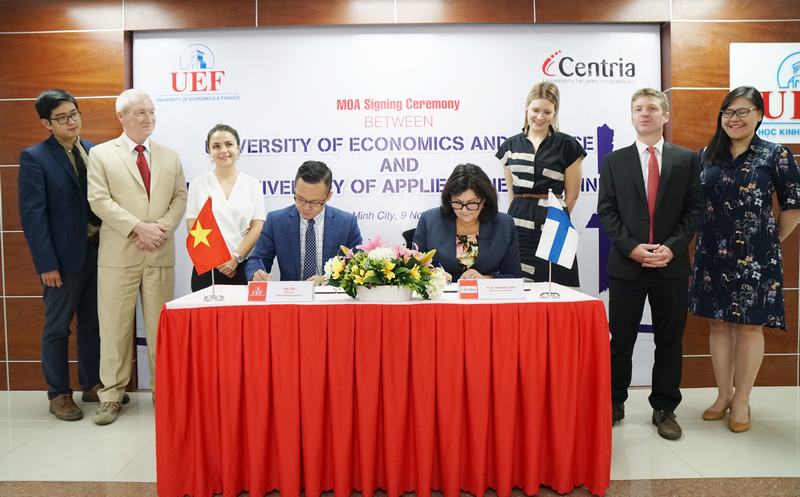 The two schools officially signed the partnership agreement and accredited the training program
Under the partnership agreement with University of Applied Sciences Centria, UEF Business Administration students will be able to easily transfer to Finland under the dual degree program (3 + 1). Upon completion of the program students will receive a bachelor degree from UEF and Centria.
Appreciating the rapid development as well as the international quality of UEF, University of Applied Sciences Centria hopes to launch many future international cooperation programs with UEF, such as a Joint program where UEF students can experience the academic service of University of Applied Sciences Centria right here in Vietnam.
Known for being the world's leading education system, the Finnish Government and University of Applied Sciences Centria always create the best chances for international students to study in Finland. Noteworthily, after the signing ceremony, Centria pledged to collaborate with UEF in Erasmus Credit Mobility Program and UEF's manager and lecturer training programs.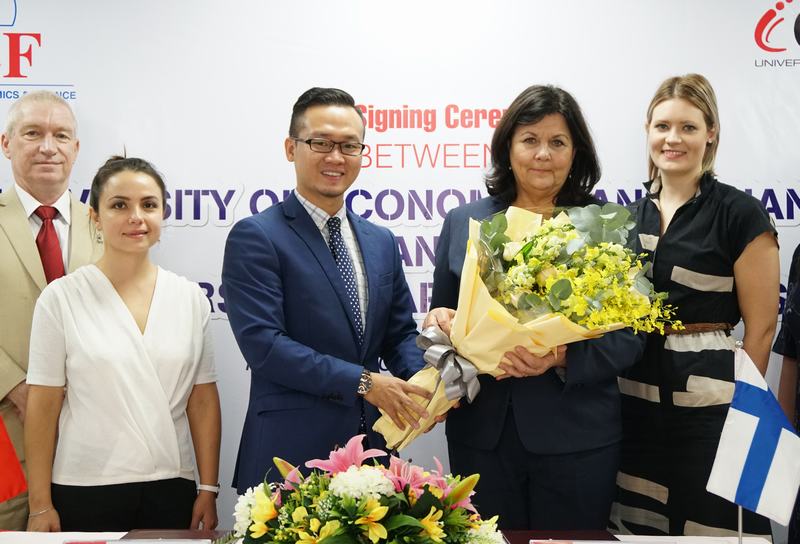 Giving presents to mark the cooperative relationship between the two schools
Prior to this, UEF also successfully launched the Erasmus program with a university in Denmark. This is a student exchange program of the EU, founded in 1987. University of Applied Sciences Centria was particularly impressed by this achievement of UEF. In the near future, Centria will continue to cooperate and support UEF in developing more international exchange activities and bringing quality learning experiences to UEF students.
Translator: Thao Vy Thai - Nhi Tran