It is necessary for Vietnamese students to have a degree from an outstanding university after the country has joined TTP and become a member of ASEAN Economic Community. A degree from a reputable university, good command of foreign languages and effective work skills are valuable professional tools for students. At UEF, students can experience an international-standard learning environment. And UEF's prestigious program ensures that the student will gain enormous benefits.
Study international programs with modern methods
UEF's programs for Business, Management, Finance and Banking are continuously updated to British and American standards. These programs are deemed by students and parents to be an ideal starting point.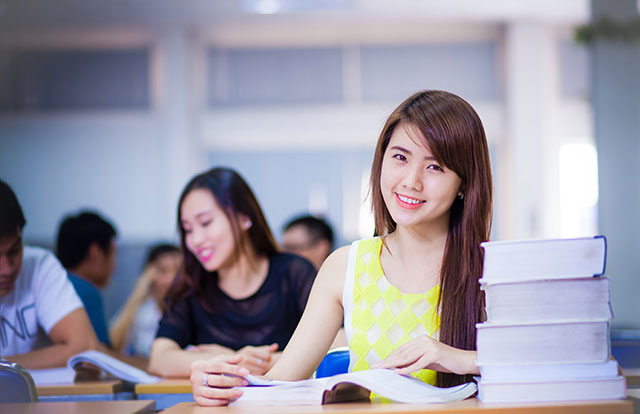 UEF's programs emphasize interaction
Additionally, each major's curriculum is designed based on a combination of theory application and an internship at companies. Therefore, they can consolidate their knowledge of analysis, investment planning, human resources and finance management, professional skills in administration to response to the opportunities and challenges of a global economy.
English is the main language of teaching and learning
The current trend in regional and global integration makes English become a "golden criterion" with which recruiters sort their applicants. The advanced English programs at UEF are designed to suit a variety of students and instill confidence in those choosing UEF as base for crafting their future. The program guarantees 100% of its graduates are proficient and confident in striking out on their own in an international environment.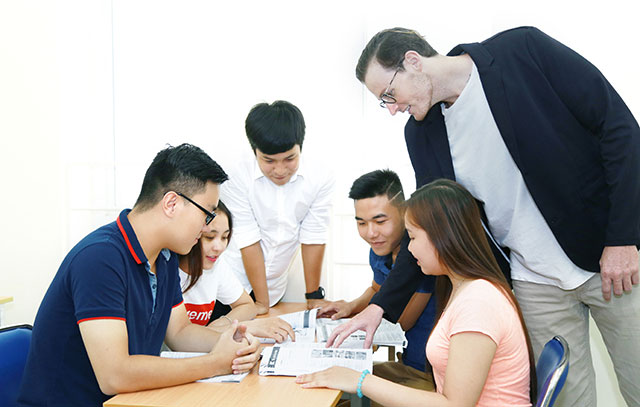 UEF students are fluent in English communication
Upon enrollment, all of the students are tested their English proficiency. Those who do not meet the requirement are provided with a free Preparatory English course so that they are well-equipped for the actual learning. UEF English program is concentrated in the freshman year. Upon finishing, students gain an IELTS score of 5.5 or higher to pursue the specialization in English.
Especially, students with good English and excellent academic records who wish to access a foreign educational environment have many chances to study abroad for 1 to 2 semesters or transfer to renowned universities in countries such as the US, Japan, Thailand, Malaysia, etc., where their credits are recognized as equivalent to those of UEF. This is an educational integration strategy that will prepare students for future prospects in a globalized world.
Perfecting skills to excel professionally
Every year, students eagerly participate in extracurricular activities, voluntary community services, and exchanges with the University of Pittsburgh (US), Bangkok University (Thailand), etc… in order to acquire skills for career and social life later on.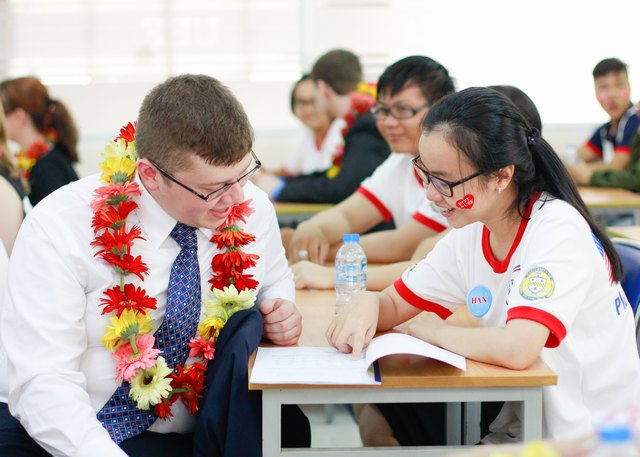 International exchange improves students' skills and foreign languages
Because of experiencing high-quality education, UEF's students are knowledgeable, confident, dynamic and creative. 100% of graduates obtain desirable positions, 80% find work relevant to their majors, 30% are hired while interning at companies, business group, and partner commercial banks with UEF such as Sacombank, ACB, Techcombank, KPMG, Saigon House, etc.
In 2016, UEF enrolls students based on either their National High School Examination results or their grade 12 GPA
- Applicants with National High School Examination result must meet requirements of MOET.
- Applicants with Grade 12 GPA must graduate from high school, and the grade 12 combined GPA of the three subjects designated for consideration being equal to or above 18 at the HE level. For the associate level, applicants only need to be a high school graduate. UEF begin receiving applications with high school transcripts from May 2, 2016
Applicants in both manners are eligible for 100%, 50% and 25% scholarships if their GPAs total 27, 24 and 21 respectively.
Contact us:
The University of Finance and Economics – UEF
276 – 282 Dien Bien Phu, Ward 17, Binh Thanh District, HCMC
Phone: (08) 5422 5555 *Hotline: 094 998 1717 *Website:
www.uef.edu.vn