Jobs relating to tourism and hospitality are always the dynamic ones which require everyday social communication and fresh challenges. Therefore, this major has never lost its appeal.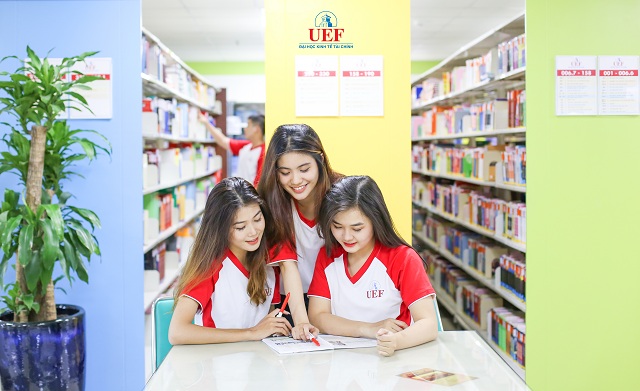 At UEF, the bilingual program together with modern learning environment makes this major a top choice for students.
High labor demand
With the growth in tourism - hospitality sector, experts predict that by the end of 2020, the total number of residences will reach 580,000 for domestic and foreign tourists, about 35% - 40% of which reaches 3-5 stars standards, creating over 3 million jobs nationwide.
Opportunity is always followed by challenges. Therefore, it is unavoidable that Vietnamese labors have to compete with the international ones. According to many managers in this field, foreign language is the first obstacle to fresh graduates finding a job in grand hotels.
Therefore, students need to pay attention to both professional knowledge and foreign language to get a good job. This is the key factor for success in the global integration era.

Hospitality Management Bilingual Program
Dealing with the high demands of foreign language, Ho Chi Minh City University of Economics and Finance has been known for its advantage of meeting international standards and its modern bilingual programs. 50% of the duration of each course is taught in English.
Once attending the university, students' command of English is tested. Those who do not meet the requirements will be supported with English Preparation Course and more English classes for free. Thanks to this, students can perform well in the first year and when they study the major subjects about hospitality in English in the next years.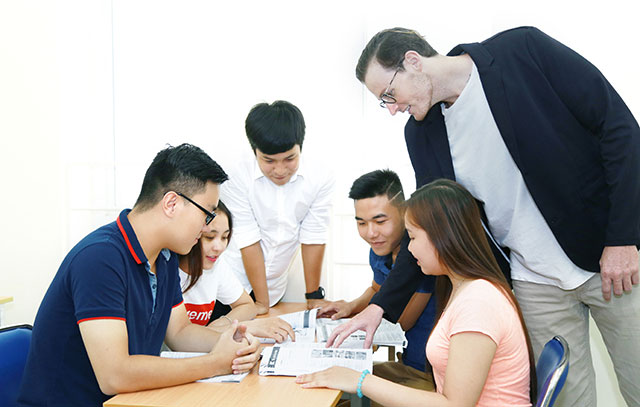 On graduation, students are expected to reach IELTS 5.5 to meet the requirements of the job. In addition, UEF is currently in a strategic partnership with many major universities in the world in which hospitality management training is their strength. Students have chances to take part in exchange programs to develop their professional skills relating to their job. This is an important premise for students to confidently express their profession in the multinational working environment.
Being trained at 5-star standard hotels
Students on hospitality management courses at UEF can approach a training model that adheres to real work, progressive curriculum built from reputable UEF partner universities and constantly updated to meet practical needs. They can also practice the manners of an employee working in five-star standard hotels, particularly in reception, chamber, bar, restaurant, etc. thanks to the system of practice rooms that accurately simulate the structure and function of a hotel on campus.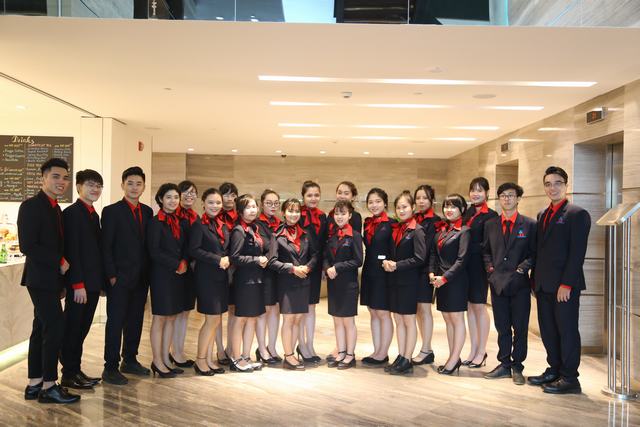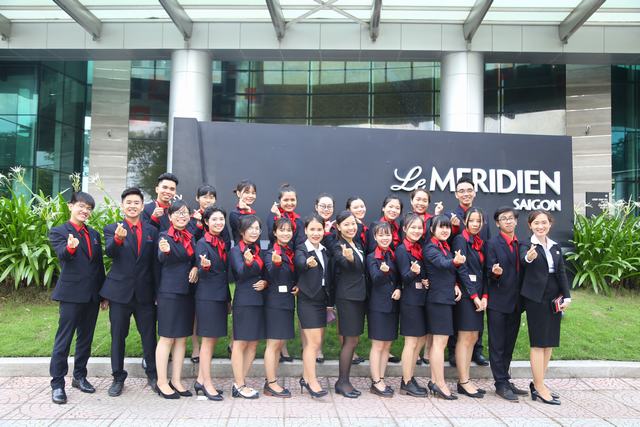 UEF students during their practical course at
Le Meridien
Besides, students of Hospitality Management have an opportunity to experience real working environment by practical classes conducted in UEF's partner network such as Odyssey, Mariot, Movenpick, Park Hyatt, Hilton, Victoria. UEF and many travel companies, hotels, resorts have also signed partnership agreements.
With firm professional knowledge, good command of foreign language and soft skills, UEF Hotel Management graduates confidently grasp the career opportunities in world-class hotel management corporations or hotel chains.
In 2017, admission process for Hospitality Management at UEF includes 4 subject combinations: A00 (Maths - Physics - Chemistry), A01 (Maths - Physics - English), D01 (Literature - Maths - English) and C00 (Literature - History - Geography) which are divided into two methods: the National High School graduation exam results and academic transcript. With the latter one, candidates must finish the high school program and the average grade-12 score of 3 subjects in the corresponding subject combination should be at least 18 points. UEF accepts applications by 20 July.