Established in 1890 in New York, USA, Keuka College is an institution for training high-quality human resources from undergraduate to graduate levels for citizens and leaders of the US and the world. Over 130 years of establishment and development, Keuka College possesses impressive numbers and has become a prestigious College for young people around the world.



Impressive numbers



Keuka College is accredited by the Middle States Commission on Higher Education, which is a standard for undergraduate training and is recognized by the College for Higher Education Accreditation (CHEA).

In addition, business and management programs are also accredited by the International Assembly for Collegiate Business Education (IACBE).
Currently, the College is organizing 34 undergraduate programs, 4 vocational training programs for working people and 7 postgraduate programs with 100% courses taught in English.

For more than 130 years, the College has always been committed to giving students the best learning opportunities at a reasonable cost. Especially international students can apply for Keuka's scholarships. More than 98% of students have received financial aid.
With over 560 practice hours and valuable contacts, graduates are well-prepared for the job market. In fact, the percentage of students who get a job after graduation is 96%.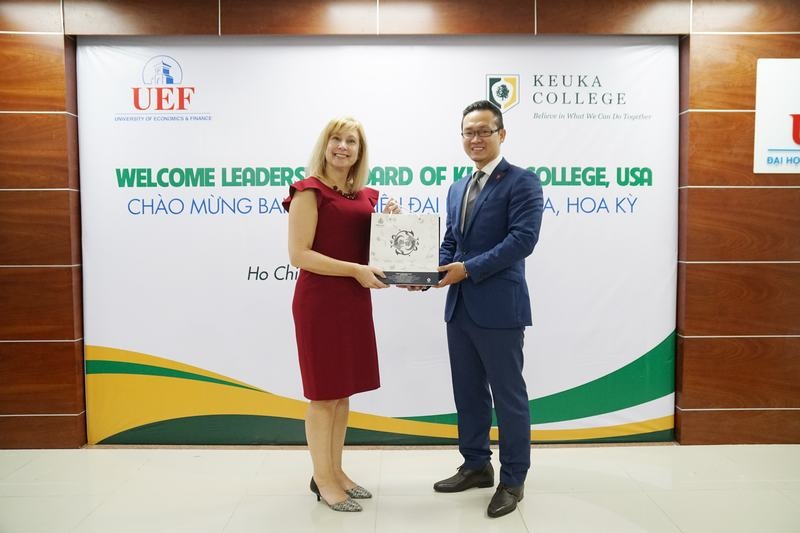 UEF cooperates with Keuka College to provide Bachelor of Science in Management program
Some other awards the College has achieved:
- Top 20% of the best universities (According to The Economist, UK)
- Best Colleges - Consistently in the group of the best universities (According to U.S. News & World Report and Money Magazine)
- College of Distinction - Consistently won the title of "The US Excellent College" since 2014.
- White House Honor Roll - U.S. White House Honor Roll List for Educational and Community Activities since 2006.



Study in Vietnam and receive an international degree



Ho Chi Minh City University of Economics and Finance (UEF) has cooperated with Keuka College to train bachelor's degree of Science in Management. The objective of the program is to train bachelors with advanced and modern professional knowledge in management science associated with practical experience in Vietnam and in the world. The College also helps students develop soft skills for future work and career development such as: adaptability, critical thinking, etc.

In the 2021 enrollment period, UEF will recruit applications for US bachelor's programs. To apply for admission, candidates must meet the following conditions:
High school graduate or equivalent.

Students must achieve an international level of English equivalent to at least IELTS 6.0 before graduation.

For candidates who do not have IELTS 6.0, they can submit equivalent international certificates or pass the English Proficiency Test organized by the Keuka Vietnam Program Management Board.
Admission requirements include:
Application for admission (according to the form).

01 copy of high school diploma or provisional graduation certificate (notarized).

01 copy of high school transcript (notarized).

Application fee: 2,000,000 VND/document.
For further details please contact:
UEF International Institute, 4th Floor

Address: 141 – 145 Dien Bien Phu, Ward 15, Binh Thanh District, HCMC

Tel: (028) 5422 1374 – Hotline: 091 606 1080

Email: international@uef.edu.vn – Web: www.uef.edu.vn/vdtqt