Studying in the United States has been a popular goal among Vietnamese students over recent years. Understanding that need, Ohio University has begun to seek international partners in Vietnam.
After careful research, Ohio University has identified UEF as a prominent school with international programs and significant partnerships in the United States, and thus took the initiative to visit and discuss future cooperation with UEF on December 7.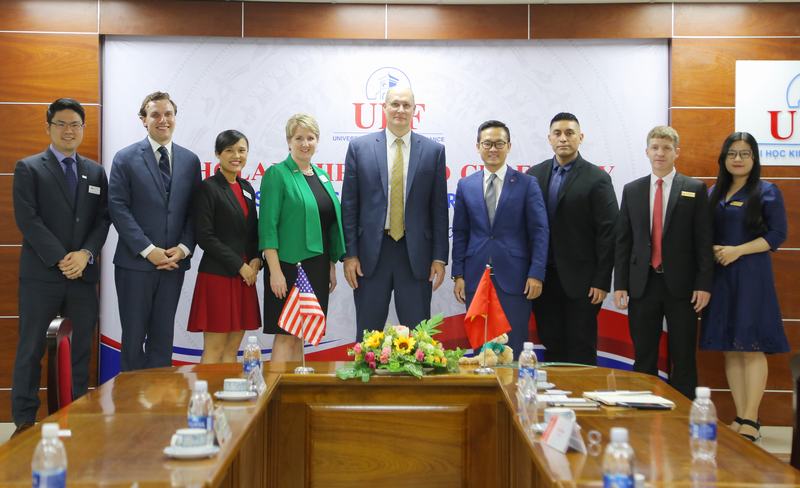 Ohio University's Board of Trustees visits and proposes partnership with UEF
Ohio University was represented by Craig Cornell, Senior Vice Provost for Strategic Enrollment Management, Candace Boenninger, Associate Vice Provost for Strategic Enrollment Management, Robert Drapcho, Director of Transfer, Online and International Initiatives, CL Ng, Regional Manager - Southeast Asia, and Ha Nguyen, Regional Representative - Vietnam. UEF was represented by Dr. Loc Do, Director of UEF International Institute, and lecturers and specialists of the institute.

At the meeting, the two parties presented the overview of their training programs, their internationalization orientation and partnership achievements over the past years. UEF specifically emphasizes that the United States is where most of UEF's international partners are based. At present, UEF has implemented many international programs such as international semester, international exchange program, articulation program and joint program. Significantly, UEF has 10 years of experience in organizing Plus 3 international exchange with The University of Pittsburgh.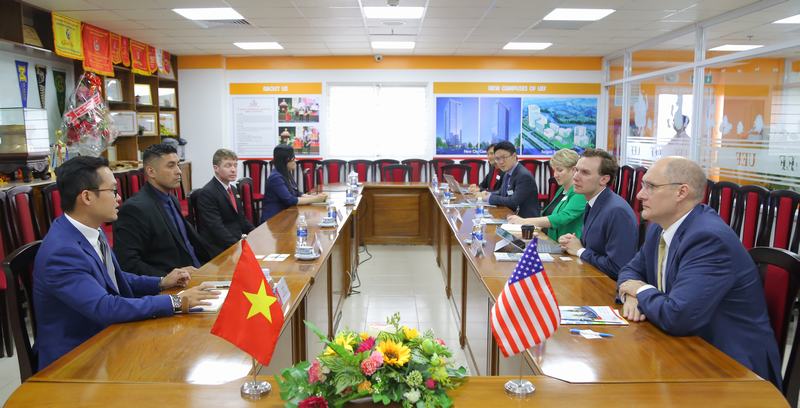 Representatives from both sides discuss partnership goals in the coming years.
Through the discussion, Ohio University proposed to begin training cooperation in business and hospitality management majors which are UEF's strengths. Training programs will be accredited after this meeting. Students who complete 2 or 3 years of study at UEF will be transferred to Ohio University. UEF also suggested launching a short-term exchange program similar to Plus 3 with Ohio University.
Craig Cornell, Senior Vice Provost for Strategic Enrollment Management, says that Ohio University annually sends about 3,000 students to many countries in the world for international semester. Ohio University promises to encourage students to choose Vietnam as an overseas study destination.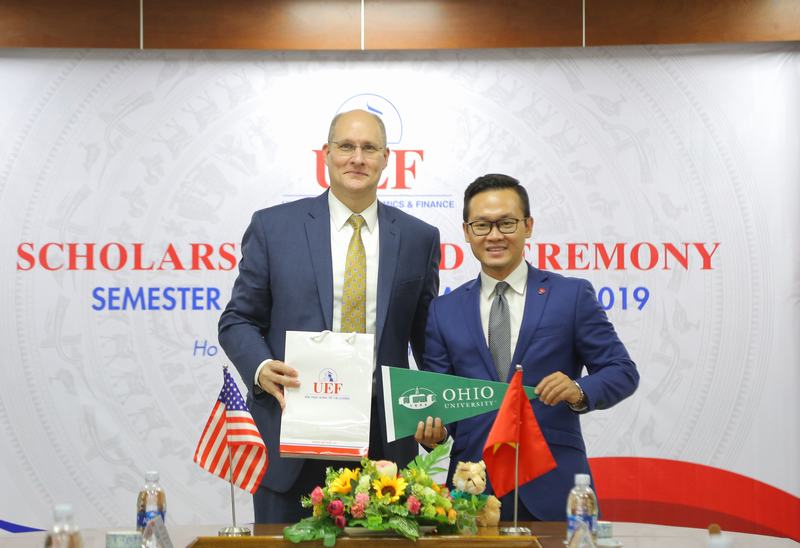 On behalf of UEF, Dr. Loc Do presented the souvenir to Craig Cornell, Senior Vice Provost for Strategic Enrollment Management of Ohio University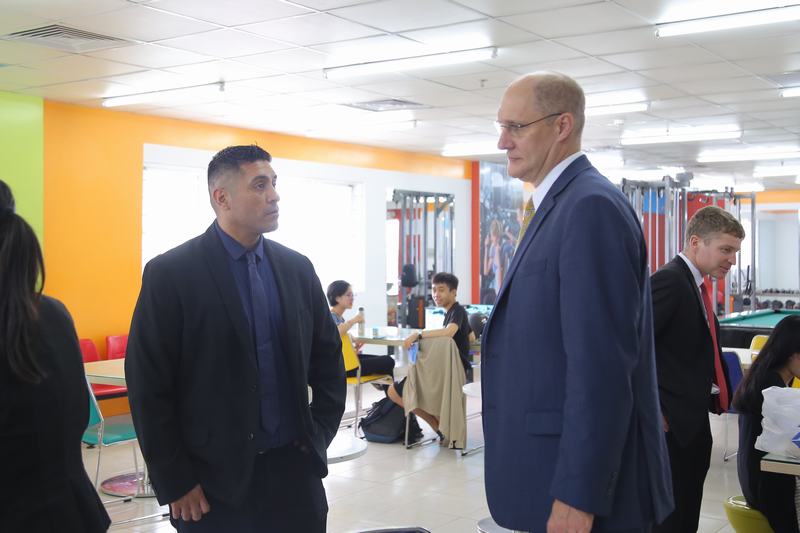 Ohio University Board of Trustees visits the learning environment of UEF students
At the end of the meeting, Ohio University's Board of Trustees was escorted around UEF campus. Senior Vice Provost for Strategic Enrollment Management of Ohio University expressed his impression of the layout of UEF learning space as well as the dynamism and confidence of UEF students. With such positive impressions, Ohio University will soon send students to Vietnam and accelerate the implementation of cooperation programs in the near future.
Introduction of Ohio University (USA)
Ohio University is a public research university founded in 1804 and the first university in Ohio.
The campus has over 18,000 undergraduate students, more than 1308 students from over 100 countries, and over 500 clubs or organizations. 93% of Ohio graduates land a job after graduation or pursue higher education.

The spacious Ohio University's Residence Hall houses up to 8,000 students.

Ohio is proud to be a long-standing university in the United States with a history of over 200 years. The University is listed in Top 25 safest universities in the U.S. and ranks #1 on Student Satisfaction by MyPlan.com ranking.


Translator: Vy Thai - Thu Phan