On the morning of June 27th, the University of Economics - Finance (UEF) welcomed the University of Bath Spa (BSU) - UK to evaluate the transnational training program with the aim of signing the Memorandum of Agreement on business, tourism, hotel.
UEF and BSU leaders in the signing ceremony of educational cooperation between the two universities
Within the program schedule, the evaluation team along with UEF Leaders, Deans and students examined the facilities, assessed service quality, and evaluated the training program.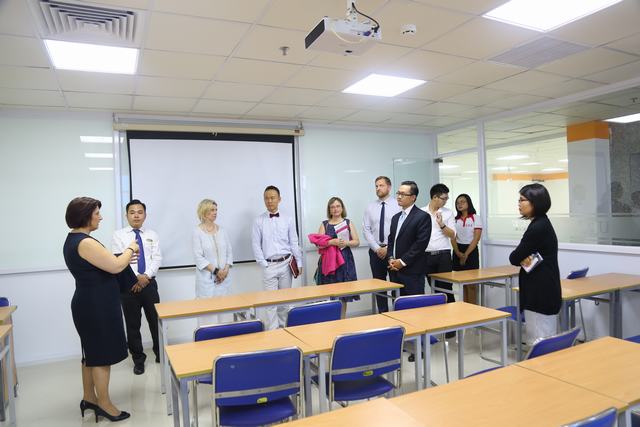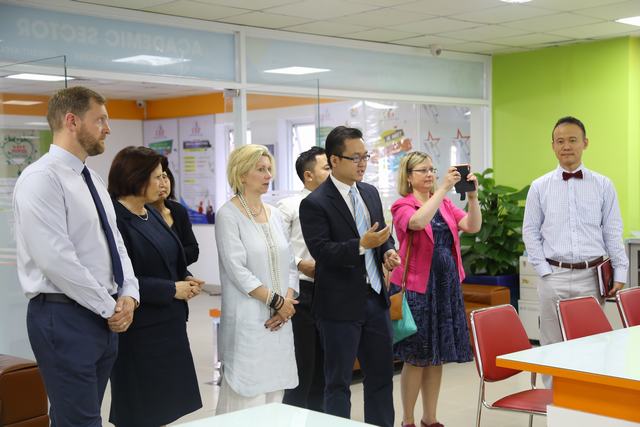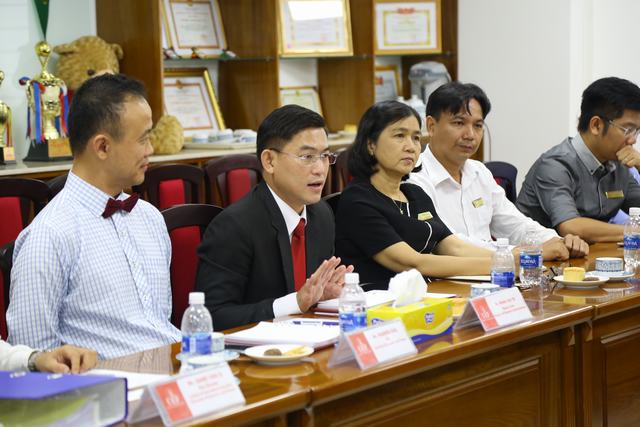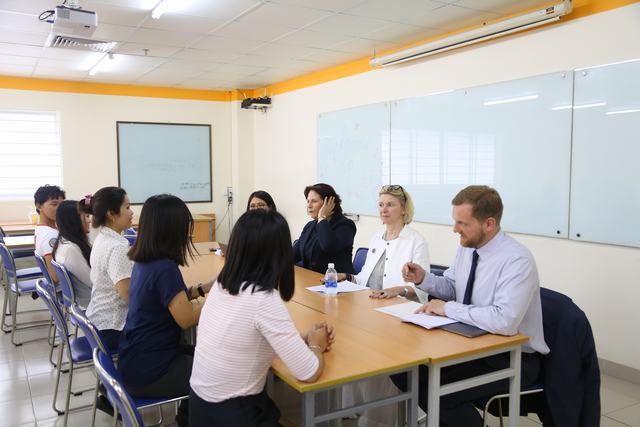 The evaluation team inspects facilities, assesses the quality of training, services of UEF
At 16 p.m. on the same day, the evaluation team announced the results of the internationally recognized UEF training program, which was certified equivalent to the Bath Spa University training program. At the same time, the representatives of the two universities signed the cooperation agreement, officially adopted the cooperation items, which marks the strategic development between the two parties.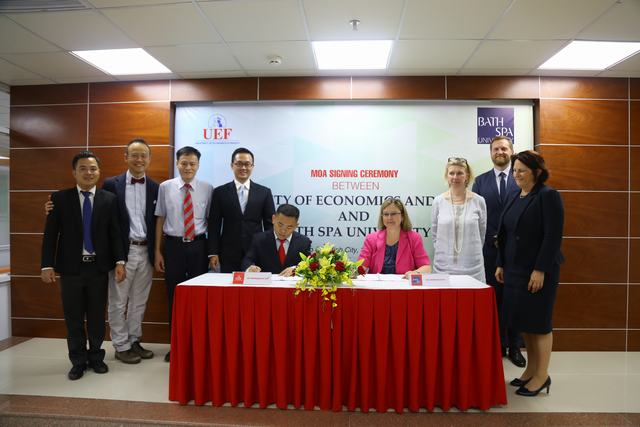 Representatives from UEF and Bath Spa University signed educational cooperation
Under the agreement, UEF students will have the opportunity to transfer directly to BSU after 2 years of study at the UEF (2 + 2). In addition, from 2018, UEF students can also join the BSU transnational training program in Vietnam and receive a BA in Tourism and Human Resource Management.
In addition to long-term cooperation, the BSU and the UEF will implement short-term cooperation such as the international semester and student exchange program right after the signing ceremony.
About Bath Spa University
Bath Spa University (BSU) is a famous public university in the United Kingdom. The University was founded in 1975 as the College of Higher Education. Over the last five years, the number of British international students applying to study for bachelor programs has increased by 40%.
According to the National Student Survey, student's satisfaction at Bath Spa University is 87%. In terms of teaching quality, BSU reached 89% according to the National Student Survey in 2013, which was in the top 6 innovative universities in the UK, and listed among renowned universities such as Cambridge and Oxford. Their courses are also highly valued in the UK. According to Guardian UK: the field of Economics & Management ranks top 26; top 27 for Arts, top 28 for Media, top 32 for Education.
The university's main courses are: Pre-university, Bachelor's Degree, Postgraduate and Master's degrees with majors, prefered by many international students, such as Business Administration, Human Resource Management, International Business, Arts & Design, Architecture, Education, ...
The school achieved QAA accreditation and was ranked eighth on the list of the most modern universities in the UK. The University is well known for its modern, multi-disciplinary university facility that span across the city of Bath - England's most prestigious tourist city.