Sunway is a prestigious research-oriented private university in Malaysia. Sunway University is currently collaborating with major universities in the world such as Oxford (UK), Harvard (USA), Lancaster (UK). With the goal of becoming a top university in Malaysia in the next three years, Sunway is selectively seeking international partnerships, collaborating with only one or two universities in one country. Currently in Asia, Sunway is collaborating with well-known universities in China, Thailand and Singapore. In Vietnam, Sunway chose UEF as a strategic partner for long-term cooperation.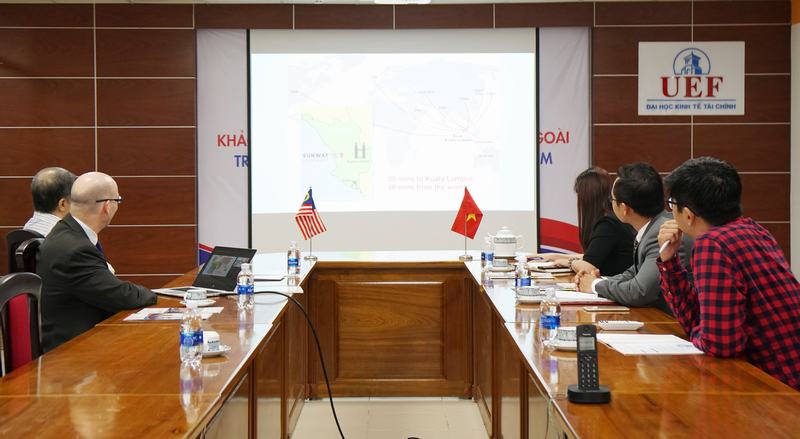 During this visit to UEF, Prof. Peter Heard, the Vice-President who is in charge of all academic-related matters of the University, had a meeting with Institute of International Education to learn more about the curriculum and collaboration opportunities. The two parties agreed upon the training program, in which UEF students majoring in Business Administration can transfer to Sunway University after 2 years at UEF to receive a degree from Sunway University or a double degree - one from Sunway, one from Lancaster University (UK).
Many universities in the United Kingdom, the United States, Switzerland and Australia have already accredited UEF as their international partner in the past few years. UEF doesn't have many partners in Asia, and if everything goes as planned, Sunway will be the first university in Southeast Asia to offer UEF students opportunities to study articulation program.
With its research-oriented nature, Sunway could invite UEF's lecturers to join the research team. However, at this moment, the two universities will continue to develop student exchange program through international semesters and cultural exchange weeks. By the end of 2018, UEF expects to send its very first group of students to Sunway University to experience the short-term international academic program.