Globalization and foreign language use are among the most indispensable features of any workplace nowadays. This is the reason why recently more and more students are applying to international universities with bilingual programs.
Lack of foreign language means lack of success chance!
International integration is an unavoidable trend when the world is getting "flatter and flatter". The trade expansion between Vietnam and other countries and organizations offers more chances to develop the economy and more job opportunities as large-scale foreign investment is being drawn to Vietnam.
However, domestic workforce also faces multiple challenges. Much as an advantage as Vietnamese traditions of diligence, conscientiousness and fondness for learning etc.… they are still inadequate for workers to compete effectively. In order to survive and succeed, Vietnamese laborers need significant and thorough adjustments to equip themselves with professional knowledge, skills and ability to face changes. Specially, foreign language is the "universal key". Only by possessing great fluency and flexibility in foreign languages can laborers work confidently in any countries or continents in the world.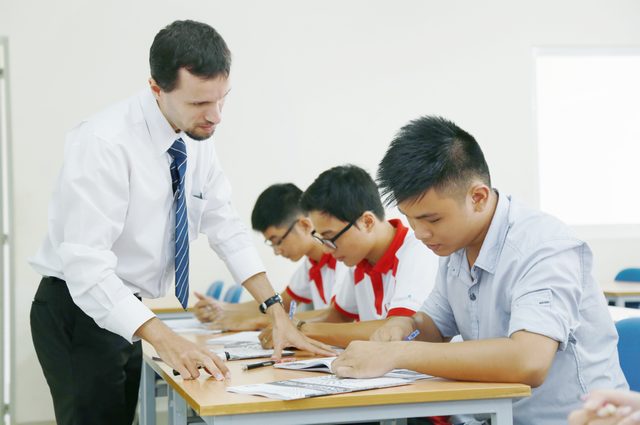 English is considered "the golden key" in the era of integration
Because of such reasons, English focus has become the most important feature in school selection for youngsters nowadays. Aside from those popular criteria like prestige, staffs, facility…, an environment that motivates English practice and development is highly appreciated when students determine to apply for a school or a major. Obviously, preparing for future career in an prestigious international university with bilingual programs is a prominent option for most students and their parents. The reason behind this is that there is no better way to master English and vocational skills than by submerging oneself in an environment where every aspect from learning to doing social activities is conducted in English.
Bilingual education: the door to global labor market.
In view of serving labor needs in the open economy, Ho Chi Minh City University of Economics and Finance pioneers in pursuing bilingual programs: English courses make up 50% of the total period, education standard is at international level, learning environment is modern and active.
Accepted students at UEF will sit for an entrance English exam as soon as the academic year begins. In case the result cannot meet the requirements, students will have to enroll in a free English course to improve their ability. In the first year, students will follow a standardized English program, designed to serve various groups of learners. As a result, in the following years, students are fully capable of catching up with professional courses. Upon graduation, 100% of the students meets the IELTS 5.5 level and over, which efficiently assists them in working and communicating.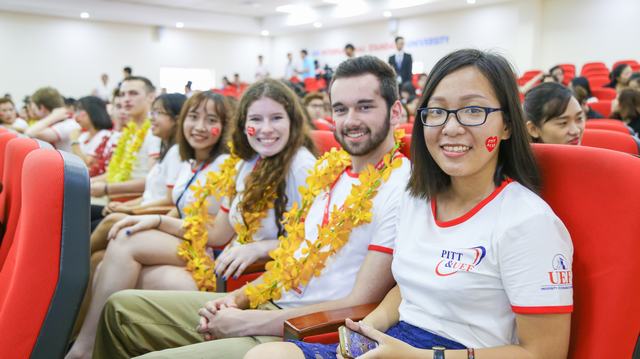 UEF students regularly participate in international exchange activities.
The academic programs of each faculty are built on the ground of both theories and practical courses in foreign companies and international corporations. Thanks to this, students can benefit from learning human and finance management abilities, experiencing the process of analyzing, formulating investment strategies and perfecting their professional skills in order to operate, seize opportunities and handle difficult situations or challenges flexibly in the global economy.
In the meantime, UEF academic programs and qualifications are widely recognized by foreign partners. Students can choose transfer programs at the partner's campus to get an international degree or parallel programs to receive both UEF and its partner's degrees. UEF students are constant participants of many extracurricular, charitable activities and international exchange programs conducted with Pittsburgh University (USA), University of Gloucestershire (UK), Bangkok University (Thailand)…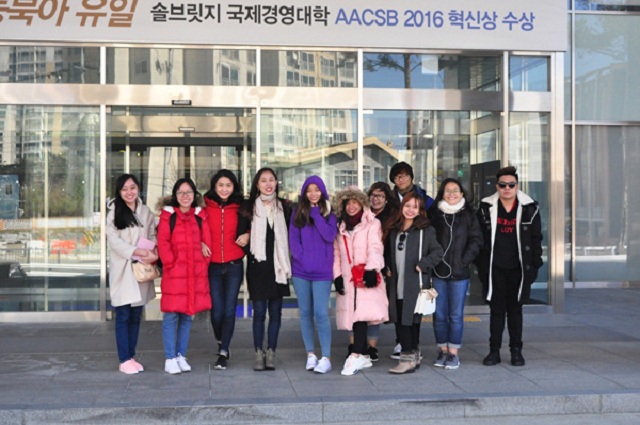 UEF students in their practical course at Solbridge International School of Business (Korea)
Commenting on UEF students, Mr. Raymond Gillion – Director of Vietnam and Cambodia branches, UTi Worldwide Inc., said: "I can see the activeness, sense of responsibility, steady professional knowledge and especially fluency in foreign language, which impressed me most"
Currently UEF graduate employment rates are always high: 100% graduates are employed right after graduation, 80% of whom are working in their professional field, 30% of the students gets employed during their internship at the top companies, business corporations or commercial banks like HSBC, KPMG, AEON, Unilever...