Prof. Andreas Gissel shared that this is the second time he's visited and worked at UEF. In the series of activities at the school, he also wished to receive exchange and interaction with UEF lecturers.
Prof. Andreas Gissel shared many valuable experiences in management and organization at the workshop
In his discussion, the Vice President of Ludwigshafen University of Applied Sciences presented three important points including organizational structure, organizational development and human resource development. The professor also introduced an overview of the organizational model and scale of a university in Germany.
In order to operate sustainably, a university needs to define its mission and vision. And the 6 factors that are considered as the bedrock to fulfill the mission include core values, teaching, research and development, caring for student life, human resources, and interaction with society and employers. Next, Prof. Andreas Gissel gave many practical examples to give a better illustration of his model. The smooth coordination among parts is always the decisive factor for the school's sustainable development. In particular, besides professional work, Prof. Andreas Gissel also suggested conducting surveys to get opinions of officials, lecturers and staff for better adjustments to management and leadership. It also counts to know how to maintain and retrain employees.
HR development method was another topic Prof. Andreas Gissel addressed at the seminar. Such tasks as planning, recruitment, helping new employees adjust and integrate, goals and actions were prompted by the Professor. Notably, the Vice President of Ludwigshafen University of Applied Sciences had an open sharing of his personal story on the event that made him a leader. Along with that, both UEF lecturers and the Professor had an animated Q&A section with many questions and discussions. Most of the questions were concerned with the functions and responsibilities of leaders, organizational management models and skills to motivate employees, etc.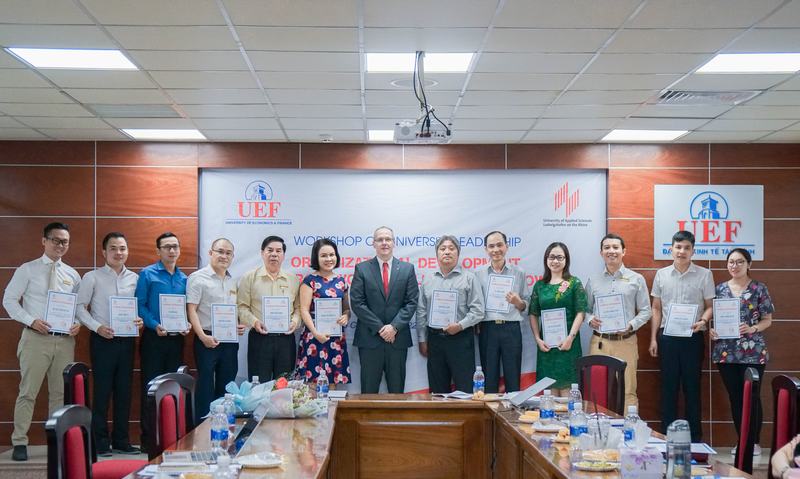 Certificates are given to lecturers who attend the workshop on leadership knowledge and skills
The seminar is the first activity of Prof. Andreas Gissel's agenda at UEF.
There are many more academic, research and scientific exchange activities to look forward to for the students and lecturers at UEF to learn from the Vice President of Ludwigshafen University of Applied Sciences, Germany.